If we were all as wise as we should be, we would have no stories to tell. ― Freeman Wills Croft
In this month's newly acquired crime and mysteries titles we have the very welcome reissue of The Fatal venture by Freeman Wills Crofts, featuring Inspector French, which was originally published in 1939.
The Fatal venture is a book that dates from the golden age of detective fiction; crime books written mainly in the 1920s and 1930s (though books in the Golden age style are still written to this very day). The Inspector Joseph French mysteries largely employed the classic puzzle mystery template. Inspector French was unusual for a detective of the golden age, or sleuths in general, in that he has no major personal problems. He is happily married and is generally a very pleasant character. The novels were hugely popular in their time, and Inspector French featured in numerous short stories and twenty-nine novels.
One of the interesting things about golden age crime novels, including the Inspector Joseph French mysteries, was that they were written using the Ten crime Commandments. Below are those rules:
"The criminal must be mentioned in the early part of the story but must not be anyone whose thoughts the reader has been allowed to know.
All supernatural or preternatural agencies are ruled out as a matter of course.
Not more than one secret room or passage is allowable.
No hitherto undiscovered poisons may be used, nor any appliance which will need a long scientific explanation at the end.
No Chinaman must figure in the story. (This rule is a very sad indictment of the racism present in mainstream Western culture at this time.)
No accident must ever help the detective, nor must he ever have an unaccountable intuition which proves to be right.
The detective himself must not commit the crime.
The detective is bound to declare any clues which he may discover.
The "sidekick" of the detective, the Watson, must not conceal from the reader any thoughts which pass through his mind: his intelligence must be slightly, but very slightly, below that of the average reader.
Twin brothers, and doubles generally, must not appear unless we have been duly prepared for them."
Below are our other selected crime and mystery titles from this months newly acquired titles.
Fatal venture / Crofts, Freeman Wills
"A classic crime novel by Freeman Wills Crofts, 'The King of Detective Story Writers', featuring Inspector French, coming soon to television." (Adapted from Catalogue)
Green for danger / Brand, Christianna
"It is 1942, and at the new Kent military hospital Heron's Park, postman Joseph Higgins delivers seven letters of acceptance for infirmary roles. He has no idea that one of the recipients will later cause his demise. When Higgins returns to Heron's Park with injuries from a bombing raid in 1943, his inexplicable death in the operating theatre casts four nurses and three doctors under suspicion, and a second, sudden death brings Inspector Cockrill to the hospital. As an air raid detains the inspector for the night, the stage is set for a tense and claustrophobic investigation with a close-knit cast of suspects in this golden age masterclass of red herrings and tricky twists." (Adapted from Catalogue)
The golden spoon : a novel / Maxwell, Jessa
"When production for the tenth season of the hit cooking competition Bake Week begins at the gothic estate of the show's host and founder, celebrity chef Betsy Martin, everything seems normal. The six contestants are eager to prove their culinary talents over the course of five days, while Betsy struggles for control of the show with her new co-host, the brash and unpredictable Archie Morris. But as the baking competition gets under way, things begin to go awry. At first it's merely sabotage–sugar replaced with salt, a burner turned to high–but then someone shows up dead and suddenly everyone's a suspect." (Adapted from Catalogue)
How to kill men and get away with it / Brent, Katy
"A deliciously dark, hilariously twisted story about friendship, love, and murder. Meet Kitty Collins. Friend. Lover. Killer. When a guy from a nightclub follows her home, and won't leave her alone– she kills him. Not intentionally, of course. But she isn't sorry, and she appears to have got away with murder. That's where here addiction started. She's developed a taste for revenge." (Adapted from Catalogue)
Also available as an eBook.
Vera Wong's unsolicited advice for murderers / Sutanto, Jesse Q
"Vera Wong is a lonely little old lady–ah, lady of a certain age–who lives above her forgotten tea shop in the middle of San Francisco's Chinatown. Despite living alone, Vera is not needy, oh no. She likes nothing more than sipping on a good cup of Wulong and doing some healthy detective work on the Internet about what her college-aged son is up to. Then one morning, Vera trudges downstairs to find a curious thing–a dead man in the middle of her tea shop. In his outstretched hand, a flash drive. Vera knows the killer will be back for the flash drive; all she has to do is watch the increasing number of customers at her shop and figure out which one among them is the killer…" (Adapted from Catalogue) Also available as an eBook.

The girl by the bridge / Arnaldur Indriðason
"An elderly couple are worried about their granddaughter. They know she's been smuggling drugs, and now she's gone missing. Looking for help, they turn to Konrad, a former policeman whose reputation precedes him. Always absent-minded, he constantly ruminates on the fate of his father, who was stabbed to death decades ago. But digging into the past reveals much more than anyone set out to discover, and a little girl who drowned in the Reykjavik city pond unexpectedly captures everyone's attention." (Adapted from Catalogue)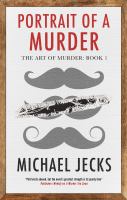 Portrait of a murder / Jecks, Michael
"Nick Morris is your classic struggling artist. He paints pet portraits to pay the bills but is always just one big commission away from a more comfortable life. Which is why he agrees to paint the reluctant, hot-tempered hotelier, Jason Robart. But Nick gets more than he bargained for when he finds Jason dead from a shotgun blast to the head in an apparent suicide. It turns out Jason owed money to everyone — including some unsavoury Russians. When his girlfriend Elizabeth goes missing, Nick is concerned, but so is Jason's unpleasant business partner. Nick is knee deep in trouble and to escape he must find Elizabeth, uncover the truth of Jason's death, and stay alive! If only he had stuck to painting cats…" (Adapted from Catalogue)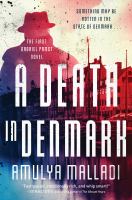 A death in Denmark / Malladi, Amulya
"Everyone in Denmark knew that Yousef Ahmed, a refugee from Iraq, brutally murdered the right-wing politician Sanne Melgaard. So, when part-time blues musician, frustrated home renovator, and full-time private detective Gabriel Præst agrees to investigate the matter because his ex–the one who got away–asked him to, he knew it was a no-win case. But as Gabriel starts to ask questions, his face meets with the fists of Russian gangsters; the Danish prime minister asks him for a favor; and he starts to realize that something may be rotten in the state of Denmark." (Adapted from Catalogue)