"Everything must be taken into account. If the fact will not fit the theory—let the theory go."
― Agatha Christie, The Mysterious Affair at Styles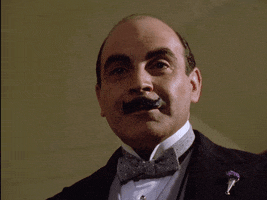 Agatha Christie's books have for a long time been amongst the most popular books borrowed in libraries throughout the world and continue to be so even to this day, with book sales to match. She is the best-selling novelist of all time, selling a staggering 300 million books during her lifetime and a mind boggling estimated two billion to date. With such huge popularity it is no surprise that film makers rushed to her door looking for novels to adapt into scripts, though Agatha Christie herself famously said "My chief dislikes are crowds, loud noises, gramophones and cinemas."
She grew up in an upper middle-class family in Torquay, a quiet, self-contained but happy child. Her first attempts at getting published were initially unsuccessful, however her luck changed in 1920 with the publication of The Mysterious Affair at Styles, the first book to feature one of her most successful detective creations Hercule Poirot. And from that point on her books just grew and grew in popularity.
The first film adaptation of her work was The Passing of Mr. Quinn in 1928 and many film adaptations throughout the years followed, with a new version of Death on the Nile scheduled to be released in 2022.
Most of the films feature one or other of Christie's two big name detectives, Hercule Poirot or Miss Marple who have both been played by a wide variety of actors and actresses who have of course all brought their own style and approach to the characters. And it goes almost without saying that these films and television programmes have all reflected the times they were made (even if they had a historical backdrop).  From the cosy black and white, very British comic Miss Marple films of the 1960's, starring Dame Margaret Rutherford, to the star-studded mega block buster Peter Ustinov films of the late 70's and early 80's. And then there is the highly unlikely (you have to see it to believe it) Arnold Schwarzenegger action thriller Sabotage, based on her And Then There Were None novel.  Not to mention the recent slickly-produced modern movies by Kenneth Branagh and the often more nuanced and measured television adaptations, such as the superb Joan Bogle Hickson BBC series.
Below is just a small selection of the Agatha Christie books, films and television series we have on offer.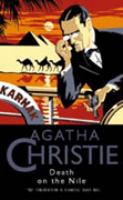 Death on the Nile / Christie, Agatha
" The tranquillity of a cruise along the Nile is shattered by the discovery that Linnet Ridgeway has been shot through the head. She was young, stylish and beautiful, a girl who had everything – until she lost her life. Hercule Poirot recalls an earlier outburst by a fellow passenger: 'I'd like to put my dear little pistol against her head and just press the trigger.' Yet in this exotic setting' nothing is ever quite what it seems…" (Adapted from Catalogue) Click  here for the 1978 star studded  Peter Ustinov film.
Murder on the Orient Express / Christie, Agatha
" Just after midnight, a snowdrift stops the Orient Express in its tracks. The luxurious train is surprisingly full for the time of the year, but by the morning it is one passenger fewer. An American tycoon lies dead in his compartment, stabbed a dozen times, his door locked from the inside. Isolated and with a killer in their midst, detective Hercule Poirot must identify the murderer – in case he or she decides to strike again." (Adapted from Catalogue) Click here for the 1976 version starring Albert Finney and here for the 2017 Kenneth Branagh version.
And then there were none / Christie, Agatha
" Ten strangers, apparently with little in common, are lured to an island mansion off the coast of Devon by the mysterious U.N.Owen. Over dinner, a record begins to play, and the voice of an unseen host accuses each person of hiding a guilty secret. That evening, former reckless driver Tony Marston is found murdered by a deadly dose of cyanide. The tension escalates as the survivors realise the killer is not only among them but is preparing to strike again… and again…" (Adapted from Catalogue). Click here for the availability of Sabotage, the Arnold Schwarzenegger action thriller based on And Then There Were None.
Evil under the sun / Christie, Agatha
" It was not unusual to find the beautiful bronzed body of the sun-loving Arlena Stuart stretched out on a beach, face down. Only, on this occasion, there was no sun… she had been strangled. Ever since Arlena's arrival at the resort, Hercule Poirot had detected sexual tension in the seaside air. But could this apparent 'crime of passion' have been something more evil and premeditated altogether?" (Adapted from Catalogue). Click here forthe film starring Peter Ustinov, Maggie Smith, Jane Birkin, James Mason and Diana Rigg amongst others.
Why didn't they ask Evans? / Christie, Agatha
"During a round of golf on a cliff-top course in Wales, Bobby Jones discovers a man lying gravely injured on the rocks below. His last words, "Why didn't they ask Evans?," two adventurous friends decide to find his killer…" (Adapted from Catalogue) Click here for the availability of the 1980 film which coincidently has Joan Hickson as  Mrs. Rivington before her time playing Miss Marple.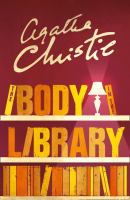 The body in the library / Christie, Agatha
"When the Bantrys wake to find the body of a beautiful young stranger in their library, Dolly Bantry knows there's only one person to call: her old friend Miss Marple." (Catalogue) Click here for the first series of Miss Marple Starring Joan Hickson, here for the second, here for the third  and here for the fourth.
The adventure of the Christmas pudding : and a selection of entrees / Christie, Agatha
"First came a sinister warning to Poirot not to eat any plum pudding … then the discovery of a corpse in a chest … next, an overheard quarrel that led to murder … the strange case of the dead man who altered his eating habits … and the puzzle of the victim who dreamt his own suicide. What links these five baffling cases? The little grey cells of Monsieur Hercule Poirot!" (Adapted from Catalogue) Click here for the availability of  first series of Hercule Poirot starring David Suchet, here for the second, here for the third and here for all our other numerous David Suchet,  Hercule Poirot items.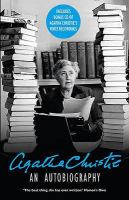 An autobiography / Christie, Agatha
"Agatha Christie's 'most absorbing mystery' – her own autobiography, with new exclusive CD containing newly discovered priceless recordings of Agatha dictating excerpts from more than 40 years ago." (Adapted from Catalogue) Click here for the availability of Agatha Christie's garden : murder & mystery in Devon. A fascinating documentary about Agatha Christie's personal Devon retreat Greenway which she described as   "the loveliest place in the world"