"Photography, like alcohol, should only be allowed to those who can do without it."
– Walter Sickert
As is often the case, there is a rich and wide variety of newly-acquired crime and mystery titles in this month's list; in fact, books to suit every crime and mystery taste.
From Murder at the National Gallery by Jim Eldridge, a title in which the real-life artist Walter Sickert is suspected for murdering an artist's model and perhaps implicated in the Jack the Ripper series of murders. The premise of this novel is not without some foundation – several researchers have linked Sickert to these crimes; indeed, crime writer Patricia Cornwell even bought several Sickert paintings, hoping to find DNA in them that would directly link him to the cases. But whilst Sickert did have a morbid fascination with the killer, even producing a painting called The Ripper's Bedroom, these theories have largely been discounted. At the other end of the scale, we have The Bangalore Detective's Club; a perfect read if you are a fan of Alexander McCall Smith's The No. 1 Ladies' Detective Agency. This month's list also includes two New Zealand crime novels – Hives of Lies, featuring accountant Claire Connor who uses her sleuthing and accountant skills to solve what initially appears to be deaths caused by bee stings, and The Final Call – a gritty crime tale set in Auckland in 1979 from a twice-nominated finalist of the Ngaio Marsh Awards. With so much on offer, there really is something for everyone.
Murder at the national gallery / Eldridge, Jim
"1897, London. The capital is shocked to learn that the body of a woman has been found at the National Gallery, eviscerated in a manner that recalls all too strongly the exploits of the infamous Jack the Ripper. Daniel Wilson and Abigail Fenton are contacted by a curator of the National Gallery for their assistance. The dead woman, an artist's model and lady of the night, had links to artist Walter Sickert, who was a suspect during the Ripper's spree of killings. Scotland Yard have arrested Sickert on suspicion of this fresh murder but it is not the last… Copycat murders of the Ripper's crimes implicate the artist who loves to shock, but Sickert insists that he is innocent. Who would want to frame him? " (Adapted from Catalogue) Also available as an eBook.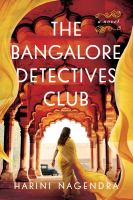 The Bangalore Detectives Club / Nagendra, Harini
"When clever, headstrong Kaveri moves to Bangalore to marry handsome young doctor Ramu, she's resigned herself to a quiet life. But that all changes the night of the party at the Century Club, where she escapes to the garden for some peace and quiet–and instead spots an uninvited guest in the shadows. Half an hour later, the party turns into a murder scene. When a vulnerable woman is connected to the crime, Kaveri becomes determined to save her and launches a private investigation to find the killer, tracing his steps from an illustrious brothel to an Englishman's mansion. She soon finds that sleuthing in a sari isn't as hard as it seems when you have a talent for mathematics, a head for logic, and a doctor for a husband… ." (Adapted from Catalogue)
Hive of lies / Robinson, Diane
"Who knew accounting could be dangerous? Could Claire Connor's first day at her new job get any worse? Hostile staff, an embarrassing skirt incident … But then the body of her friend Anne is found at a honey-producer client, apparently stung to death. Anne wasn't due to start the audit for a few days, so why was she there? When another colleague dies in unusual circumstances, Claire's firm finds itself under siege from the media, and losing clients. Accident prone and inclined to recklessness, can Claire uncover what really happened to her colleagues without suffering a similar fate?" (Adapted from Catalogue)
The final call / Shieff, Jen
"Who is out to destroy Carmel O'Sullivan and her sister Tess, top call-girls in Rita Saunders' gentlemen's club? Who will be next? When Tess is murdered and younger sister Maxine is among the passengers on the ill-fated Air New Zealand flight to Mt Erebus, Carmel feels God has turned away from her family. Secrets emerge as the police investigate. The spotlight shifts incessantly. Hungarian immigrant Istvan Ziegler loves Carmel, offering her the safety and respectability she craves, but he has to compete with Rita for Carmel's affection and commitment." (Adapted from Catalogue)
This is the night they come for you / Goddard, Robert
"On a stifling afternoon at Police HQ in Algiers, Superintendent Taleb, coasting towards retirement, with not even an air-conditioned office to show for his long years of service, is handed a ticking time bomb of a case which will take him deep into Algeria's troubled past and its fraught relationship with France. To his dismay, he is assigned to work with Agent Hidouchi, an intimidating representative of the country's feared secret service, who makes it clear she intends to call the shots. They are instructed to pursue a former agent, now on the run after twenty years in prison for his part in a high-level corruption scandal…" (Adapted from Catalogue)
The vanishing type / Adams, Ellery
"When a deputy asks for help with a wedding proposal and a man connected to his future wife is found dead, Nora Pennington and her fellow readers investigate the connection to the woman's past and the secret she is hiding from everyone." (Adapted from Catalogue) Also available as an eBook.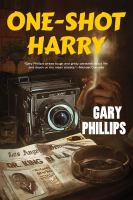 One-shot Harry / Phillips, Gary
"Los Angeles, 1963: African American Korean War veteran Harry Ingram earns a living as a news photographer and occasional process server: chasing police radio calls and dodging baseball bats. With racial tensions running high on the eve of Martin Luther King's Freedom Rally, Ingram risks ending up one of the victims at every crime scene he photographs. When Ingram hears a call over the police scanner to the scene of a deadly automobile accident, he recognizes the vehicle described as belonging to his good friend and old army buddy, the white jazz trumpeter Ben Kingslow, with whom he'd only just reconnected……" ( Adapted from Catalogue)
Murder on Madison Square / Thompson, Victoria
" Former policeman Frank Malloy is frustrated when a woman requests his private detective services to implicate her wealthy husband in adultery, the only legal grounds for divorce in New York state. Although Mrs. Bing seems genuinely distressed about her marriage and desperate to end it, she refuses to tell Frank the reason she absolutely must divorce her husband and admits she has no legal grounds. Frank explains he won't manufacture evidence for her and sends her on her way. A few days later, the newspapers report that millionaire Alvin Bing has been found dead, pinned beneath one of the wheels of his very own motorcar…" (Adapted from Catalogue)