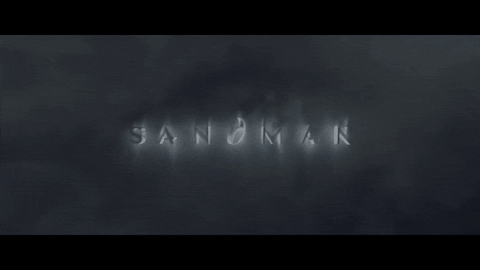 (via GIPHY)
Once you've finished a series as large in scope as The Sandman (the comic, the Netflix show, or the audio drama), it can be hard to know what to seek out next. Befitting for a series about a god of dreams and stories, Neil Gaiman's ten-volume opus covers a massive breadth of genres, styles and subject matter, and every reader is bound to get something different out of the series.
So with that in mind, here's a list of recommendations for what to read after you finish The Sandman, based on the various genres and themes the series covers: fantasy, superheroes, the power of stories, art, mythology, and much, much more.
How about some other long-running, contemporary fantasy series?
Where to begin:
Fables [1] : legends in exile / Willingham, Bill – Every fairy tale character ever, from Snow White to the Big Bad Wolf, lives in secret in a neighbourhood in New York. One of the longest-running Vertigo series at over 25 volumes (and it recently came back last year).
John Constantine, Hellblazer [1] : original sins / Delano, Jamie – Read the adventures of Vertigo's foul-mouthed, chain-smoking 'workday warlock' from the beginning!
Lucifer. Book one / Carey, Mike – The first Lucifer series, where the Morningstar does God's dirty work while hiding out in a piano bar in Los Angeles.
The books of magic / Gaiman, Neil – Another Gaiman-penned series, about a young boy's journey to become the greatest wizard of all time (seven years before Harry Potter did it!)
What I like most about The Sandman is its theme of the power of stories! Got anything like that?
Where to begin:
Animal Man by Grant Morrison. Book one / Morrison, Grant – Superhero Buddy Baker learns that he is a comic book character and confronts his writer after he suffers a series of tragedies.
Enigma : the definitive edition / Milligan, Peter – Characters from a classic comic book come to life, forcing an old fan to come to terms with his identity.
Flex Mentallo : man of muscle mystery / Morrison, Grant – A Charles Atlas-style superhero has to save the boy who created him from encroaching teenage angst.
Eternity Girl / Visaggio, Magdalene – In a riff on 'Façade' from the Dream Country volume of The Sandman, an immortal superheroine has to decide whether she wants to end her life by destroying the universe.
Morpheus is so compelling! I want to read more stories about modern, moody gods!
Where to begin:
The wicked + the divine. Vol. 1, The Faust act / Gillen, Kieron – Every 90 years, 12 gods reappear on Earth to inspire mankind. In 2014, they reappear as pop stars, and young fangirl Laura will do anything to become one of them.
Lore Olympus. Volume one / Smythe, Rachel – A collection of the popular Webtoon comic by New Zealand artist Rachel Smythe, featuring a modernised take on the myth of Hades and Persephone.
Bacchus. Volume one of two / Campbell, Eddie – The Greek god of wine lives out his life as a barfly in England, swapping stories with mortals and gods alike.
Infinity Gauntlet / Starlin, Jim – Thanos has gathered all the Infinity Gems, but what will he do with his newfound omnipotence? And will anything he does with his power impress his true love, the mistress Death?
The many deaths of Laila Starr [1] / V, Ram – An avatar of death finds herself out of a job when a mortal boy is born who will go on to discover immortality.
So, if Sandman is a comic about literature, are there comics about OTHER arts?
Where to begin:
Doom Patrol. Book one / Morrison, Grant – Features the story "The Painting that Ate Paris", where the Patrol fight the outsider artist-influenced supervillain team The Brotherhood of Dada.
Planetary. Book one / Ellis, Warren – An X-Files style series about a group of 'spacetime archaeologists' investigating the secret history of the world, which turns out to resemble the plots of old pulp sci-fi stories.
The complete Phonogram / Gillen, Kieron – In a world where people can weaponize their favourite songs as magical spells, rival covens of 'phonomancers' compete against each other for peak music snobbery.
Die. Volume 1, Fantasy heartbreaker / Gillen, Kieron – A group of 40-somethings return to the magical fantasy world they role-played in as kids and come to terms with the decisions they made there, while also examining the people and inventions that made roleplay fantasy possible.
Never mind all that highfalutin stuff, I want more of the horror! The HORROR!!!
Continue reading "Beyond Dreams: What to read when you've finished The Sandman" →