The Immortal Hulk is the newest comic to feature Dr Bruce Banner and his green alter ego. Since the series' debut in 2018, it's become a massive hit with fans and critics. Written by Al Ewing and drawn by Joe Bennett, the series centres on a new revelation about the character: Bruce Banner can die but the Hulk cannot, which makes them, as the title suggests, immortal.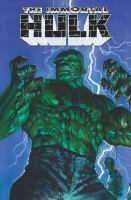 Thanks to this undead twist, Ewing and Bennett use the story opportunity to turn Hulk into a horror book. The newly-minted Immortal Hulk battles such terrors as radioactive zombies, paranormal possessions, city-destroying kaiju, the Devil, the legions of Hell, and — my personal favourite — Xemnu the Titan, a cyborg yeti alien who can manipulate people's memories through smartphones.
The other unique angle to The Immortal Hulk is that every issue opens with a quote from a famous book or writer, chosen by Ewing to give thematic weight to each issue and something for the audience to ponder on a close reading. Below, I've picked out some of the best opening quotations from volumes seven to nine of The Immortal Hulk, and linked them to the works of their respective writers so you can find them in our collection.
If you want to read the comic first, you can order the first volume here or read it on Overdrive here. Check out the previous editions of this blog (Part One and Part Two) to read about all the references in the first six volumes. If you've read up to volume seven, reserve it here.
"And from this mind I will not flee, but to you all that misjudge me, I do protest as ye may see, that I am as I am and so will I be" – Collected poems / Wyatt, Thomas
The quote that opens Volume 7 is the final line from Sir Thomas Wyatt's poem, "The recured Lover exulteth in his Freedom, and voweth to remain free until Death", a poem about defining one's identity in the face of other narratives forced upon it. Volume 7 also introduces Xemnu the Titan to the series (who first appeared as 'Xemnu the Living Hulk' in Journey into Mystery #62 from 1960). The Roxxon corporation exploits Xemnu's ability to hypnotise people through media like televisions and smartphones to make everyone forget the Hulk existed, including Banner himself, and plant a false memory in the public consciousness that Xemnu was always the Hulk. With the other personas of the Hulk locked up in Banner's mind, it falls to the child-like 'Savage Hulk' to remind Banner who he is: that 'Hulk is Hulk'.
Continue reading "Comics in Conversation with Literature: The Immortal Hulk – Part 3" →