Ideas excite me, and as soon as I get excited, the adrenaline gets going and the next thing I know I'm borrowing energy from the ideas themselves."
— Ray Bradbury.
OR
There are worse crimes than burning books. One of them is not reading them."
— Joseph Brodsky
Killer, come back to me is one of this month's newly acquired titles. It is a compendium of crime and mystery stories by one of America's greatest storywriters of the 20th and early 21st century Ray Bradbury. Bradbury is perhaps best known for his science fiction works such as Fahrenheit 451, Something Wicked This Way Comes and The Martian Chronicles. However, as this collection amply shows he was adept at working in any fiction genre he choose. Many of his works have been adapted for television and film. He attributed becoming a writer to being touched on the nose at age 12 by a carnival entertainer with an electrified sword called Mr. Electrico who commanded him to "live forever".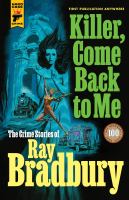 Killer, come back to me / Bradbury, Ray
"Celebrating Ray Bradbury's centennial, a deluxe illustrated commemorative collection of his finest crime stories  Is it murder to destroy a robot if it looks and speaks and thinks and feels like a human being? Can a ventriloquist be incriminated by the testimony of his own dummy? Can a time traveler prevent his younger self from killing the woman they both loved? And can the survivor of a pair of Siamese twins investigate his own brother's murder?" (Adapted from Catalogue) Also available as an
eBook.
The roots of evil / Jardine, Quintin
"When struggling ex-copper Terry Coats was discovered in bed with an air hostess, his excuse that he was 'going undercover' cut no ice with the force – or his wife. But now he is brutally killed on Hogmanay night, it seems there may have been more to his plea. Dragged from the new year celebrations, Special Constable Sir Bob Skinner is shocked to find coats' body alongside that of Griff Montell: his erstwhile protege, and former lover of Skinner's own daughter, Alex. Could there be some dark truth under Coats' cock -and -bull story, after all? " (Adapted from Catalogue)
Murder in old Bombay / March, Nev
"In 1892, Bombay is the center of British India. Nearby, Captain Jim Agnihotri lies in Poona military hospital recovering , with little to do but re-read the tales of his idol, Sherlock Holmes. The case that catches Captain Jim's attention is being called the crime of the century: Two women fell from the busy university's clock tower in broad daylight. Moved by Adi, the widower of one of the victims — his certainty that his wife and sister did not commit suicide — Captain Jim approaches the Parsee family and is hired to investigate what happened that terrible afternoon. " (Adapted from Catalogue) Also available as an eBook.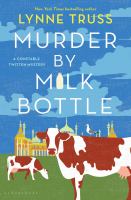 Murder by milk bottle / Truss, Lynne
"In the wake of two extremely high-profile murder cases, and with the summer of 1957 finally winding down, Constable Twitten is eagerly anticipating a quiet spell at work. But his hoped-for rest is interrupted when he and his colleagues find a trio of bodies, all murdered with the same unusual weapon: a milk bottle. The three victims are seemingly unconnected-a hardworking patrolman, a would-be beauty queen, and a catty BBC radio personality-so Constable Twitten, Sergeant Brunswick, and Inspector Steine are baffled. " (Catalogue) Also available as an eBook.
Angels weep / Falconer, Colin
"Three can keep a secret. If two of you are dead… Two women are snatched off the streets of London in one weekend. DI Charlie George and his team get to work. The lives of these young women – one of them a mother – are on the line, and the clock is ticking. When they catch a lucky break from a CCTV camera, Charlie is sure they have their man. And that's when he gets his first surprise. Because nothing about this case is simple and not everyone is quite what they seem. Charlie's job is to find the missing women and get to the truth. But some people would rather the truth stays hidden – even when the bodies start to pile up…"(Adapted from Catalogue)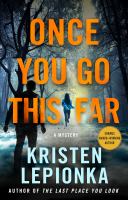 Once you go this far : a Roxane Weary mystery / Lepionka, Kristen
" Junior-high school nurse Rebecca Newsome was an experienced hiker–until she plummeted to her death at the bottom of a ravine in a Columbus metro park. Her daughter, Maggie, doesn't believe it was an accident, and Rebecca's ex-husband is her prime suspect. But he's a well-connected ex-cop and Maggie is certain that's the reason no one will listen to her. PI Roxane Weary quickly uncovers that the dead woman's ex is definitely a jerk, but is he a murderer? As she pieces together the days before Rebecca died, what Roxane finds doesn't quite add up." (Adapted from Catalogue) Also available as an eBook .
Fortune favors the dead : a novel / Spotswood, Stephen
"It's 1942 and Willowjean "Will" Parker is a scrappy circus runaway whose knife-throwing skills have just saved the life of New York's best, and most unorthodox, private investigator, Lillian Pentecost. When the dapper detective summons Will a few days later, she doesn't expect to be offered a life-changing proposition: …
Three years later, Will and Lillian are on the Collins case: Abigail Collins was found bludgeoned to death with a crystal ball following a big, boozy Halloween party at her home–her body slumped in the same chair where her steel magnate husband shot himself the year before. " (Adapted from Catalogue)
Murder in the band room / Snelling, Patricia
"After retiring as a Detective Inspector, Ann Grieves enjoys her cottage by the sea in the Auckland Region. When she isn't sleuthing unfaithful spouses and small-time crooks, she enjoys a laid-back life walking the promenade with Scout, her ex-police Beagle dog or making preserves for the oldies in her street. Until a body turns up in her friend's band room."–Publisher." (Catalogue)