I like libraries. It makes me feel comfortable and secure to have walls of words, beautiful and wise, all around me. I always feel better when I can see that there is something to hold back the shadows.
― Roger Zelazny, Nine Princes in Amber
Welcome to our first selection of newly acquired science fiction and fantasy titles for 2023. We have a rich diversity of voices, themes and approaches in this month's selection. From Aotearoa, we have Melanie Harding Shaw's enemies to lover's, romantic, paranormal, urban fantasy set in a post-apocalyptic, decaying Wellington called City of souls. We also have a collection of short stories from the legend that is Alan Moore, and a fabulous new novel from Hugo and Nebular winner Mary Robinette Kowal called The Spare Man.
Also in this months selection we have a very welcome reissue of Science fiction titan Roger Zelazny's The chronicles of Amber. Roger Zelazny was both a poet and science fiction writer who won both the Hugo and Nebula awards on numerous occasions. Born in Ohio in 1937, his later work had several recurring themes such as portraying characters from myth, having mortals turned into gods and gods turned into mortals, and the subsequent ramifications of these transformations. He would often include mythical characters from the likes of Norse Mythology, Arthurian mythos, and Egyptian mythology to name but a few in his works. He was also an early proponent of the multiple parallel universe idea. This multiple universe concept plays a key part in The chronicles of Amber series .
He stated that his writing style was often influenced by hardboiled crime authors like Dashiell Hammett and Raymond Chandler which accounts for his sharp quick fire and highly readable dialogue. Neil Gaiman described him as the author who influenced him the most, both in the topics he writes about and his writing style.
The SF masterworks omnibus of The chronicles of Amber featured in this blog covers the first five works. The concluding omnibus is due shortly  and you can access further information on that title here.
The chronicles of Amber / Zelazny, Roger
"Amber is the one real world, casting infinite reflections of itself – Shadow worlds, that can be manipulated by those of royal Amberite blood. But the royal family is torn apart by jealousies and suspicion; the disappearance of the Patriarch Oberon has intensified the internal conflict by leaving the throne apparently up for grabs. In a hospital on the Shadow Earth, a young man is recovering from a freak car accident; amnesia has robbed him of all his memory, even the fact that he is Corwin, Crown Prince of Amber, rightful heir to the throne – and he is in deadly peril." (Adapted from Catalogue)
City of souls / Harding-Shaw, Melanie
"Bounty hunter Hel's life depends on staying below the radar and passing as human. But when the infuriating Lord of the City of Souls discovers her hidden power is the key to solving his problems, he reclaims her bond-debt and drags her into the spotlight. He'll protect her secrets on one condition: that she does everything he asks. Winged necromancer Bastion would do anything to save the city he rules from the strange magic menacing their world. Even blackmail the angry, intriguing bounty hunter who despises him. As the rulers of the elemental courts converge to face the threat, he's not sure who hates him more–them or Hel. " (Adapted from Catalogue)
Illuminations : stories / Moore, Alan
"In his first-ever short story collection, which spans forty years of work, Alan Moore presents a series of wildly different and equally unforgettable characters who discover–and in some cases even make and unmake–the various uncharted parts of existence. In "Illuminations," a nostalgic older man decides to visit a seaside resort from his youth and finds the past all too close at hand. And in the monumental novella "What We Can Know About Thunderman," which charts the surreal and Kafkaesque history of the comics industry's major players over the last seventy-five years, Moore reveals the dark, beating heart of the superhero business. " (Adapted from Catalogue) Also available as an eBook.
Archangel's resurrection / Singh, Nalini
"For thousands of years, the passion between Alexander, Archangel of Persia, and Zanaya, Queen of the Nile, burned furious and bright, seemingly without end. But to be an archangel is to be bound to power violent and demanding. Driven by its primal energy, Alexander and Zanaya fought as fiercely as they loved. Locked in an endless cycle of devotion and heartbreak, it is only Zanaya's decision to Sleep that ends their love story. Eons later, it is the Cascade of Death that wakens them both. The passion between them a flame that yet burns, Alexander and Zanaya stand together in one last battle against the ultimate darkness…" (Adapted from Catalogue)

Singer distance / Chatagnier, Ethan
"In December 1960, Rick Hayworth drives his genius girlfriend, Crystal, and three other MIT grad students across the country to paint a message in the desert. Mars has been silent for thirty years, since the last time Earth solved one of the mathematical proofs the Martian civilization carved onto its surface. The latest proof, which seems to assert contradictory truths about distance, has resisted human understanding for decades. Crystal thinks she's solved it, and Rick is intent on putting her answer to the test–if he can keep her from cracking under the pressure on the way…" (Adapted from Catalogue)
The spare man / Kowal, Mary Robinette
"Hugo and Nebula Award Winner Mary Robinette Kowal blends her no-nonsense, hard-SF approach to life in space with her talent for creating glittering high society in this stylish SF mystery. Tesla Crane, a brilliant inventor and an heiress, is on her honeymoon via an interplanetary space liner. Cruising between the Moon and Mars, she's traveling incognito and reveling in her anonymity. Then someone is murdered and the festering chowderheads who run security have the audacity to arrest her spouse. Armed with banter, martinis, and her small service dog, Tesla is determined to solve the crime so that the newlyweds can get back to canoodling –And keep the real killer from striking again." (Adapted from Catalogue)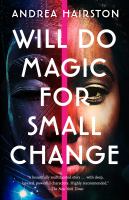 Will do magic for small change : a novel of what might have been / Hairston, Andrea
" Cinnamon Jones dreams of stepping on stage and acting her heart out like her famous grandparents, Redwood and Wildfire. But she's always been theatrically challenged.  But her family life is a tangle of mysteries and secrets, and nobody is telling her the whole truth. Before her brother died, he gave Cinnamon The Chronicles of the Great Wanderer–a tale of a Dahomean warrior woman and an alien from another dimension who perform at the 1893 Chicago World's Fair. They are a story of magic or alien science, but the connection to Cinnamon's past is unmistakable. When an act of violence wounds her family, Cinnamon and her theatre squad determine to solve the mysteries and bring her worlds crashing together." (Adapted from Catalogue)
Neom / Tidhar, Lavie
"The city known as Neom is many things to many beings, human or otherwise. It is a tech wonderland for the rich and beautiful; an urban sprawl along the Red Sea; and a port of call between Earth and the stars. In the desert, young orphan Elias has joined a caravan, hoping to earn his passage off-world. But the desert is full of mechanical artefacts, some unexplained and some unexploded. Recently, a wry, unnamed robot has unearthed one of the region's biggest mysteries: the vestiges of a golden man. In Neom, childhood affection is rekindling between loyal shurta-officer Nasir and hardworking flower-seller Mariam. But Nasu, a deadly terrorists, has come to the city with missing memories and unfinished business…" (Adapted from Catalogue)