Since 2009, the Hugo Award for Best Graphic Story has been given to comics, graphic novels and other illustrated works that best exemplify the possibilities of speculative fiction and the comics medium, and we have all six of the 2020 nominees available for you to catch up with!
The nominations are a stacked field this year. The final volumes of two beloved long-running Image Comics series, The Wicked + The Divine and Paper Girls, were nominated this year, the last chance for either creative team to get the award (Paper Girls having been nominated a previous four times!). Three-time Best Graphic Story Hugo winner Monstress has also been nominated for its fourth volume. But those three veteran series face some strong contenders in new books like the fantasy deconstruction DIE, witchy love story Mooncakes, and the sci-fi immigration tale LaGuardia by previous Hugo winner Nnedi Okorafor.
Who will win the Hugo? We won't know until the award ceremony on August 1st, but till then, you can catch up on the nominated books below!
Die, Volume 1: Fantasy Heartbreaker, by Kieron Gillen and Stephanie Hans, letters by Clayton Cowles (Image)
Die. Volume 1, Fantasy heartbreaker / Gillen, Kieron
Pitched as "Jumanji meets Stephen King's IT", DIE follows five embittered adults returning the fantasy world they were trapped in as teenagers to rescue their friend who stayed there, only to find he's gone native and is subjecting them to a deadly adventure campaign. Gillen, a former game journalist, wrote DIE to both critique and celebrate tabletop games and the fantasy genre overall, while Stephanie Hans renders the imaginary worlds of DIE with lush, dream-like detail. This is Hans' first Hugo nomination, and Gillen is also nominated against himself this year for The Wicked + The Divine. Will DIE roll a nat 20 for the critical win?
Related Reading
DIE Volume 2. Split The Party — If you're hooked on DIE after the first volume, check out the second volume 'Split the Party'.
The Wicked + The Divine Volume 3. Commercial Suicide —  Stephanie Hans has also worked with Kieron Gillen on a issue of his series The Wicked + The Divine, collected in this volume.
The Adventure Zone Volume 1. Here there be gerblins — If you're after more comics about Dungeons and Dragons, check out the first comic adaptation of the beloved roleplaying podcast 'The Adventure Zone'.
LaGuardia, written by Nnedi Okorafor, art by Tana Ford, colours by James Devlin (Berger Books; Dark Horse)
LaGuardia : a very modern story of immigration / Okorafor, Nnedi
In a world where extraterrestrials regularly emigrate to Earth, a controversial travel ban goes into effect in America and separates a Nigerian-American couple who are expecting their first child. LaGuardia is a refreshingly sensitive science-fiction take on immigration and citizenship; Nnedi Okorafor has thought out every aspect of this all-too-familar sci-fi Earth, and Ford and Devlin depict the world and characters in lovingly dense detail, particularly with the alien designs. This is Ford and Devlin's first nomination, while Okorafor has already won a Hugo for her novella Binti. Can LaGuardia net Okorafor her second Hugo win?
Related Reading
Black Panther: Long Live the King — Okorafor and Ford also worked together on this Black Panther series for Marvel Comics.
Binti — Check out Okorafor's Hugo-winning series Binti here or on Overdrive.
The Green Lantern Vol 1. Intergalactic Lawman — This sharp new take on the Green Lantern character sees him as an intergalactic beat cop, where even ordinary crimes happen on intergalactic scales.
Monstress, Volume 4: The Chosen, written by Marjorie Liu, art by Sana Takeda (Image)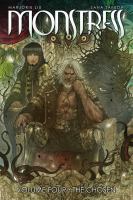 Monstress. Volume four, The chosen / Liu, Marjorie M
A fusion of a war diary, a horror manga, and young adult fantasy, Monstress has been a critical and fan-favourite since it began in 2016. Set in a war-torn land inspired by 20th century Asia, Monstress follows the adventures of Maika Halfwolf, a magical 'Arcanic' who is hunted by an order of sorceresses who use her species as magical fuel for their spells. Every volume of Monstress has won the Hugo for Best Graphic Story for the past three years running. Will Volume 4 continue Liu and Takeda's winning streak?
Related Reading
Monstress Volume 1. Awakening — Start reading Monstress from the beginning with the first volume here, or for download it on Overdrive.
The iron hunt — The first book in Marjorie Liu's urban fantasy series Hunter Kiss, which follows a demon hunter trying to rescue her beloved from a bloodthirsty army.
Calamity Kate — In an urban fantasy world, a monster hunter moves to LA to find the ultimate bounty: the Seven Fabled Beasts of Yore.
Mooncakes, by Wendy Xu and Suzanne Walker, letters by Joamette Gil (Oni Press; Lion Forge)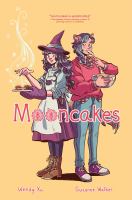 Mooncakes / Walker, Suzanne
Young witch Nova and her werewolf friend Tam have reunited after ten years apart, but their reunion brings forth struggles both mundane and magical, including family conflicts, maturing to face new responsibilities, and battling weird horse demons. Originally a webcomic, Mooncakes was published as a a graphic novel by Lion Forge in 2019, earning praise for centering on the romance of its queer Chinese-American protagonists. This is Walker, Gil and Xu's first Hugo nomination; could Mooncakes cast a spell on the Hugo judges?
Related Reading
For more young adult comics about witches, check out:
The Witch Boy by Molly Ostertag
SuperMutant Magic Academy by Jillian Tamaki
Spell on Wheels by Kate Leth and Megan Levens.
Paper Girls, Volume 6, written by Brian K. Vaughan, drawn by Cliff Chiang, colours by Matt Wilson, letters by Jared K. Fletcher (Image)
Paper Girls. 6 / Vaughan, Brian K
Four paper girls in the 1980s get embroiled in a war between rival factions of time travellers, facing cavemen, mutants, pterodactyls, robots, and their own future selves as they attempts to find a way home. Recently concluding after 30 issues and this sixth collection, Paper Girls has been nominated four times for the Graphic Story Hugo. Will the last volume finally deliver a win for its creative team?
Related Reading
Paper Girls Volume 1  — Start Paper Girls from the beginning here or for download on Overdrive
Wonder Woman Volume 1: Blood — Check out the Paper Girls art team's (Cliff Chiang and Matt Wilson) recent work on Wonder Woman here, or download it on Overdrive.
Saga Volume 1 — Writer Brian K Vaughan won the Best Graphic Story Hugo for Saga's first volume in 2013.
The Wicked + The Divine, Volume 9: "Okay", by Kieron Gillen and Jamie McKelvie, colours by Matt Wilson, letters by Clayton Cowles (Image)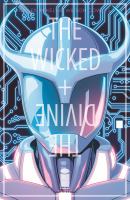 The wicked + the divine. Vol. 9, "Okay" / Gillen, Kieron
Every 90 years, twelve gods return to Earth in the form of teenagers to inspire humankind and gain followers, only to die after two years. In 2014, this 'Pantheon' of gods return as popstars. The Wicked + The Divine (or WicDiv to its fans) follows Pantheon super-fan Laura as she becomes embroiled in the god's inner conflicts and tries to attain godhood for herself. Long-time comic collaborators Gillen, McKelvie, Wilson, and Cowles conclude the long-running series in this final volume, which has been a commercial and critical hit for its resonant themes on fame, death, religion, art, and artists. Volume 9 of the Wicked + The Divine is Jamie McKelvie's first Hugo nomination and Gillen's second with DIE, also nominated this year. Will this final offering be enough to sway the Hugos in their favour?
Related Reading
The Wicked + The Divine Volume 1. The Faust Act — Start WicDiv from the beginning here or for download the first volume on Overdrive.
Young Avengers Volume 1. Style > substance — See how the WicDiv team first got together on the second iteration of Marvel's teen superteam, the Young Avengers.
God complex: Dogma. Volume one — Another modern comic book take on the gods of antiquity, this cyberpunk thriller sees a forensic investigator meeting the god-like beings that secretly run the world.