Is 2023 the year you step onto the career ladder?

Are you returning to work after a break?

Maybe you've had time to reflect over the summer break and feel it's time to move on and are looking for a new job?
Let Wellington City Libraries and our extensive job-hunting resources assist you.  We have many, and varied, resources that may help you.
If you are new to job hunting you might find this blog piece aimed at Job seekers helpful.
There's plenty of other resources too, regardless of what stage you are at in your career or job-hunt.
If you're starting out;
Looking for a job;
Assessing your skills;
Getting your cv (resume) prepared;
Brushing up on some work skills;
Gaining confidence for an interview;
Read on to learn more.
Assess your skill set
If you are a school or university leaver, not certain about your skill set, or maybe someone thinking of changing careers, a good starting site is Careers New Zealand.  Here you will find tools that can assist you figure out what roles your skills and experience may be a good match for.  There is also guidance on cv preparation and other useful information.
Find a vacancy
To apply for a job you need to first know what companies are seeking workers and what roles are being advertised.
If you know what you are looking for and already have a cv prepared you can create a profile and upload your documentation to Seek or Trademe jobs.  Both these sites allow you to create alerts so that you are emailed a listing whenever a job in your area of interest is advertised.
For an experienced worker, looking to change roles or companies, there are a variety of recruitment agents in the Wellington CBD.  Some specialise in certain roles such as labour, IT, professional or executive recruitment.  Others have a more general approach.  Link here for a brief alphabetical Recruitment agents listing
Don't forget the power of networking.  See our blog listing networking groups in the Wellington region or the one about using Linkedin for effective networking.
Prepare your CV/resume
Your cv and covering letter are what will attract a prospective employer to you.  Or not.  So how do you get noticed in among all the other applications?  Like everything, there are trends to how to present your cv and this article outlines some of the resume trends you should be aware of while this one suggests some things that should be on your cv.  If you are uncertain about some information, ask a trusted friend or colleague to check it over.  There are also professional companies that will work with you to produce a standout cv.
Acquiring or brushing up on skills
If, as you read through a job description, you feel you need some new or additional skills to be appropriately qualified for a role then there are many courses available to help you upskill.  Our blog on Professional development looks at some of the online options including Linkedin Learning courses available free with your library registration.
In person courses are offered throughout the year from Wellington High School's Community Education Centre or Victoria University's short course options.
Acing interviews
You've done all the above, and now you have an interview.  What next?  If, like many people you get nervous when faced with a panel of interviewers asking you questions then preparation is the key.  Look for the company website and brush up on your knowledge of their structure and people.  For a senior role, check to see if the company Annual Report is available and have a read.  Sometimes you may be questioned on how much you know about an organisation, for example, how it may be funded.  This is when your research will pay off.  There's also the chance of an "awkward" question.  Have a look at the advice offered in this HBR article  How to Answer "Tell Me About a Time You Failed" in a Job Interview.
On the Wellington City Libraries website enter "Employment interviewing" in the catalogue search box to find resources that can help you prepare answers for those sticky questions.  And don't be afraid to go into an interview with a list of questions you want to know about the company.
So that's some of the many ways we can help your job search succeed.  You'll also find more resources listed on our Aramahi/Careers Information page.
Within our broader library collection we also have resources like those listed below, that library users are welcome to borrow.  Or contact your friendly and helpful library staff for further suggestions.
The new rules for job hunting : changing jobs in a changing world / O'Neil, Tom
"The rules have changed! With economic uncertainty after COVID 19, as well as redundancies and unemployment on the rise, it has never been more important in New Zealand to secure strong and long-lasting employment. You may already have (or maybe think you have) the skills to gain a new career or win a dream job but if you are unable to sell yourself to a prospective employer. In reality, that potential is unrealised with most people. With sections on resumes, social media, preparing and sending impactful covering letters, the do's and don'ts in an interview, interviewing tips (both ZOOM and traditional), networking, direct marketing, salary negotiation and career goal-setting, this book is packed with information. The book also includes up-to-date tips and information about social networking, online resources and long-term career planning. Discover how you can stand out from the competition and receive more job opportunities and better value job offers than ever before. 'THE NEW RULES FOR JOB HUNTING' will help you to discover and identify personal key career highlights and assist in marketing your skills to potential employers. New Zealander Tom O'Neil has been a professional recruitment and human resources consultant for over twenty years. He is sought after for Interviews for television and radio commentary regarding employment and has articles about career development printed in a wide range of magazines and newspapers. He is a significant contributor to the bestselling career guide 'What Color Is Your Parachute?' which has sold over 15 million copies worldwide. Tom has also been the author of the bestselling book 'You're Hired', (published by New Holland) and is in demand globally for his workshops and public speaking. Gaynor O'Neil is a senior recruiter and works with Tom in their international personal development and resume writing businesses"–Publisher's website." (Catalogue)
What color is your parachute? : your guide to a lifetime of meaningful work and career success / Bolles, Richard Nelson
"In today's challenging job-market, as recent grads face a shifting economic landscape and seek work that pays and inspires, as workers are laid off mid-career, and as people search for an inspiring work-life change, the time-tested advice of What Color Is Your Parachute? is needed more than ever. This completely updated edition features the latest resources, strategies, and perspectives on today's job market, revealing surprising advice on what works–and what doesn't–so you can focus your efforts on tactics that yield results."– Publisher's description." (Catalogue)  Available as EBook Overdrive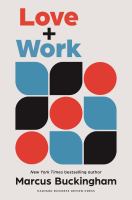 Love + work : how to find what you love, love what you do, and do it for the rest of your life / Buckingham, Marcus
"We're in the middle of an epidemic of stress and anxiety. A global pandemic has wreaked havoc on our lives. Average life expectancy in the United States is down. At work, less than 16 percent of us are fully engaged. In many high-stress jobs, such as distribution centers, emergency room nursing, and teaching, incidences of PTSD are higher than for soldiers returning from war zones. We're getting something terribly wrong. We've designed the love out of our workplaces, and our schools too, so that they fail utterly to provide for or capitalize on one of our most basic human needs: our need for love. As Marcus Buckingham shows in this eye-opening, uplifting book, love is an energy, and like all forms of energy, it must flow. It demands expression-and that expression is "work." Whether in our professional accomplishments, our relationships, or our response to all the many slings and arrows of life, we know that none of this work will be our best unless it is made with love. There's no learning without love, no innovation, no service, no sustainable growth. Love and work are inextricable. Buckingham first starkly highlights the contours of our loveless work lives and explains how we got here. Next, he relates how we all develop best in response to other human beings. What does a great work relationship look like when the other person is cued to your loves? What does a great team look like when each member is primed to be a mirror, an amplifier, of the loves of another? Finally, he shows how you can weave love back into the world of work as a force for good, how you can use your daily life routines to pinpoint your specific loves, and how you can make this a discipline for the rest of your life. Today, too often, love comes last at work, and we are living the painful consequences of this. Love + Work powerfully shows why love must come first-and how we can make this happen"– Provided by publisher." (Catalogue)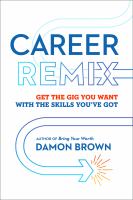 Career remix / Brown, Damon
"An author, two-time start-up founder and four-time TED speaker offers testimonials, plans of action, and road-tested insight to encourage job seekers to use their existing skills and resources to change careers, manage transitions, and thrive in the current job market." (Catalogue)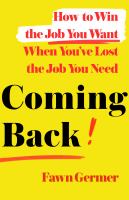 Coming back : how to win the job you want when you've lost the job you need / Germer, Fawn
"A street smart, inspiring, practical and utterly honest book for renewing or resuming your career. Millions of mid- and late-career professionals are wondering why our careers are dying. We've been fired, downsized, job-eliminated, or we've left work voluntarily to raise children, care for loved ones, or go to school. Our unemployment rate is more than three times the national average. It takes twice as long to get hired, usually for far less money than we were making. Is it age discrimination? Maybe. But it's not that simple. So many of us have lagged on skills and technology, shrugged off social media, or ignored the rate of change and let younger people become the face of our profession's future. Our "track record" really doesn't matter. We want to come back, but we aren't ready. Coming Back offers clear advice, including: -Make yourself visible and relevant by sharing articles and information on your field with colleagues and on social media. -Use LinkedIn to build your network in your industry and identify decision makers. -Tell interviewers about what you will do-don't rely on what you have done. -Stop grousing about "those millennials" and start working with them. -Volunteer strategically to build leadership skills and networks. Coming Back shows how you can save a career if still employed or get one back if cast out. Fawn Germer, one of the nation's most popular leadership experts and global motivational speakers, has personally interviewed more than 300 CEOs, senior executives, professors, lawyers, organizational experts, industry leaders and professionals. The result is a tactical, tough-love call to action: to learn, re-tool, connect, grow, and get ready to work again"– Provided by publisher." (Catalogue)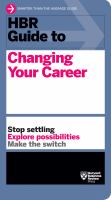 HBR guide to changing your career
"You're well into your career and yet you're not where you want to be. Perhaps you've done everything you need to do to be named a partner, but your firm has encountered a crisis that's put all promotions on hold. Maybe a hobby or sidegig has helped unearth a new passion you'd love to pursue full-time. Perhaps you've come to realize that your current role is no longer meaningful. Or maybe you've exceeded all of the goals you set for your current career and you're ready for a new challenge. How do you envision possible new professional selves, explore your options, and embark on a dramatic career makeover when you have a mortgage to pay, kids to support, college and retirement funds to feed–and a full life and full-time job? Can you really set aside the years you've invested in your education and current industry? How can you make a radical change when there are so many demands on you? Whether you know what you want your second act to be or you have no clue–only that what you're doing isn't a match, this guide will help you chart a course and make the switch. You'll discover how to: – Break free of what your career is now to consider what it could be – Get an accurate picture of the skills and abilities you bring to the table – Create experiments that won't sabotage your current job – Assess the financial implications of making a change – Develop a compelling way to tell your story–tying even seemingly unrelated jobs into a cohesive narrative – Build expertise in a new field – Land a new role– Provided by publisher." (Catalogue)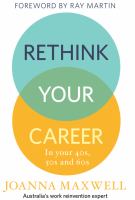 Rethink your career : in your 40s, 50s and 60s / Maxwell, Joanna
"Have you accumulated plenty of wisdom and experience, but others think you're all washed up? Perhaps you're bored with your current work but not sure what's next. Don't panic! Work reinvention expert Joanna Maxwell shows you how to refresh a current career, pursue a new direction or leverage your experience to start your own business. The practical exercises and inspirational real-life stories in "Rethink Your Career: will help you: – clarify your strengths, talents and skills – find creative new ways to think about your work future – take stock of your finances and deal with your fears – make your best decision and put your new plans into action." (Catalogue)
Ultimate job search : master the art of finding your ideal job, getting an interview and networking / Williams, Lynn
"A one-stop shop for all job hunters, this fifth edition of Ultimate Job Search takes the stress out of job hunting and provides advice on every stage of the process including: preparing a poweful CV that will get you noticed ; sample cover letters and emails that are really persuasive ; making a great impression at interviews ; dealing with offers and rejections in a positive manner."–Back cover." (Catalogue)
How to write an impressive CV & cover letter : a comprehensive guide for jobseekers / Whitmore, Tracey
"Your CV, cover letter and LinkedIn profile are your first communication with a prospective employer. As the job market is more competitive than ever, grabbing an employer's attention and making the right first impression has never been more important. If you compromise on the quality of your CV, cover letter and LinkedIn profile, you reduce your chances of winning an interview. This book, which will appeal to anyone from entry level to board level, is a step-by-step guide on how to approach job hunting and achieve a killer competitive advantage by producing an impressive CV, cover letter and LinkedIn profile. Invaluable views and advice from senior HR and industry professionals, who are often the first point of entry, are provided throughout the book. How to Write an Impressive CV and Cover Letter will support jobseekers through the entire job-hunting process. It offers access to practical, real-life examples of CVs and cover letters that have secured interviews and helped individuals win their dream job. Readers will gain access to these documents, together with valuable templates, as part of the book." (Catalogue)
Get that job : interviews : how to keep your head and land your ideal job
"The ultimate guide to preparing for the interview process, maintaining focus, handling difficult questions, and maximizing your chances of landing that dream job."Whether you're a school leaver, a recent graduate, an established professional on the move, or someone looking to return to the job market, any research and preparation will be critical in improving your performance in an interview setting – from being aware of your own strengths and weaknesses, through to knowing the questions to ask that will ensure you are remembered after the interview is over. Whether it is in person, on the telephone or via a video conference, Get That Job: Interviews will prepare you for even the toughest interview – including tips on preparation and pre-interview research, strategies for different types of interview, advice on staying calm under pressure, and ways to cope with the questions from hell." — Amazon.com." (Catalogue)
If you need more information please contact the Prosearch team at the library.  We can help you find information across a range of perspectives and resources.  All enquiries are treated in confidence.