Here is part two of our new music picks for August. You can catch up with Part 1 here, and Part 2 here. Do we actually know anything about new music? Or, are we just too old to understand what most of this is banging on about? Read on to find out…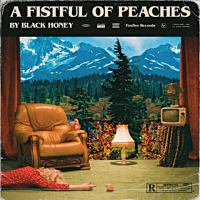 A fistful of peaches / Black Honey
Mark says: 'A Fistful of Peaches' is the third album by UK band Black Honey. They released a self-titled debut in 2018, and have been steady figures in the UK indie scene since then, with 2nd album, 2021's Written & Directed cracking the UK top 10. Their latest album has been hailed as their most consistent yet. While arguably there's nothing really new here musically, lead singer Izzy Bee Phillips manages to inveigh their propulsive, anthemic, 90s styled indie pop-rock, with a surprising degree of emotional shades, from upbeat, to melancholic and malicious. And the catchy tracks often hide pointed lyrics the dig into the mental health struggles and unhappiness that plague her generation.
Sam says: Having formed in 2014, Black Honey is a four-piece indie rock band originating from Brighton, UK, and 'A Fistful of Peaches' is their third album. Featuring infectiously fuzzy guitar lines, thumping drums and evocative, yet somewhat reserved vocals, the music pulls together '90s-flavoured post-grunge swagger with a more contemporary sense of grandeur. The guitar-driven nature of the music provides a rough edge to the music, which is nicely balanced and smoothed out by the subtle synth and keyboard parts. There is a sense of friction between the infectious and upbeat musical parts and the emotionally troubled lyrical content, which in turn provides an atmosphere that feels both playful and introspective. Those looking for infectious power-pop hooks will find plenty to love here.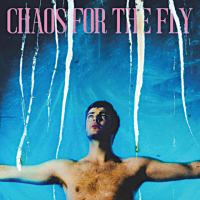 Chaos for the fly / Chatten, Grian
Sam says: Grian Chatten may be most well-known for his work as the vocalist for the popular Irish post-punk band Fontaines DC, but on his debut solo album 'Chaos for the Fly', he is able to showcase how broad his musical palette really is. The trademark commandeering vocals typically showcased within his main band are notably present here, and the sonic palette he draws from is as adventurous in its diversity as it is satisfying in its cohesiveness. Folk-tinged plucked acoustic guitars and stark piano parts set the scene on several of the album's nine tracks, with layers of instrumentation (both electronic and traditional) built around these pieces to provide a lush timbral canvas. Overall, the work on 'Chaos for the Fly' stands apart from the more typically post-punk stylings one might expect to find on a Fontaines DC record. For those interested in hearing something more eclectic, it is well worth a listen.
Neil says: 'Chaos for the fly' is lead singer for the Fontaines D.C. Grian Chatten's debut solo album. In it we find the singer exploring a very different musical world to that of the Fontaines D.C. This is a much more intimate, tender and personal work, and sees Chatten really taking on the singer songwriter mantle. There's lots of genres and influences in play here, from a slightly up-tempo, Nick Drake, vibe to moments that even sound like Lee Hazelwood. The music has elements of folk pop, interspersed with fleeting moments of c, trip hop and dub. An elegant, impressive and surprising solo departure from the Fontaine's D C vocalist.
The candle and the flame / Forster, Robert
Mark says: 'The Candle and the Flame' is the eighth solo album by Australian singer-songwriter Robert Forster from iconic band The Go-Betweens. The album was produced by Forster and his wife Karin, alongside his son Louis (Goon Sax), and played by an ex-Go-Between colleague and family members. It was made the wake of his wife and musical partner's diagnosis with ovarian cancer and between rounds of surgery and chemotherapy. As you may expect, it's a very personal album, tender and intimate, with its raw details of domesticity amongst struggles, but it also contains some of his best and most mature writing and in the end is a life-affirming album on the healing, aging, mortality and the power of music.
Neil says: Using musicians and band mates from his former bands, the Go-Betweens singer creates a very personal atmosphere on this his 8th album. The music is chilled, fresh, stripped and laid back, where listeners are invited to join in the pleasure of listening to the band and Robert hang out together. The lyrics are in contrast to the music, being darker in tone – family health issues and covid era pressures are key focusses. The juxtaposition between music and vocals works well and each add and complement each other.
Endless affair / Reddy, Ailbhe
Mark says: Dublin musician Ailbhe Reddy released her debut album Personal History in 2020, in the midst of the Covid lockdown. It ended up nominated for Ireland's Choice Music Prize, but perhaps had a lesser impact due to the flood of music that period produced. Sophomore album 'Endless affair' is full of energetic, clattering slacker indie-pop, reflecting on messy relationships, boredom, bad drinking habits, regrets and morning after's. The last half of the album shifts into more adult and personal territory, with tributes to her late grandmother, partner, and motherhood. The two halves of the album present a nice juxtaposition of her growth as a writer and artist, and it's clear she is an artist on the rise.
Sam says: Having left a strong public impression with her debut album 'Personal History', released at the height of the COVID pandemic in 2020, Dublin-based artist Ailbhe Reddy has returned three years later with sophomore effort 'Endless Affair'. Whereas the previous album was typically quieter and more delicate in its scope, 'Endless Affair' showcases a wider spectrum of moods and dynamics. The first half of the album features a number of more energetic, harder rocking numbers whereas things become more subdued and personal as the record draws on. Reddy's vocals are a consistent high point, with her enigmatically beautiful and powerful voice acting as a unifying force across the album's twelve tracks.
Dreamer / Iqbal, Nabihah
Mark says: Nabihah Iqbal is a London-based DJ and producer, previously known as Throwing Shade, who makes experimental leaning shoegaze/dreampop. 'Dreamer' is her 2nd album, following on from 2017's Weighing of the Heart. The album emerged out of professional and personal turmoil, losing her gear and work in progress to a studio break in and having to return to native Pakistan following the illness of a Grandparent – only to be stuck there during the pandemic. This led her to a more organic sound, as opposed to the post-punk beats of her debut, buying a harmonium, an acoustic guitar and a looping pedal. The resulting album blends organic, hazy, atmospherics and textures with synthy trance beats and dream-pop stylings. Her cool tones vocals reminded me a bit of early Saint Etienne tracks, while the lyrics dig into memories, love and nature.
Neil says: Dancefloor mixes effortlessly with hazy dream pop in Nabihah Iqbal's latest album. After getting all her studio equipment stolen, Nabihah started off creating her next album in a more organic acoustic fashion however the electronics were quick to reappear. The result is a woozy fusion of hazy, electronica and more acoustically driven dream-pop with an undercurrent of dancefloor. The lyrics are likewise dreamy, but with a lingering romantic melancholic sadness about them.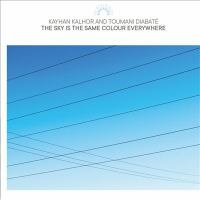 The sky is the same colour everywhere / Kalhor, Kayhan
Mark says: Kayhan Kalhor is an Iranian musician who plays the kamancheh, a Persian spike fiddle, and has collaborated with everyone from Yo-Yo Ma's Silk Road Ensemble to Kronos Quartet. Malian musician Toumani Diabaté has won three Grammys and recorded with Ballaké Sissoko, Taj Mahal, Ali Farka Touré, Björk, and the London Symphony Orchestra. This album is their first collaboration, the tracks based on traditional themes from an improvised set the two men played at a German festival in 2016 and recorded in Paris shortly afterwards. The album is really a melodic and spiritual journey through their shared musical landscape, the atmospheric, dreamy tones and musical colours that link Persian and Malian music. Soothing and meditative music.
Sam says: 'The Sky is the Same Colour Everywhere' is a new album by Iranian artist Kayhan Kalhor, in collaboration with Toumani Diabaté from Mali, both well-known solo instrumentalists in their respective fields. Kahlor plays the kamancheh (a Persian spike fiddle), whereas Diabaté performs the West African kora (a 21-string instrument combining the features of the harp and lute). The songs are based on traditional themes, with the recorded performances being largely improvised. The instrumentalists perform with vigour and virtuosity; however, the resulting music is drawn-out and deeply meditative in nature. While the historical backgrounds of the performers and their instruments is notably different, the combination of Persian and Malian elements come together in a way that feels very natural, making for an immersive and unique world-music listening experience.
Riders of the Canyon / Riders of the Canyon
Mark says: Initially a side project from acclaimed Catalonian 'Spanish Americana' singer-songwriter, Joana Serrat, collaborating with Northern Irish singer-songwriter Matthew McDaid and two other Catalonian musicians, an EP turned into a more expansive project with this full-length album. Each of the four is an artist in their own right so they share lead vocals, with Serrat only singing on three tracks. Someone described her tracks as sounding like Mazzy Star fronting REM, and that's pretty much bang on, with the other three male voices channelling a cosmic-country vibe on the rest, referencing everyone from Tom petty to Neil Young and Nick Cave. Great harmonising, swooping guitar lines, and catchy melodic tunes form the backbone of this dusty laid back, desert folk-rock. Another interesting re-working of western music through other cultures.
Neil says: 'Riders of the Canyon' are a kind of super group put together by Joana Serrat, with all of the other members playing key roles in other bands. The various voices and musical backgrounds make for a diverse album of primarily Americana, but there are lots of other genres involved such as hazy psychedelia and classic folk rock. In places the album is reminiscent of R.E.M., Mazzy Star and even Neil Young. All four members take on the vocal duties, depending on the mood and tone required for each track. An atmospheric, nostalgic alt country album gracefully done, whose songs range widely in mood and approach.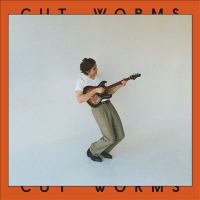 Cut Worms / Cut Worms
Mark says: Cut Worms is the moniker of New York-based indie-pop singer/songwriter Max Clarke, and this is 3rd album. Based on an earlier pop era sound of groups like The Everly Brothers, The Kinks and Buddy Holly, along with plenty of 70s singer-songwriter touches, his music is full of smooth harmonies and melodies. It seems very slight on first listen, but the songs take hold after a while and offer a sweet respite from the stress of modern life. Definitely worth a listen if you enjoyed recent albums by Cass McCombs or the Lemon Twigs.
Neil says: Cut Worms (aka Max Clarke) latest album serves up nine bright and breezy, sun-drenched songs that celebrate the sweeter side of life. It is a laid back and charming collection of catchy indie pop tracks, which are folksy in tone and feature a breezy, lighter, take on Americana. There is even a slightly Beach Boys flavour to some tracks (minus the intricate vocal harmonies). A very sweet and love filled release.
.