Here is part two of our new music picks for August. You can catch up with Part 1 here. Do we actually know anything about new music? Or, are we just too old to understand what most of this is banging on about? Read on to find out…
On the romance of being / Marea, Desire
Mark says: The second album from this queer South African musician is a huge leap forward from 2021 debut Desire. That album was a solo excursion into club beats, but his sophomore effort strikes out for broader musical regions, with a 13 piece band featuring stalwarts of the Durban and Johannesburg jazz circles, and key members of South Africa's experimental scene. The resulting ensemble creates a swirling mix of orchestral sounds, spiritual jazz and searching vocals. In last two years, Desire trained as Sangoma, a traditional Nguni spiritual healer, and you can feel that reflected outward in the music, a sense of communal strength and healing. Standout track is perhaps 'Rah', a powerful 9-minute duet with South African singer and songwriter Zoë Modiga.
Sam says: With the incorporation of a wide variety of musical styles into a single melting pot, Desire Marea's sophomore full length effort 'On the Romance of Being' is difficult to classify, confidently existing within its own world. There are several flavours and moods covered over the space of the record, with jazz, soul, electronic, classical and various louder forms of rock music creating a sound-world that is keenly experimental, yet powerfully immersive and coherent. Dynamic variation is a key force, with intimate instrumentals and sensitive vocal passages building up to chaotic, densely orchestrated crescendos that are truly bombastic in nature. There is a strong spiritual undertone that runs through the record, with Marea's evocative and often pained vocals being an ever-present force of nature. If you enjoy music with an overarching sense of power and beauty, 'On the Romance of Being' is worth a listen.
LaVette / LaVette, Bettye
Mark says: Bettye LaVette returns with one of her most critically lauded albums yet. At 77 her voice still holds true, and she delivers another set of gritty soul, investing the sometimes generic originals (all penned by Randall Bramblett) with a deep well of world weariness & lived experience. The loose funky jams of the stellar backing (John Mayer, Ray Parker Jr. & Jon Batiste guest, among others) give the album a relaxed feel, and the fact that Bramblett songs are lesser known lets LaVette stretch out in different emotional directions in a way previous cover albums perhaps didn't.
Neil says: LaVette is the latest release from the much-underrated American soul singer songwriter Bettye LaVette. Bettye LaVette recorded her first single in 1962 but the record business was not to be kind to her. Her fabulous 1972 album Child of the seventies didn't even receive a release by her label at the time. Bettye's electrifying live performances fared better and gained her a loyal fan base, but her recording work was sporadic and sadly gained only limited attention. It wasn't until her 2005 album I've got my own hell to raise that she finally broke through . 'LaVette' is an album of covers by the fabulous but less well-known songwriter Randall Bramblett. This lesser well-known aspect of the songs means that she totally owns them in her performances; there is no sense of reinventing them. The songs, production and singing are of the highest calibre and Bettye is backed by a group of stellar musicians. The styles encompassing in the album range from soul to blues rock, gospel to funk often with a jazz edge.
The greater wings / Byrne, Julie
Mark says: The 3rd album from this folky American singer-songwriter, following 2017's full length debut Not Even Happiness, released on Brooklyn label Ba Da Bing. 'The greater wings' is a heartful tribute to her musical collaborator & romantic partner, producer Eric Littmann, who passed away unexpectedly during the recording process. A really affecting album that processes the death of Littman, as well as overall themes of isolation and grief. Sublimely produced, the gauzy, dreamy piano, harp and strings, all surround a set of songs that, while mournful & melancholic, also speak to resilience and connection. Her softly delivered vocals and moving lyrics manage to convey a hushed intimacy, while also addressing universal themes these felt by everyone at some point. Well deserving of all the rave reviews it has been receiving.
Sam says: New York based singer-songwriter Julie Byrne's third album 'The Greater Wings' is a work that is equally sensitive and powerful. Partner and musical collaborator Eric Littmann tragically passed away partway through the album's creation, which undoubtedly reshaped the tone of the record into a grief-driven meditation on life and death. Musically, it has a strong American folk flavour, with pastoral plucked acoustic guitars and gentle vocals driving several of the album's ten tracks. This is augmented by gentle, reverb-soaked textures created using analogue synthesisers (performed by Littmann) and occasional subtle orchestral flourishes, to provide a feel that is simultaneously classic and contemporary. A work of deep sadness and profound beauty, 'The Greater Wings' is a wonderful record that will stir deep feelings within the attentive listener.
Ecstatic computation / Barbieri, Caterina
Sam says: Utilising complex pattern-based sequencers and synthesisers, within a musically minimalist framework, the work on Caterina Barbieri's 'Ecstatic Computation' ranges from deeply contemplative to positively blissful. Arpeggiators weave their way through one another, in a gradually evolving manner, to create a kaleidoscopic canvas of sound. Ever colourful and laden with compositional intricacy, 'Ecstatic Computation' always manages to retain a hypnotic atmosphere (in part thanks to its repetitive, cyclic nature), which in turn grounds it within its ambient foundations. The production is very well executed, making for an immersive headphone listen with the reverb-laden synthetic patterns feeling like candy to the ears. Despite its experimental intentions, the music here is easy to digest and is overall a highly engaging listen.
Neil says: Italian born, Berlin based, musician Caterina Barbieri's album 'Ecstatic Computation' is a very approachable experimental work. Ambient in style, it uses finely crafted and carefully layered arpeggiated algorithmic synths to create a slowly evolving euphoric effect. One of Caterina's stated intentions was to manipulate listeners sense of space and time which she achieves largely through how she uses rhythmic structure, slowing it or accelerating it as needed. Caterina is also careful to not stick too long on any fixed moment or beat, moving the pieces fluidly and constantly forward and introducing a trance like effect. An album that is a mesmerising, interlocking web of rhythmic focussed electronic sounds.
The beggar / Swans (Musical group)
Sam says: Experimental rock heavyweights Swans have enjoyed a long and illustrious career spanning several decades, covering many musical flavours throughout their prolific and varied discography. Returning from a decade-plus long hiatus in 2010, they came back to release some of the most visceral and potent material of their career with albums such as The Seer and To Be Kind, a feat made more impressive by the fact that mastermind Michael Gira was already in his senior years. On 'The Beggar', there is a definite sense that Gira is slowing down, with the arrangements becoming generally more subdued and less bombastic than what came before. While there are still a few moments here and there that reach up to the stratosphere, the record is generally more acoustically driven, with lush textures and the ever-poignant vocals providing an atmosphere that brings to mind the work of Gira's other project Angels of Light. Despite the generally less confronting and more laid-back vibe, the music is as challenging and vital as ever, and from a lyrical standpoint, it contains some of the most moving work of Gira's career. With the record spanning over two hours (the centrepiece track 'The Beggar Lover (Three) alone lasting over forty minutes), 'The Beggar' is a work of epic proportions. It may take some time to digest, but those with the patience and endurance to do so will be duly rewarded.
Tell me world / Tapestri
Mark says: Welsh bilingual folk/Americana artists, Lowri Evans and Sarah Zyborska (who also records as Sera) first met at a festival in France in 2019 on the Welsh Pavilion stage of the Lorient Celtic Festival. They decide to create a band to showcase their style of music and a female centric voice and, following an EP release, 'Tell me World' is their debut album. The album has as many Country influences, as it does folk and hews more towards an Americana sound, with the kind of intuitive harmonising more apparent with sibling bands, at times reminiscent of Fleetwood Mac or The Highwomen. Two of the songs are in Welsh, but the rest are in English, and focus on life and stories from the perspective of female characters, tackling everything from abuse victims to inequality, self determination and empowering dreams.
Sam says: 'Tell Me World' is the debut album by Welsh folk duo Tapestri, formed in 2019 and consisting of singer-songwriters Lowri Evans and Sarah Zyborska. The sweet Americana-esque harmonized vocals and sparse acoustic guitar driven musical arrangements are augmented by instruments such as pedal steel, piano, organ, double bass and accordion to create a richly beautiful soundworld. Despite the aforementioned Americana influence, the work of Tapestri is deeply and proudly rooted in its Welsh origins, with lyrics being sung in both English and Welsh languages across the album. Lyrically, it has a strong focus on the various struggles that women face within the world, delivered in a poetic and poignant manner. An accomplished debut by a promising up-and-coming act within the country/folk music world.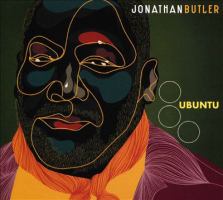 Ubuntu / Butler, Jonathan
Mark says: Butler is a South African-born guitarist/vocalist known for his smooth romantic Jazz-pop-R&B stylings, who left South Africa in the early 80s and moved to the UK, eventually becoming an internationally recognised star & winning a Grammy nomination for Best R&B Song. Staring out as an acoustic guitarist, he perhaps emulated George Benson in taking a path that emphasised his light soul smooth vocals over his instrumental prowess. But his latest album is obviously a very personal project, very much a return-to-roots, inspired by his growing up during this troubled time in South Africa's history (he was born in Cape Town in 1961, 6 months after the infamous Sharpeville massacre). The album takes its name from the universal Bantu philosophy on unity, adopted by South Africa as a guiding principle after the abolition of apartheid, and blends his smooth vocals with African sounds, and rhythms, with guest appearances by Stevie Wonder and Keb' Mo'. A heartfelt musical love letter to his home and the deeper principles of humanity.
Neil says: The Grammy nominated South African musician Jonathan Butler has for a variety of reasons long lived in America, initially in political exile from the apartheid regime in South Africa at that time, and has variously been described by the music industry as a gospel, R&B and jazz musician. And whilst there are elements of these genres in his work, he also has a much more unique musical identity. In this his twenty eighth studio album he very much explores his own distinctive musical identity, with elements of African Jazz and fusion working into the list above. The title track Ubuntu encapsulates this perfectly, the word being linked to the Zulu philosophy of unity. There are also some musical nods to one Jonathan's musical hero's Stevie Wonder, in an album where a joyous mood prevails throughout
Field day / Crenshaw, Marshall
Mark says: This 2023 40th Anniversary Expanded Edition of Crenshaw's second album follows on from the 2022 40th Anniversary reissue of his self-titled 1982 debut album. His 80's update of 50s & 60s vintage pop produced another set of tuneful tracks, poignant in places and full of clever lyrics and classicist song-writing. The drums were 'controversially' a bit boomier on this album, helmed by famous producer Steve Lillywhite, but by going against the major sounds of the early 80s his first 2 albums now have an almost timeless feel to them. Opening track "Whenever You're on My Mind" has gone on to be hailed as a classic piece of pop music, and was covered by no less than the iconic Ronnie Spector herself, when she released an EP exclusively made up of Marshall Crenshaw covers.