Continuing our short feature series on this year's Ngaio Marsh Awards, we are delighted to have an exclusive interview and reading by debut novelist and Ngaio Marsh shortlisted author of Tugga's Mob, Stephen Johnson.
Stephen has a fascinating background, first as a courier and driver for Topdeck Travel, taking passengers from London to Istanbul and then as a television producer for some of New Zealand's most iconic news and sports programmes. Both of these life experiences inform many of the dramatic devices and locations Stephen uses in this novel. For example, the novel's investigators are a television current affairs crew rather than the traditional detectives or private investigators.
Stephen describes himself as an accidental author who wrote the book whilst on an empty nest tour of Europe. The plot revolves around Judy Williams, a young backpacker whose dream of exploring Europe on her OE ends tragically in her murder. It is only the discovery of her diary thirty years later that leads to the investigation that finally puts matters to right. Tugga's Mob has been described by many reviewers as a "compulsive page turner" that vividly brings to life some of Europe's top tourist destinations.
We want to extend our biggest thank you to Stephen for his time and such a great interview. And we wish him and his fellow shortlisted authors good luck in the final awards ceremony. The finalists will be celebrated, and the winners announced, as part of a special event at this year's WORD Christchurch Festival, held from 29 October to 1 November. Enjoy!
Below are some of the books that influenced Stephen Johnson and were mentioned in his interview:

Secret Seven on the trail / Blyton, Enid
"Something mysterious is going on at Tigger's Barn, and the Secret Seven are intrigued. Peter thinks it's all just gossip, but Jack isn't so sure when he overhears a strange conversation. It looks like the Seven are on the trail of another exciting adventure! Solve the mystery!This edition features the classic text and comes with a Bonus Blyton section at the back with quizzes, puzzles and other bonus extras! ." (Adapted from Catalogue)
Call for the dead / Le Carré, John
"After a routine security check by George Smiley, civil servant Samuel Fennan apparently kills himself. When Smiley finds Circus head Maston is trying to blame him for the death, he begins his own investigation, meeting Fennan's widow. On the very day Smiley is ordered off the enquiry he receives an urgent letter from the dead man. Do the East Germans – and their agents – know more about this man's death than the Circus previously imagined?" (Adapted from Catalogue) Also available as an eBook.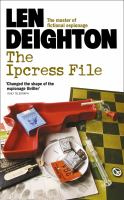 The Ipcress file / Deighton, Len
"Len Deighton's classic first novel, whose protagonist is a nameless spy – later christened Harry Palmer and made famous worldwide in the iconic 1960s film starring Michael Caine. The Ipcress File was not only Len Deighton's first novel, it was his first bestseller and the book that broke the mould of thriller writing. For the working class narrator, an apparently straightforward mission to find a missing biochemist becomes a journey to the heart of a dark and deadly conspiracy." (Adapted from Catalogue) Also available as an eBook.
The Bourne identity : a novel / Ludlum, Robert
" His memory is a blank. His bullet-ridden body was fished from the Mediterranean Sea. His face has been altered by plastic surgery. A frame of microfilm has been surgically implanted in his hip. Even his name is a mystery. Marked for death, he is racing for survival through a bizarre world of murderous conspirators–led by Carlos, the world's most dangerous assassin. Who is Jason Bourne? The answer may kill him. " (Adapted from Catalogue)
Headhunters/ Nesbø, Jo
"Roger Brown is a corporate headhunter, but one career simply can't support his luxurious lifestyle. At an art opening one night he meets Clas Greve, who is not only the perfect candidate for a major CEO job, but also, perhaps, the answer to his financial woes: Greve just so happens to mention that he owns a priceless Peter Paul Rubens painting–and Roger Brown just so happens to dabble in art theft. But when he breaks into Greve's apartment, he finds more than just the painting." (Catalogue) Also available as an eBook.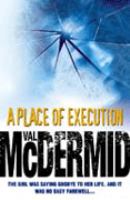 A place of execution / McDermid, Val
"In the village of Scardale, thirteen-year-old girls didn't just run away. So when Alison Carter vanished in the winter of '63, everyone knew it was a murder. Catherine Heathcote remembers the case well. A child herself when Alison vanished, decades on she still recalls the sense of fear. Now a journalist, she persuades DI George Bennett to speak of the hunt for Alison, the tantalizing leads and harrowing dead ends. But when a fresh lead emerges, Bennett tries to stop the story… '" (Adapted from Catalogue) Also available as an eBook. 
The faceless / Symon, Vanda
"Bradley is a middle-aged man trapped in middle-class New Zealand. One day, Bradley picks up a teenage hooker. Unfortunately he can't keep it up and then she laughs at him. That was a mistake. He beats her, ties her up and takes her to an abandoned warehouse. Max is homeless. He eats from rubbish bins, bums cigarettes from anyone and anywhere, including the footpath. But Max has one friend and she has gone missing. If he is to find her he is going to have to call on some people from his past life and re-open old wounds." (Adapted from Catalogue)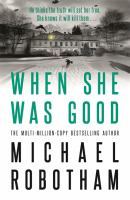 When she was good / Robotham, Michael
"Criminal psychologist Cyrus Haven and Evie Cormac return. Who is Evie, the girl with no past, running from? She was discovered hiding in a secret room in the aftermath of a terrible crime. Her ability to tell when someone is lying helped Cyrus crack an impenetrable case. Now, the closer Cyrus gets to uncovering answers about Evie's dark history, the more he exposes Evie to danger, giving her no choice but to run. Ultimately, both will have to decide if some secrets are better left buried and some monsters should never be named…" (Catalogue)
For more information on Stephen click here.