Have you ever wanted to write for Doctor Who and want to know how ?
Would you like to know about the process for writing for television ?
Well here is your chance.
As well as being the internationally bestselling author of Rivers of London series of books and graphic novels, the multitalented Ben Aaronvitch is also a scriptwriter for both Television and radio.
Ben has written for Casualty, Jupiter Moon, Blakes 7 and the longest running Science fiction series in the world Doctor Who. Indeed his first ever script for television was for Doctor Who. Remembrance of the Daleks: the first story in Doctor Who's twenty-fifth anniversary season.
Ben will be doing a very special online question and answer event for us in October and we need questions.
So if you've ever wanted to ask Ben Aaronovitch a question, now's your chance!
Simply send us your questions via Facebook, Twitter, Instagram or email before the end of September and we'll do our best to ask them during the event.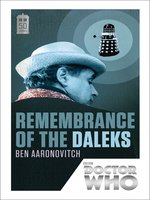 Remembrance of the Daleks, Ben Aaronovitch (ebook)
"With unfinished business to attend to, the Seventh Doctor returns to where it all began: Coal Hill School in London in 1963. Last time he was here, the Doctor left something behind – a powerful Time Lord artefact that could unlock the secrets of time travel. Can the Doctor retrieve it before two rival factions of Daleks track it down? And even if he can, how will the Doctor prevent the whole of London becoming a war zone as the Daleks meet in explosive confrontation?" (Adapted from Overdrive description)
Rivers of London [3] : black mould / Aaronovitch, Ben
"Something dark and slimy is dripping through the walls of suburban London. Not the usual stuff that smells funny and can be hell on the lungs, this mould is possessed by some dark power full of bad intentions. Looks like it's another case for London's one and only trainee wizard cop, Police Constable Peter Grant, and his reluctant partner, Sahra Guleed, set between Foxglove Summer and The Hanging Tree Aaronovitch is joined by Doctor Who writer Andrew Cartmel for this gripping new series." (Adapted from Catalogue) Also available as an eBook.