Do you enjoy delving into some darkness in your reading?
The Ngaio Marsh Awards, in association with Wellington City Libraries, invites booklovers to a fun evening of criminally good conversation, featuring five outstanding local storytellers.
Three-time Ockham New Zealand Book Awards listee Brannavan Gnanalingam chairs a panel discussion with 2019 Ngaio Marsh Award and Ockham winner Dame Fiona Kidman, 2021 Ockham longlistee Sally J Morgan, and New York Times bestselling writing duo Dr Judy Melinek and TJ Michell. From crafting rich characters alongside exciting storylines to addressing real-life issues through their fiction, much will be revealed.
When: 6pm, Friday 30 April 2021
Where: Newtown Library, 13 Constable Street, Wellington 6021
This is a free event.
Dame Fiona Kidman has published over 30 books, including novels, poetry, non-fiction and a play. She has worked as a librarian, radio producer and critic and as a scriptwriter for radio, television and film. Her novel This Mortal Boy won the 2019 Ngaio Marsh Award for Best Novel as well as the Acorn Prize for Fiction, the NZ Booklovers Award and the NZSA Heritage Book Award.
Brannavan Gnanalingam is a Wellington lawyer and writer of fiction and non-fiction. His past three novels have all been listed for the Ockham New Zealand Book Awards; Sodden Downstream  was shortlisted in 2018. His latest novel Sprigs has been called a "scarily contemporary and realistic story… an extraordinary piece of writing" (Kim Hill, Radio NZ).
Sally J Morgan is a Professor at Massey University Wellington, conceptual artist, and cultural historian. She grew up in a Welsh mining town and as a young women was once offered a lift by the serial killers Fred and Rose West. Sally declined, but that experience planted the seeds for her debut novel Toto Among The Murderers, which is longlisted for the 2021 Acorn Prize for Fiction.
Dr Judy Melinek and TJ Mitchell are the husband-and-wife writing duo behind the Jessie Teska forensic mysteries and the New York Times bestselling non-fiction book Working Stiff: Two Years, 262 Bodies, and the making of a medical examiner, based on Judy's training with the Chief Medical Examiner in New York. TJ previously worked in the film industry.
Please note "Mature/ adult issues of a challenging nature" may be discussed.
This mortal boy / Kidman, Fiona
"Albert Black, known as the 'jukebox killer', was only twenty when he was convicted of murdering another young man in a fight at a milk bar in Auckland on 26 July 1955. His crime fuelled growing moral panic about teenagers, and he was to hang less than five months later, the second-to-last person to be executed in New Zealand. But what really happened? Was this a love crime, was it a sign of juvenile delinquency? Or was this dark episode in our recent history more about our society's reaction to outsiders? Black's final words, as the hangman covered his head, were, 'I wish you all a merry Christmas, gentlemen, and a prosperous New Year.' This is his story." (Adapted from Catalogue) Also available as an eBook .
Sprigs / Gnanalingam, Brannavan
"It is Saturday afternoon and two boys' schools are locked in battle for college rugby supremacy. Priya – a fifteen year old who barely belongs – watches from the sidelines. Then it is Saturday night and the team is partying. Priya's friends have evaporated and she isn't sure what to do. In the weeks after 'the incident' life seems to go on. But when whispers turn to confrontation, the institutions of wealth and privilege circle the wagons."–cover." (Catalogue)
Toto among the murderers / Morgan, Sally J
"'It is 1973 and Jude – known to her friends as Toto – has just graduated from art school and moves into a house in a run-down part of Leeds. Jude is a chaotic wild child who flirts with the wrong kind of people, drinks too much and gets stoned too often. Never happy to stay in one place for very long, her restlessness takes her on hitchhiking jaunts up and down the country. Her best friend, Nel, is the only steady influence Jude has but Nel's life isn't as perfect as it seems. At the same time infamous murderers, Fred and Rosemary West, are stalking the country, on the lookout for girls like Jude." (Adapted from Catalogue)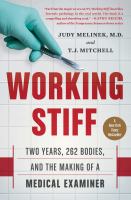 Working stiff : two years, 262 bodies, and the making of a medical examiner / Melinek, Judy
" Dr. Judy Melinek began her training as a New York City forensic pathologist. While her husband and their toddler held down the home front, Judy threw herself into the fascinating world of death investigation–performing autopsies, investigating death scenes, counseling grieving relatives. Working Stiff chronicles Judy's two years of training, taking readers behind the police tape of some of the most harrowing deaths in the Big Apple, including a firsthand account of the events of September 11." (Catalogue)