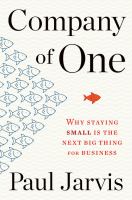 Company of one : why staying small is the next big thing for business / Jarvis, Paul
What if the real key to a richer and more fulfilling career was not to create and scale a new start-up, but rather, to be able to work for yourself, determine your own hours, and become a (highly profitable) and sustainable company of one? Suppose the better–and smarter–solution is simply to remain small? This book explains how to do just that. What if the real key to a richer and more fulfilling career was not to create and scale a new start-up, but rather, to be able to work for yourself, determine your own hours, and become a (highly profitable) and sustainable company of one? Suppose the better–and smarter–solution is simply to remain small? This book explains how to do just that.
Company of One
is a refreshingly new approach centered on staying small and avoiding growth, for any size business. Not as a freelancer who only gets paid on a per piece basis, and not as an entrepreneurial start-up that wants to scale as soon as possible, but as a small business that is deliberately committed to staying that way. By staying small, one can have freedom to pursue more meaningful pleasures in life, and avoid the headaches that result from dealing with employees, long meetings, or worrying about expansion.
Company of One
introduces this unique business strategy and explains how to make it work for you, including how to generate cash flow on an ongoing basis. In
Company of One,
Jarvis explains how you can find the right pathway to do the same, including planning how to set up your shop, determining your desired revenues, dealing with unexpected crises, keeping your key clients happy, and of course, doing all of this on your own." (Catalogue)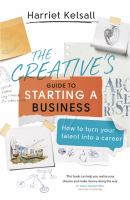 The creative's guide to starting a business / Kelsall, Harriet
"'A book to devour from start to finish – easy to do as it is accessibly-written and oh so fascinating – and then to dip into later for reference.' – Joanna Reeves Do you have a passion for making beautiful objects? Are you wondering whether you can take the next step and turn your creativity into a career? This inspirational guide offers easy-to-follow advice from talented and creative industry experts. There are practical exercises that will help you sell your creations, choose the right time to start your business, and guide you through as you do so. With The Creative's Guide to Starting a Business, you will discover the best way to create pieces that sell, write a business plan, identify and reach customers, research the competition, price products and test the market and promote the business successfully. Packed with interviews, encouraging real life stories, and tips from successful entrepreneurs who started with a passion and turned it into their own successful, creative business, this practical guide will take you through the very first steps of defining creative and financial success to ultimately establishing a rewarding start-up." (Catalogue)
From hire to fire : & everything in between : managing the employee life cycle – hire, manage, welleing & exit / Hawker, Natasha
"The barrier to start a business is at its lowest but the task to start, build and run one is as difficult as it has ever been. There are legal challenges to be faced within employment law; there's the cost of hiring and managing employees, whilst trying to avoid and prevent sexual harassment, bullying and terminations – to name just a few. From Hire to Fire & Everything In Between reveals Natasha's 9 Step Employee Life Cycle, which shares everything you need to know about Human Resources and makes managing your employees' career journey easier. Doing the right thing by your employees is good for them and for business." (Catalogue)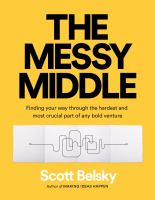 The messy middle : finding your way through the hardest and most crucial part of any bold venture / Belsky, Scott
"Silicon Valley is full of start-up success stories; every day stories emerge of a new company with the potential for a billion-dollar valuation and plans for global domination. But what can we really learn from these stories? How many of these start-ups are genuinely successful in the long term? When nine out of ten start-ups end in spectacular burnout, how can we ensure our own success story? While most books and press focus on the more sensational moments of creation and conclusion, The Messy Middle argues that the real key to success is how you navigate the ups-and-downs after initial investment is secured. It will give you all the insights you need to build and optimize your team, improve your product and develop your own capacity to lead. Building on seven years' of meticulous research with entrepreneurs, small agencies, start-ups and billion-dollar companies, Scott Belsky offers indispensable lessons on how to endure and thrive in the long term." (Catalogue)
The Art of Communication: How to be authentic, lead others and create strong connections [hardback] / Apps, Judy
"Bring nuance, depth, and meaning to every conversation you have The Art of Communication is for anyone who senses that they could be communicating on a deeper level. Perhaps you are a confident communicator but suspect there may be more to the art of conversation that you have not yet been able to access. Or perhaps you feel that your conversations lack depth and meaning and that you'd like to enrich your relationships with others, if only you knew how. This book will address your concerns and show you how to engage wholeheartedly with others. There's more to conversation than just clear, rational thinking. Left-brain rationality is important, of course, but neuroscience increasingly shows that the right-brain skills of creativity, intuition and spontaneity are essential in good communication. In this guide, you'll discover ways of tapping into the full conversational potential that lies dormant within you, adding a level of nuance and watching the result as your relationships blossom. You may even find that untapped value in the form of new insights, ideas and creative thoughts, emerges from your daily conversations.
Access the more nuanced arts of conversation to create strong connections and tangible results
Build cross-disciplinary, cross-cultural connections to communicate effectively with people from different backgrounds
Activate your whole mind — not just your intellect — to bring creativity and depth to communication
Learn to be open-hearted, spontaneous, vulnerable, intuitive, and captivating in every conversation you hold
From communication guru and bestselling author Judy Apps, The Art of Communication will show you how to breathe life into your relationships and produce powerful new thinking enabling you to transform the world you live in." (Catalogue)
The business models handbook : templates, theory and case studies / Hague, Paul N.
"Benefit from a reliable collection of the most valuable business models, including detailed coverage of each model, expertly explained theory, as well as case studies and supporting templates. Business frameworks are extraordinarily valuable professional tools. They add structure and clarity to business problems, and can help practitioners overcome the everyday challenges they face. The Business Models Handbook brings together the most helpful and widely used templates and frameworks into a single, invaluable resource. Each chapter focuses on an individual business framework, giving an overview of its purpose and details of how it will help an organisation grow and be profitable. Each model is supported by a real world case study, and enhanced by a handy visual graphic that the reader can use as a template for their own day-to-day work. Meticulously prepared and researched, The Business Models Handbook covers 50 of the best known and most widely used frameworks, including the Ansoff matrix, Price-Quality-Strategy model, Stage-Gate model, Service Profit chain and many more. Authored by Paul Hague, a leading global market researcher with a background working on over 3,000 different research projects, this is a truly invaluable resource for any student or professional." (Catalogue)
Don't worry about the robots : how to survive and thrive in the new world of work / Dr Jo Cribb and David Glover.
Don't Worry About the Robots is a practical guide to managing the high-speed change ahead of workers. Learn how to disrupt yourself in a positive way, using key principles that will give you the best chance to survive and, even better, to thrive in the new world of work. In this timely book, Dr Jo Cribb and David Glover, former CEOs who have launched successful portfolio careers, share insights from their own experiences plus those of an impressive range of successful business leaders who are all actively thinking about the future of work. Aimed at anyone who needs to change careers or whose job leaves them feeling unchallenged and unfulfilled, as well as those starting work for the first time, this book will provide the inspiration, support and practical tools needed to change your working life.
Turning people into teams : rituals and routines that redesign how we work / David Sherwin & Mary Sherwin.
"Where do teams go wrong? Having the right people with the right skills doesn't mean they'll know how to work together as a team. David and Mary Sherwin maintain it's all in the design. Through a blend of straightforward activities, conversational stories, and dialogues that help model different forms of team interaction, this book will help teams- * Create workday rituals that aid them in making better decisions and following through on their work responsibilities * Identify patterns of behavior that are getting in the way of team performance, and design and test potential ways to them * Reinforce habits that help team members bring the human element into their interactions and foster open communication Readers of this book will be more prepared to set up and survive challenging projects alongside their coworkers with a shared sense of ownership, and an eye towards retaining the integrity of their teams in the long term. Using a process that has worked at some of the world's cutting edge companies, the authors detail the steps to take control of team design and plan for success. The key is to give every team member a voice in designing the team's rules, and in keeping it aligned with the design over the life of the team." (Syndetics summary)
Dare to lead : brave work, tough conversations, whole hearts / Brené Brown.Dare to Lead: Brave Work. Tough Conversations. Whole Hearts
"In her #1 NYT bestsellers, Brene Brown taught us what it means to dare greatly, rise strong and brave the wilderness. Now, based on new research conducted with leaders, change makers and culture shifters, she?s showing us how to put those ideas into practice so we can step up and lead. Leadership is not about titles, status and power over people. Leaders are people who hold themselves accountable for recognising the potential in people and ideas, and developing that potential. This is a book for everyone who is ready to choose courage over comfort, make a difference and lead. When we dare to lead, we don't pretend to have the right answers; we stay curious and ask the right questions. We don't see power as finite and hoard it; we know that power becomes infinite when we share it and work to align authority and accountability. We don't avoid difficult conversations and situations; we lean into the vulnerability that?s necessary to do good work.But daring leadership in a culture that's defined by scarcity, fear and uncertainty requires building courage skills, which are uniquely human. The irony is that we're choosing not to invest in developing the hearts and minds of leaders at the same time we're scrambling to figure out what we have to offer that machines can't do better and faster. What can we do better? Empathy, connection and courage to start.Brene Brown spent the past two decades researching the emotions that give meaning to our lives. Over the past seven years, she found that leaders in organisations ranging from small entrepreneurial start-ups and family-owned businesses to non-profits, civic organisations and Fortune 50 companies, are asking the same questions- How do you cultivate braver, more daring leaders? And, how do you embed the value of courage in your culture? Dare to Lead answers these questions and gives us actionable strategies and real examples from her new research-based, courage-building programme. Brene writes, 'One of the most important findings of my career is that courage can be taught, developed and measured. Courage is a collection of four skill sets supported by twenty-eight behaviours. All it requires is a commitment to doing bold work, having tough conversations and showing up with our whole hearts. Easy? No. Choosing courage over comfort is not easy. Worth it? Always. We want to be brave with our lives and work. It's why we're here.?" (Syndetics summary)
Imagine it forward : courage, creativity, and the power of change / Beth Comstock ; with Tahl Raz.Imagine It Forward: Making Change Work for You, Your Team, Your Company
"FROM ONE OF TODAY'S FOREMOST INNOVATION LEADERS, AN INSPIRING, PERSONAL APPROACH TO MASTERING CHANGE IN THE FACE OF UNCERTAINTY. Confronting change is incredibly hard, both organizationally and personally. People become resistant. They are afraid. Yet the pace of change in our world will never be slower than it is right now, says Beth Comstock, the former Vice Chair and head of marketing and innovation at GE.
Imagine It Forward is an inspiring, fresh, candid, and deeply personal book about how to grapple with the challenges to chang e we face every day. It is a different kind of narrative, a big picture book that combines Comstock's personal story in leading change with vital lessons on overcoming the inevitable roadblocks. One of the most successful women in business, Comstock shares her own transformation story from introverted publicist to GE's first woman Vice Chair, and her hard-won lessons in shifting GE, a 125 year old American institution, toward a new digital future and a more innovative culture.
As the woman who initiated GE's Ecomagination clean-energy and its (and NBC's) digital transformations, Comstock challenged a global organization to not wait for perfection, but to seek out emerging trends, embrace smart risks and test ideas boldly, and often." (Syndetics summary)
What anyone can do : how surrounding yourself with the right people will drive change, opportunity, and personal growth / by Leo Bottary.
" Most of us don't seek advice or reach out to others for help very easily. In part, it's because we're conditioned to see life as an individual endeavor rather than a team sport. Or because we believe that asking for help makes us look weak or incapable. We regard self-help as by-yourself-help. News flash: no one in the history of the world has ever achieved any level of happiness or success totally by themselves.  
In his 1976 book The Long Run Solution , Joe Henderson suggested that becoming truly accomplished at running (or at anything) doesn't typically require us to perform superhuman feats. In fact, success is frequently realized by those who simply do the things anyone can do that most of us never will.
In What Anyone Can Do , with the help of Leo Bottary's Year of the Peer podcasts guests (and playful illustrations by Ryan Foland ), you'll discover that if you surround yourself with the right people, you'll do the things anyone can do far more often. And when you do that, you and the people around you will realize more of what you want out of business and life. It's that simple.
The Power of Peers (2016) made a strong case for how and why formal peer groups are so effective. This book steps outside the formal peer group arena to examine all the important relationships we have in our lives (parents, teachers, spouses, mentors, children, mentees, etc.) and provides a practical approach and specific framework for harnessing their power for your benefit (and theirs). It's what anyone can do. You're anyone, right?" (Syndetics summary)
Work the problem : how experts tackle workplace challenges / Kathryn Stafford.
A software engineer sees her tech skills slipping even as she rises to manage her own team. A marketing director is squeezed between a demanding, artistic boss and her staff. A tech-savvy manager of operations wants to modernize his warehouse but is surprised when he is stymied. Everyone has experienced a situation at work where challenges pile so high that the only solution seems to be to cut and run. But what if we faced our problems head on instead of quitting? Each fictionalized case study in Work the Problem is coupled with in-depth analysis and commentary by two experts who offer fresh ways of looking at seemingly insurmountable difficulties from perspectives such as performance improvement, organization development, and human resources. The result is an engrossing collection of unique yet familiar stories that build on one another, creating a conversation about universal workplace problems and how we can think about solving them for ourselves. Work the Problem is about more than the specific demands of any one workplace–it's about cultivating the mindset and skills to take on the inevitable challenges that will arise in any career. Whether you're thinking of quitting your job, you feel stalled out at your workplace, or you're advising someone who has hit a wall, Work the Problem is the book to reach for.