In a recent conversation with a project manager friend, he told me of a meeting his team had had with their senior manager.

The project team is working on a major, national, big budget project. They are an experienced, hardworking and competent group of professionals.

Therefore, on presenting a progress report to their leadership they were stunned to be told "You're too optimistic".

Uhhh … what …. ????

Needless to say the team found this "feedback" unhelpful and certainly lacking in motivation. They also felt unappreciated. My project manager friend noted he, and others in his team, would be looking closely at other job opportunities post-Xmas holidays.

When the team begins the inevitable drift out the door to take up roles with other organisations senior management will wonder why.

Motivating staff  is a skill. Unfortunately it is a skill often lacking in many leaders.

Skills though can be learned.

The WCL collection contains a range of books and provides access to courses on motivational leadership.
Some recent ones are listed below :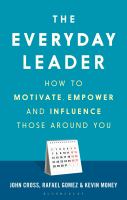 The everyday leader : how to motivate, empower and influence those around you / Cross, John
"Every day, every one of us is a leader in some way – we just don't necessarily know it. Leadership is about inspiring change and movement, whether on an individual level – a person's attitude, behaviour, emotions or habits – or an organizational level – culture, goals, vision or strategy. By changing the way you approach the concept of leadership, The Everyday Leader will help you recognise and embrace your natural leadership qualities, so that you can be more motivated and empowered in the workplace and at home. The Everyday Leader tackles the main challenges that leaders face at some point in their career: leading teams; attaining buy-in from stakeholders; leading through artificial intelligence; whistleblowing; and leading from a distance. But the book also addresses the leadership issues that occur in day-to-day life: listening and empathising; making change attractive and accessible; influencing and persuading; and making the right decision through information overload. Providing advice and tools for those looking to polish their existing leadership skills or anyone who wants to take the next step in their career, The Everyday Leader also recognises that leadership doesn't stop once you clock off – these are lessons you can and should take home with you." (Catalogue)
Also available as an ebook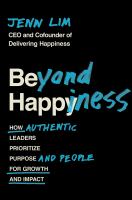 Beyond happiness : how authentic leaders prioritize purpose and people for growth and impact / Lim, Jenn
"Jenn Lim has dedicated her career to helping organizations from name-brand industry leaders to innovative governments build workplace cultures that benefit both their employees and their bottom line, with less employee turnover, greater engagement, and higher profits. Her culture consultancy, Delivering Happiness, demonstrates the profound impact happiness can have on businesses' ability to thrive in our ever-changing times. In this book, she clearly and concretely shows the way the model works in a hyper-connected fast-paced world, beginning with each individual defining their sense of values and purpose (the ME), and rippling through the organization ecosystem (the WE and the COMMUNITY) in waves of impact." (Catalogue)
I love it here : how great leaders create organizations their people never want to leave / Pulver, Clint
"The greatest part about your role in leadership is that it matters. The hardest part is that it matters every day. For years, Emmy Award winning speaker Clint Pulver has been the Undercover Millennial, gathering the secrets of great management from companies of all sectors and sizes. Now, he is ready to reveal the insights he has from his undercover interviews with more than 10,000 employees across the country, and show you exactly what you can do to generate higher staff engagement and retention–and build true loyalty that lasts. I Love It Here is not another leadership book written by a self-proclaimed leadership expert; rather, it's the data-driven product of intensive research with employees who knew exactly when their leaders were getting it right–and getting it wrong. By pulling back the cover on tired, "too tried and not true" leadership strategies that just aren't cutting it anymore, Clint will open your eyes to the mentorship qualities that are earning genuine employee loyalty in the world of today, along with the behaviors that–whether you know it or not–are triggering a rush for the door. By reading this book, you'll learn what one shocking factor is the number one driver of employee turnover (spoiler: it has everything to do with you!), what you can do to stop the leak, and how you can start building a team that works, right from the moment a prospective employee walks through the door. Using real-world examples from companies he has visited as an undercover retention agent, Clint will reveal in detail the best, most proven methods he has seen for identifying talent, building a sense of ownership, and developing staff in a way that helps them recognize and realize their own individual dreams. Through thoughtful and engaging chapter-by-chapter exercises, he'll guide you through each strategy, moving you seamlessly toward building an authentic culture of valuing and empowering the individual in your own workplace. Soon, you'll be recognizing possibility where others see problems, and capturing the power of small moments to create a meaningful legacy. I Love It Here is a vision of leadership that reaches beyond career to become almost like a calling: a day-by-day, moment-to-moment journey toward becoming the best for the world. Let Clint's inspiring personal stories, deep knowledge, and unique challenges help you become that beloved Mentor Manager who is remembered forever, and who knows how to bring out true passion and commitment in the people on your team. This book is your key to the solutions-based principles behind every organization that people never want to leave. Your company can be more than simply a fancy facade. It can be a place that has an authentic core built on valuing the individual–a place where people don't just survive, but thrive. I Love It Here will show you how."– Provided by publisher." (Catalogue)
Manage to engage : how great managers create remarkable results / Hackett, Pamela
"Engagement has often been relegated to HR or was seen as a 'soft' issue. But when you build engagement into the life blood of a leader's role, you see it becomes a performance requirement and a natural part of a manager's day-to-day job. The problem? Leaders have been ill-equipped to engage, not knowing the right tools to employ or the right approaches to take. After all, so much is coming at them. How can they stop and engage? But what if they could? Leaders have often seen engagement as the outcome rather than the launchpad to build stronger ecosystems and achieve results. Manage to Engage addresses this with simple concepts like The HeadsUP High 5, behavior models like Active Management, and a unique performance improvement tool that engages as much as it brings about change: the 1.5.30 Connect–a daily, weekly, monthly routine performance review to enable people to achieve day-to-day business results. Packed with tools and exercises to apply at work today, Manage to Engage helps you address quality of life at work from the start"– Provided by publisher." (Catalogue)
Linkedin learning offers a variety of courses such as this presented by Chris Croft
Inspirational Leadership Skills: Practical Motivational Leadership
As a manager, you have the power to make or break your employees' experience at work. This course was designed to show you how to sharpen your leadership skills, define a vision for your team, and ultimately transcend from a manager to an inspirational leader. Instructor Chris Croft has spent 20+ years teaching leadership skills to professionals of all stripes. Here, he draws from his experiences as he shares over two dozen practical steps you can take to inspire and motivate your team. Get practical strategies for delegating and motivating, communication, dealing with difficult people, and planning the future of your business. Along the way, Chris shares examples from multiple industries that illustrate how these concepts function in the real world.

There's also this from Linkedin learning :

Be someone people trust, no matter what
With the "Great Reshuffle," employees are quitting their jobs at the highest rates in over 20 years, and 41% of the global workforce is considering leaving their jobs. Manager relationships are becoming the make-or-break point for whether employees stay or go. Join veteran HR leader Laurie Ruettimann as she reveals the data behind why it's more important than ever to be a manager who demonstrates empathy and inspires loyalty from the workforce. Laurie covers basics first: be someone people can trust, be an example of integrity, and be relentlessly inclusive. She steps you through ways to inspire your employees to grow. Laurie finishes up by showing you how you can help your team members love their work by being a next-level mentor, a fun-loving boss, and a leader who is genuinely invested in your employees' well-being.
Access to the Linkedin learning courses available to registered library users.
If you need more information please contact the Prosearch team at the library. We can help you find information across a range of perspectives and resources. All enquiries are treated in confidence.