Here lies Arthur, King that was, King that will be."

― Thomas Malory
The myths legends and mysteries surrounding King Arthur and the knights of the round table have for a very long time held a particular fascination on the imagination of writers, artists and film makers.
The Arthurian legend has inspired films as varied as Disney's The Sword in the Stone, Terry Gilliam's The Fisher King , Monty Python and the Holy Grail,   King Arthur Legend of the sword starring Charlie Hunnam there is even a Scooby Doo adventure about the legend called Scooby-Doo! The Sword and the Scoob. And authors as diverse as Kazuo Ishiguro, Stephen King, Kevin Crossley-Holland, Bernard Cornwell, C. S. Lewis, T.H. White and John Steinbeck have all tied to pull out their own literary works from the fabled stone (to name but a few).
So, it is fabulous to see in this month's list of recently acquired Science Fiction and Fantasy titles another author joining these illustrious ranks. Half Sick of Shadows by Laura Sebastian brings a fresh and new feminist reimagining of the Arthurian tale, whilst retaining much of the original source material such Malory's Le Morte d'Arthur at its core, pleasing both newbies and Arthurian buffs alike. For details of Half Sick of Shadows and our other selected recently acquired Science Fiction and Fantasy titles, please see below.
Half sick of shadows / Sebastian, Laura
" Everyone knows the legend. Of Arthur, destined to be a king. Of the beautiful Guinevere, who will betray him with his most loyal knight, Lancelot. Of the bitter sorceress, Morgana, who will turn against them all. But Elaine alone carries the burden of knowing what is to come — for Elaine of Shalott is cursed to see the future. On the mystical isle of Avalon, Elaine runs free and learns of the ancient prophecies surrounding her and her friends — countless possibilities, almost all of them tragic. " (Adapted from Catalogue)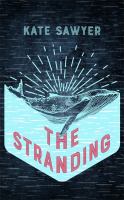 The stranding / Sawyer, Kate
"Ruth lives in the heart of the city. When a new romance becomes claustrophobic, Ruth chooses to leave behind the failing relationship, but also her beloved friends and family, and travels to the other side of the world in pursuit of her dream life working with whales in New Zealand. But when Ruth arrives, the news cycle she has been ignoring for so long is now the new reality. Far from home and with no real hope of survival, she finds herself climbing into the mouth of a beached whale alongside a stranger. When she emerges, it is to a landscape that bears no relation to the world they knew before. " (Adapted from Catalogue)
The crow folk / Stay, Mark
"As Spitfires roar overhead and a dark figure stalks the village of Woodville, a young woman will discover her destiny…Faye Bright always felt a little bit different. And today she's found out why. She's just stumbled across her late mother's diary which includes not only a spiffing recipe for jam roly-poly, but spells, incantations, runes and recitations… a witch's notebook. And Faye has inherited her mother's abilities. Just in time, too. The Crow Folk are coming. Led by the charismatic Pumpkinhead, their strange magic threatens Faye and the villagers. " (Adapted from Catalogue)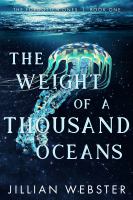 The weight of a thousand oceans / Webster, Jillian
"In a world where cities sprawl like half-submerged skeletons, Maia has spent her entire life hidden within the mountains of New Zealand. Her only companions being her ailing grandfather and a nomadic dog named Huck, Maia resents being alone. She spends her days wandering the ruins of a population long-gone, dreaming of a place where the few humans left behind can start again-a place her grandfather insists is a myth. But Maia cannot escape a strong and mysterious force calling her out into the world, as well as bizarre events following her around the island. " (Adapted from Catalogue)
This fragile earth / Wise, Susannah
"Signy and Matthew lead a dull, difficult life. But they're surviving, just about. Until the day the technology that runs their world stops working.  Matthew assumes that this is just a momentary glitch in the computers that now run the world. But then the electricity and gas are cut off. Even the water stops running. And the pollination drones – vital to the world, ever since the bees all died – are behaving oddly. People are going missing. Soldiers are on the streets. London is no longer safe. Determined to protect her son, Signy will do almost anything to survive as the world falls apart around them. " (Adapted from Catalogue)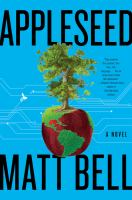 Appleseed : a novel / Bell, Matt
"Eighteenth-century Ohio: two brothers travel into the wooded frontier, planting apple orchards from which they plan to profit in the years to come. As they plan for a future of settlement and civilization. In the second half of the twenty-first century: climate change has ravaged the Earth. Having invested early in genetic engineering and food science, one company now owns all the world's resources. In a pivotal moment for the future of humanity, one of the company's original founders returns to headquarters, intending to destroy what he helped build. A thousand years in the future: North America is covered by a massive sheet of ice. One lonely sentient being inhabits a tech station on top of the glacier, and sets out to follow a homing beacon across the continent in the hopes of discovering the last remnant of civilization." (Adapted from Catalogue)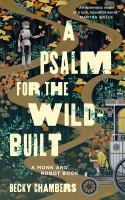 A psalm for the wild-built / Chambers, Becky
"It's been centuries since the robots of Panga gained self-awareness and laid down their tools; centuries since they wandered, en masse, into the wilderness, never to be seen again; centuries since they faded into myth and urban legend. One day, the life of a tea monk is upended by the arrival of a robot, there to honor the old promise of checking in. The robot cannot go back until the question of "what do people need?" is answered. But the answer to that question depends on who you ask, and how. They're going to need to ask it a lot. " (Adapted from Catalogue) Also available as an eBook.
Strange beasts of China / Yan, Ge
"In the fictional Chinese city of Yong'an, an amateur cryptozoologist is tasked with uncovering the stories of its fabled beasts, which draws her deep within a mystery that threatens her very sense of self." (Adapted from Catalogue)