The dead can survive as part of the lives of those that still live.
One of the giants of Japanese literature, Kenzaburō Ōe, died recently. His writing dealt with a wide range of 'big question' subjects — both on a personal and on a wider societal level. He wrote on subjects such as nuclear disarmament, militarism, and also his disabled son, who in later life became a musical prodigy and an award-winning composer. He said of his son "I was trained as a writer and as a human being by the birth of my son."
Much of his work had its origins in his own life, such as The silent cry, which is about the impact of war on post-war Japanese society and is widely regarded as his masterpiece. His novel A Quiet Life is loosely about his relationship with his son .
Born in 1935 as the fifth of seven children into an age where the emperor was still regarded as a living god, he lived through the second World War, the bombings of Hiroshima and Nagasaki, and the subsequent post-war collapse in Japanese society and its economy. In the 1960s, he became more political and was a highly acclaimed cult writer for Japan's post-war youth. He continued writing late into his seventies, railing against any revival of  Japanese nationalism, nuclear power and war.
Henry Miller once said that in his "range of hope and despair" he was like Dostoevsky. Several critics said of him that, like Faulkner, he created a language of his own.
We have a wide range of his works available in both English and Japanese:
Rouse up o young men of the new age / Ōe, Kenzaburō
"K is a famous writer living in Tokyo with his wife and three children, one of whom is mentally disabled. K's wife confronts him with the information that this child, Eeyore, has been doing disturbing things — behaving aggressively, asserting that he's dead, even brandishing a knife at his mother — and K, given to retreating from reality into abstraction, looks for answers in his lifelong love of William Blake's poetry. As K struggles to understand his family and assess his responsibilities within it, he must also reevaluate himself — his relationship with his own father, the political stances he has taken, the duty of artists and writers in society. " (Adapted from Catalogue)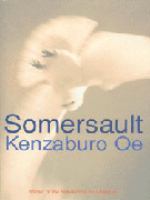 Somersault / Ōe, Kenzaburō
"Kenzaburo Oe is internationally recognized as one of the world's finest writers. When he won the Nobel Prize nearly ten years ago, he announced that he would no longer be writing fiction–or, if he did, that his future work would be radically different from the highly autobiographical fiction he was known for. Now, with Somersault, Oe has broken his silence and shared with us the result of his artistic reorientation, in a magnificent story of the charisma of leaders, the danger of zealotry, and the mystery of faith." (Adapted from Catalogue)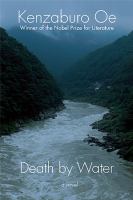 Death by water / Ōe, Kenzaburō
"[Kogito Choko] returns to his hometown village in search of a red suitcase rumored to hold documents revealing the details of his father's death during World War II, details that will serve as the foundation for his new, and final, novel. Since his youth, renowned novelist Kogito Choko planned to fictionalize his father's fatal drowning in order to fully process the loss. Stricken with guilt and regret over his failure to rescue his father, Choko has long been driven to discover why his father was boating on the river in a torrential storm…" (Adapted from Catalogue)
Hiroshima notes / Ōe, Kenzaburō
"Hiroshima Notes is a powerful statement on the Hiroshima bombing and its terrible legacy by the 1994 Nobel laureate for literature. Oe's account of the lives of the many victims of Hiroshima and the valiant efforts of those who cared for them, both immediately after the atomic blast and in the years that follow, reveals the horrific extent of the devastation. It is a heartrending portrait of a ravaged city — the "human face" in the midst of nuclear destruction." (Adapted from Catalogue)
A quiet life / Ōe, Kenzaburō
"A Quiet Life is narrated by Ma-Chan, a young woman who at the age of twenty finds herself in an unusual family situation. Her father is a famous and fascinating novelist; her older brother, though mentally handicapped, possesses an almost magical gift for musical composition. The lives of both father and son revolve around their work and each other, and her mother's life is devoted to the care of them both. She and her younger brother find themselves emotionally on the outside of this oddly constructed nuclear family. But when her father leaves Japan to accept a visiting professorship from a distinguished American university, Ma-Chan finds herself suddenly the head of the household and the center of family relationships that she must begin to redefine." (Adapted from Catalogue)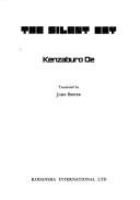 The silent cry / Ōe, Kenzaburō
"The Silent Cry traces the uneasy relationship between two brothers who return to their ancestral home, a village in densely forested western Japan. While one brother tries to sort out the after-effects of a friend's suicide and the birth of a retarded son, the other embarks on a quixoticmission to incite an uprising among the local youth. Oe's description of this brother's messianic struggle to save a disintegrating local culture and economy from the depredations of a Korean wheeler-dealer called "The Emperor of the Supermarkets" is as chillingly pertinent today as it was when first published in 1967. " (Adapted from Catalogue)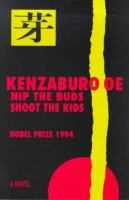 Nip the buds, shoot the kids / Ōe, Kenzaburō
"Nip the Buds, Shoot the Kids recounts the exploits of 15 teenage reformatory boys evacuated in wartime to a remote mountain village where they are feared and detested by the local peasants. When plague breaks out, the villagers flee, blocking the boys inside the deserted town. Their brief attempt to build autonomous lives of self-respect, love, and tribal valour is doomed in the face of death and the adult nightmare of war." (Adapted from Catalogue)
Teach us to outgrow our madness : four short novels / Ōe, Kenzaburō
"Four stories which offer insights into Japanese society are contained in this work by the winner of Japan's prestigious Akutagawa Prize for literature. The title story is a semi-autobiographical account of a father coming to terms with his brain-damaged son." (Adapted from Catalogue)