The unpredictable, eccentric, maverick, pioneering Reggae producer, and musical genius Lee Scratch Perry has passed at 85.
Lee Scratch Perry was born into harsh poverty in rural Jamaica and throughout his life walked a very thin line between genius and insanity. He worked in various menial jobs before moving to Kingston in the early 60's where he eventually started working with Clement "Coxsone" Dodd and his touring sound system. Dodd and Perry eventually expanded into record production and, beginning a pattern that would follow Perry his whole life, Perry subsequently fell out with Dodd and went on to form his own Upsetter label.
Around this time, he produced many of  Bob Marley's key early works, such as African Herbsman and had a profound effect on the young Marley's creative vision and approach. Following the now clearly emerging pattern, the pair fell out after Lee Scratch Perry sold the master tapes of this early classic without Marley's knowledge or consent.
His adventurous, ever-exploring production work in his legendary four track twelve-foot square Black Ark Studio in the mid to late 70's cemented his reputation with a string of critically and commercially albums. And along the way with fellow sonic pioneer King Tubby, he was one of the key creative forces to create Dub music. However, his eccentric behaviour continued and came to a head in 1979, when fuelled by huge amounts of work, ganga and rum, he burnt the studio to the ground, believing it possessed and walked off into the wilderness. He eventually moved to Switzerland after spending time in the U.S, Amsterdam, and London, and only last year returned to Jamaica.
His later work was inconsistent but did include some fabulous collaborations with the likes of The Ord, The Beastie Boys and The  Clash, as well as fellow producers Adrian Sherwood and Mad Professor as well as several excellent solo albums. He also picked up a Grammy in 2003. During these later years was a failed attempt to rebuild the Black Ark studio, a plan which included a duck pond in the drum booth. It is an understatement to say we shall not see the likes of Lee Scratch Perry again.
We have an extensive selection of Lee Scratch Perry produced and created albums in our collection; below are just a few of our personal favourites. To see all of the Lee Scratch Perry works we have in our collection click here.
Arkology. / Perry, Lee
"Purportedly the definitive Lee "Scratch" Perry compilation, the three-CD set Arkology is loaded with good intentions and is carefully constructed, but with a back catalog like Perry's — where it's nearly impossible to find out what's what — definitive in this case is a dream. Still, the compilers have done a fine job of providing an overview of Perry's career that makes sense musically, historically, and culturally. For those who want to jump headlong into Perry's world, this is the way to go." (Adapted from Catalogue)
African herbsman / Marley, Bob
"The legendary Bob Marley and the Wailers album produced by Lee Scratch Perry." ( Adapted from Catalogue)
Lee Perry and King Tubby in dub confrontation. / Perry, Lee
"King Tubby and Lee Scratch Perry deep in the cauldron of creativity that invented Dub reggae" ( Adapted from Catalogue)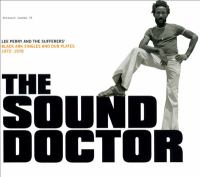 The sound doctor : Lee Perry and the sufferers' Black Ark singles and dub plates, 1972-1978. / Perry, Lee
"The Sound Doctor is one in a series of U.K. label Pressure Sounds compilations unearthing obscured sounds from Perry's short-lived but intensely innovative Black Ark years. Much of the music here is transferred from dub plates, hissy acetate discs made directly from the soundboard in single editions to test how a mix would translate to vinyl." (adapted from catalogue)
Super ape / Perry, Lee
" Often arguably cited as one of Lee Scratch Perry's finest outings, but with so many exceptional albums it is a hard call to make. What there is no argument about is that  Super Ape is without any question an unparalleled dub and psychedelic reggae classic." (Adapted from Catalogue). This is the vinyl copy; to check availability of the CD click here.
Scratch came Scratch saw Scratch conquered. / Perry, Lee
"Highly-regarded late period (2008) album from dub and reggae legend Lee Scratch Perry'. (Adapted from catalogue).
Blackboard jungle dub / Upsetters
"Essential Dub reggae album from Lee Scratch Perry and the Upsetters"(Adapted from catalogue)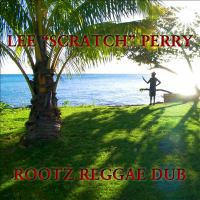 Rootz reggae dub. / Perry, Lee
"On Rootz Reggae Dub Perry is doing his typical free-associative muttering over tasteful, slightly echoey backing tracks, featuring rudimentary percussion by Perry himself, as well as spirited backing vocals by Detroit trio Dames Brown and the Groovematist.  Essentially, it's a lot of touching on past glories without really creating anything that stands up to them. Nevertheless, there are a few standout moments  which are calm, spacious, and pleasantly weird. " (adapted from catalogue)
Rainford. / Perry, Lee
"Rainford contains all of Lee Perry's unique stylings his wonderful iconic unmistakable vocal drawl and his trade mark free form lyrical style superbly combined with U Sounds musical production. The later dub remixed version Heavy rain is also worth a mention it is weirder and warmer and arguably an even better version of the material in Rainford." (adapted from catalogue)
Click here for the availability of Heavy Rain.