Sometimes when books are released, you just know from the flurry of publicity surrounding them that they are going to create a big impact. So it is with the much-anticipated latest work from the Polish Nobel Prize winner Olga Tokarczuk's The books of Jacob : or: A fantastic journey across seven borders, five languages, and three major religions, not counting the minor sects, to give it its full title.
For a long time, Polish author Olga Tokarczuk was described as "probably one of the greatest living writers you have never heard of.". One Nobel Prize and two hugely acclaimed books later, all that has all changed.
Tokarczuk studied clinical psychology and considers herself a disciple of Carl Jung, which she cites as one of her inspirations for her literary work. This influence gives her writing a mythical tone, and many deep insights into human psyche.
Flights, the work that really brought her to international attention, is a patchwork of fiction and essays. A playful and haunting work that explores aspects surrounding being a traveller in a multitude of contexts, such as being a body moving through space and time. It is enchanting, unsettling and also a work from a master storyteller.
Her next book, Drive your plow over the bones of the dead, a noir thriller novel with numerous unexpected delights, for example a a fondness for the poetry of William Blake, is also fantastic.
Tokarczuk's latest book and magnum opus, The books of Jacob, is not a book for the faint hearted. A deep and intense work running to an epic 912 pages, this historical fiction is about a controversial 18th century polish Jew who claimed to be the messiah. A long time in the making, this novel is the product of extensive research and took seven years just to be translated into English. If you are prepared to put the time into it, it is perhaps one of the most important works of fiction to be published in recent years.
Below is a link to The books of Jacob, along with a selection of other recently acquired fiction titles we are excited by.
The books of Jacob : or: A fantastic journey across seven borders, five languages, and three major religions, not counting the minor sects / Tokarczuk, Olga
"As new ideas – and a new unrest – begin to sweep the Continent, a young Jew of mysterious origins arrives in a village in Poland. Visited by what seem to be ecstatic experiences, Jacob Frank casts a spell that attracts a fervent following. He reinvents himself again and again, converts to Islam, then Catholicism, is pilloried as a heretic, revered as the Messiah, and wreaks havoc on the conventional order, Jewish and Christian alike, with scandalous rumours of his sect's secret rituals and the spread of his iconoclastic beliefs." (Adapted from Catalogue) Also available as an eBook
The postmistress of Paris : a novel / Clayton, Meg Waite
"Wealthy, beautiful Naneé was born with a spirit of adventure that transcends her Midwestern roots. When German tanks roll across the border and into Paris, Nanée joins the resistance. Known as the Postmistress because she delivers information to those in hiding, Naneé uses her charms and skill to house the hunted and deliver them to safety. Inspired by the real life Chicago heiress Mary Jayne Gold, who worked with American journalist Varian Fry to smuggle artists and intellectuals out of France. " (Adapted from Catalogue) Also available as an eBook.
Beautiful little fools / Cantor, Jillian
"A powerful reimagining of The Great Gatsby from the perspective of the three women whose lives are unravelled by one man's romantic obsession. On a sultry August day in 1922, Jay Gatsby is shot dead in his West Egg swimming pool. To the police, it appears to be an open-and-shut case of murder/suicide when the body of George Wilson, a local mechanic, is found in the woods nearby. Then a diamond hairpin is discovered in the bushes by the pool, and three women fall under suspicion. Each holds a key that can unlock the truth to the mysterious life and death of this enigmatic millionaire." (Adapted from Catalogue)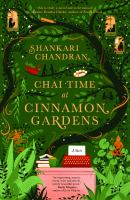 Chai time at Cinnamon Gardens / Chandran, Shankari 
"Welcome to Cinnamon Gardens, a home for those who are lost and the stories they treasure. Cinnamon Gardens Nursing Home is nestled in the quiet suburb of Westgrove, Sydney – populated with residents with colourful histories, each with their own secrets, triumphs and failings. This is their safe place, an oasis of familiar delights – a beautiful garden, a busy kitchen and a bountiful recreation schedule. But this ordinary neighbourhood is not without its prejudices. The serenity of Cinnamon Gardens is threatened by malignant forces more interested in what makes this refuge different rather than embracing the calm companionship that makes this place home to so many. "( Adapted from Catalogue)
The paper palace / Cowley Heller, Miranda 
"A story of summer, secrets, love and lies: in the course of a singular day on Cape Cod, one woman must make a life-changing decision that has been brewing for decades. Set against the summer backwoods and beaches of Cape Cod, The Paper Palace unfolds over 24 hours and across 50 years, as decades of family legacy, love, lies, secrets, and one unspeakable childhood tragedy lead wife and mother Elle Bishop to the precipice of a life-changing decision. With its transporting setting and propulsive pace, the story draws on the sweet promise of young love, as well as the heartbreaking damage incurred by too many secrets." (Adapted from Catalogue) Also available as an eBook.
Build your house around my body : a novel / Kupersmith, Violet
"In 1986, the teenage daughter of a wealthy family gets lost in an abandoned rubber plantation while fleeing her angry father and is forever changed by the experience. In 2009, pressed into a dangerous scheme by a former lover, a woman captures a rare two-headed cobra. And in 2011, a young, unhappy American living in Saigon with her sort-of boyfriend, disappears without a trace. Over the course of the novel, the fates of these three women will lock together in an exhilarating series of nested narratives. Spanning over fifty years and barreling toward an unforgettable conclusion, this is a fever dream about possessed bodies and possessed lands, a time-traveling, heart-pounding, border-crossing  novel" (Adapted from Catalogue)  Also Available as an eBook.
Cloud cuckoo land : a novel / Doerr, Anthony
"Constantinople, 1453: Anna lives in a convent where women toil all day embroidering the robes of priests. She learns the story of Aethon, who longs to be turned into a bird so that he can fly to the paradise of Cloud Cuckoo Land, a better world, and reads it to her sister as the walls of Constantinople are bombarded by armies of Saracens. Lakeport, Idaho, 2020: Seymour, an activist bent on saving the earth, sits in the public library with two homemade bombs in pressure cookers… " (Adapted from Catalogue) Also available as an eBook.