Poet / artist Sam Duckor-Jones has so far released two collections of poetry; People from the Pit Stand Up and the recently released Party Legend. As a poet his works are widely varied, wickedly clever, often poignant in an understated way and often displaying Sam's mischievous sense of humour.
The starting point for his poems is often eclectic:- from dissections of lying, and overhead commuter conversations, to the subtle sensibilities of the works of Maurice Sendak or poetic allusions to Bach's Allemande in G, not to mention the tensions between the options of lustful pursuit or putting your feet up in front of a warm comfy cosy fire. Sam has a natural poet's awareness of rhythm and line and a razor-sharp intellect as this interview shows and is a radical, fresh, and distinctive voice in the poetry world.
His artwork shows the same breath of intellect and consideration and is unbounded by convention or the desire to follow any movement or school. You can see more of Sam's artwork by clicking here.
We recently had the great pleasure of interviewing Sam to ask him all about his latest collection of poetry Party Legend and the various other projects he is involved in, including his Greymouth church project, not to mention doing a fabulous poetry reading for us.
This interview was done in conjunction with Caffeine and Aspirin arts and entertainment review show on Radioactive FM. The interview was conducted by Caffeine and Aspirin host Liam Wild.
Party legend / Duckor-Jones, Sam
"Sam Duckor Jones's first poetry collection was a tour of small towns, overgrown lawns, and giant clay men. In Party Legend he turns once again to questions of existence but at an even bigger scale. These are poems about creation, God, intimacy, the surreality of political rhetoric, misunderstandings at the supermarket – and they are fearless in form and address. Though Party Legend is often wildly funny, it is also, in its Duckor-Jonesian way, tender-hearted and consoling." (Adapted from Catalogue)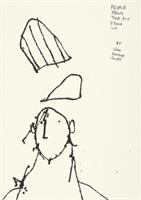 People from the pit stand up / Duckor-Jones, Sam
"This is the voice of someone who is both at home and not at home in the world. Sam Duckor-Jones's wonderfully fresh, funny, dishevelled poems are alive with art-making and fuelled by a hunger for intimacy. Giant clay men lurk in salons, the lawns of poets overgrow, petrolheads hoon along the beach, birds cry 'wow-okay, wow-okay, wow-okay'." (Adapted from Catalogue)