The Kugels are a Klezmer group that features two former NZSO members, one Kiwi Jazz maestro, a fabulous vocalist and the New Zealand classical composer and Arts laureate Ross Harris. The members are Anna Gawn – vocals, Ross Harris – accordion, Robin Perks – violin, Debbie Rawson – clarinets xaphoon, and Nick Tipping – bass
The tunes they play include new compositions from both Robin Perks and Ross Harris as well as a selection of more traditional tunes. We were thrilled when Ross Harris agreed to be interviewed about The Kugels to tie in with the release of their second evocative CD The kugels at Breaker Bay and to tell us all about Klezmer; its history and its place in the contemporary music scene. The interview was done in conjunction with the Caffeine and Aspirin arts and entertainment review show on Radioactive FM.
Both Kugels CDs are available to borrow from the library along with a wide selection of Ross Harris compositions.
The Kugels at Breaker Bay. / Kugels
"This is the second release from the Wellington based Kugels the five-piece outfit which specialises in Klezmer and features some of New Zealand' s finest classical musicians in their line-up. For a long time, they have been a bit of a hidden gem in the NZ music scene, but that changed recently when they did a sofa session with Bryan Crump. This latest release really shows how good they are, and includes emotive and atmospheric renditions of both traditional and original Klezmer pieces composed by arts laureate, and renown classical composer, Ross Harris." (Adapted from Catalogue)
The Kugels play Klezmer by Ross Harris. / Kugels
"Ross Harris – The Kugels play Klezmer. … Melancholic, lyrical, delicate and beautiful , the music is played with grace and finesse by the Kugels who are the Wellington based quartet to which Ross Harris  belongs…." (Adapted from Catalogue)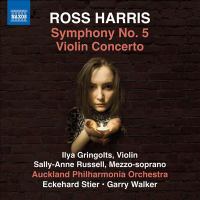 Symphony no. 5 ; Violin concerto / Harris, Ross
"Ross Harris's Symphony No.5 uses as its core poems by Panni Palasti.  The moving poems in the piece are based on the personal experiences of the poet during World War Two and the subsequent Hungarian Revolution. The work creates complex orchestral movements around these poems. This particular recording has conductor Eckehard Steir steering the orchestra and he judges well the balance between the moments of ferocity and the work's sonic ebb and flow." (Adapted from Catalogue)
Free Radicals / Free Radicals (Musical group)
"Wellington based Free Radicals :-Ross Harris and Jonathan Besser were active in the early 80s, described by one reviewer as 'Eno meets industrial punk meets Stockhausen'. This compilation of archival recordings show the full range, scope and ambition of the pioneering outfit." (adapted from Catalogue.)
Requiem for the fallen / Harris, Ross
"Requiem for the fallen honours the memory of soldiers who died in the First World War. Poetry by Vincent O'Sullivan is woven through the Latin of the Requiem Mass and carries many homespun New Zealand references. Horomona Horo's taonga pūoro improvisations add a haunting beauty that could only be from Aotearoa." (Adapted from Catalogue)