We are entering that time of the year when the countdown to Christmas begins and retail starts reminding us how many shopping days there are left.

For many in retail the October-December period is the "golden period" for promotions and sales, whether in store or via online.
But are you targeting the right markets?  Is your store enticing?  Do you have an online selling plan?

In this article by marketing strategist, Rachel Klaver, eight different key promotional periods between October and December are identified.

As a retailer have you planned to maximise your sales during this period?

Within WCL's collection there are a number of resources than can assist you with taking advantage of this peak selling time.

Retail consultant Herb Sorensen's book takes you inside the mind of the shopper allowing you to better understand consumer behaviour.

Inside the mind of the shopper : the science of retailing / Sorensen, Herb
"… Drawing on Sorensen's breakthrough second-by-second analysis of millions of shopping trips, this book reveals how consumers actually behave, move, and make buying decisions as they move through supermarkets and other retail stores. Sorensen presents powerful, tested strategies for designing more effective stores, improving merchandising, and driving double-digit sales increases. He identifies simple interventions that can have dramatic sales effects, and shows why many common strategies simply don't work. You'll learn how to appeal to the "quick trip" shopper; make the most of all three "moments of truth"; understand consumers' powerful in-store migration patterns; improve collaboration between manufacturers and retailers; learn the lessons of Stew Leonard's and other innovators; and much more. Then, in Part II, Sorensen presents revealing interviews with several leading in-store retail experts, including crucial insights on using technology and retailing to multicultural communities." (Catalogue)

Although older Visual merchandising still offers insights into consumer psychology.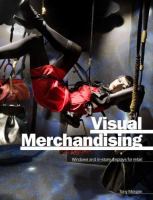 Visual merchandising : window and in-store displays for retail / Morgan, Tony
"A great introduction for retail students, this book offers a user-friendly reference guide to all aspects of visual merchandising and covers both window dressing and in-store areas. Using examples from a range of stores from fashion emporia to supermarkets, the book offers practical advice on the subject, supported by hints and tips from established visual merchandisers. It reveals the secrets of their tool kit, and information on the use of mannequins, the latest technology, how to construct and source props, and explains the psychology behind shopping and buyer behavior. Presented through color photographs, diagrams of floor layouts, and store case studies, and including invaluable information such as a glossary of terms used in the industry, Visual Merchandising is an essential handbook for anyone working in and learning about this exciting area." (Catalogue)

If you need more information please contact the Prosearch team at the library. We can help you find information across a range of perspectives and resources. All enquiries are treated in confidence.