With sadness Wellington City Libraries pays tribute to Neville Gilmore, Te Matehou, Te Atiawa, who, during his research for Wellington Tenths Trust (2001-2009), also gave so kindly and generously of his time and knowledge to our project, Ngā Tūpuna o te Whanganui-a-Tara (2001-2007).
It was a project that evolved from a kaupapa of breathing life into the written accounts of our Taranaki Whānui who migrated to this rohe from 1820s onward.
Tribunal research for Wai 145 was the basis for much of the 1840 colonisation and stories of the whenua, but a burning question for our library was, "Who were the people behind the names attached to this land?" On our approach to Wellington Tenths for assistance, Neville became " the man" – who made clear to us, the myriad of whānau links interlocking and criss-crossing the landscape of Te Whanganui-a-Tara. As we became aware of the immensity of the work we'd undertaken we realised how vital was the input from Neville and the Wellington Tenths office to the production of our four books.
Through conversation with Neville, I came to realise the importance of not just the Minute Book succession records of the Māori Land Court but also the underlying "whakapapa" of the land as set out in the Land Block files, held also at the District Land Court offices.
There was a wealth of knowledge in Neville's memory bank which he always delivered with enthusiasm and generosity and wisdom. In our later volumes we finally saw a light and asked Neville to contribute his own special stories – (see vol. 4) – Mata Pekainu Tumatuhiata, Komene Paipa, Te Kere Ngataierua, Hare Parata. There is his story of Te Rei Pukekura, husband of Mihi Korama Te Toru – Te Rei was related by marriage to Ngake and Patukawenga, Ropiha Moturoa and Hohepa Kopiri. He was the son of Te Moana Pounamu (Martina Ruta) and Tawhirikura who in turn was the daughter of Waireinga and Wahanga. Te Rei was also the brother of Haneta Toea.
Then there's the description of Rawiri Motutere/Koheta : Rawiri was tall, athletic and 'straight as a spear' – He had a beautiful tāmoko which had a particular blue texture. He was very fair, that is, as white in the face as a Pakeha with red hair. When he went out he always wore a mata-huna (mask) to protect his fair skin from the sun. The tāmoko of the mask was an exact replica of that upon his face.
But Neville was also a huge influence in the wider published history of the rohe, including Pipitea. His own thesis: (MA – La Trobe, 1986) was ground-breaking : Kei Pipitea taku kainga : ko te Matehou te ingoa o taku iwi : The New Zealand Company Native Reserve Scheme and Pipitea, 1839-1888.
Some books are listed below, but he would also have contributed to many more as a researcher.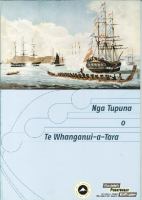 Ngā tūpuna o Te Whanganui-a-Tara. Volume 4 by Sandra Clarke
"This book, produced by Wellington City Libraries profiles another 29 Tupuna who migrated to Te Whanganui-a-Tara (the Great Harbour of Tara), or Port Nicholson, in a series of Heke during the 1820's and 1830's. These iwi were mainly Te Ati Awa, Ngati Tama and Ngati Ruanui. Tupuna featured include Ihikaera te Waikapoariki; Taare Tahua; Mata Pekainu Tumatuhiata; Hori Ngapaka; Hori Pipi; Te Teira Whatakore; Ihaka Te Rou; Te Poho-o-te-rangi; Arapera Rongouaroa; Teretiu Tuwhare; Karena Waitere; Ingo Takata; Hare Parata; Kereopa te Wharepouri; Mere Pararaki; Mohi Puketapu; and several more."
Other volumes : vol 1, vol 2, vol 3.
Gilmore, Neville. The myth of the overlords : tenure in Te Whanganui-a-Tara, 1819-1847. [Wai 145, G3]
Gilmore, Neville and Liz Mellish. Cultural Report Lambton Harbour (held by the National Library).
Hailwood, Ritihia and Neville Gilmore, Wellington Tenths Trust. Wellington Tenths Trust GIS map book 2004
Johnston, Warwick (in collaboration with Neville Gilmore) detailing the history of the Hutt Valley, e.g. The history of Petone foreshore.
Moe mai ra e te rangatira
Moe mai ra I roto I te ngakau o te kaihanga
E kore rawa koe e warewaretia
Moe mai, moe mai ra
E te hunga mate, te hunga kua whetūrangitia
moe mai, moe mai, moe mai rā,
haere ki te huinga o te kahurangi,
ki Hawaiki nui, ki Hawaiki roa, ki Hawaiki pamamao,
haere, haere haere atu ra.