Recently I took a poll of our library staff asking what books they absolutely loved, whether they were recent reads or long term favourites.  As you can imagine, the responses were quite broad; after all, librarians are the experts in readers' advisory.  Here are some of the books our team recommend…
Where the crawdads sing / Owens, Delia
"One of the best, well written, books I've read recently. The story is so compelling and involving that it just immerses you in Kaya's world. I really recommend the book as a whole but the audiobook is a work of art. (Ligia)

Embroidering her truth : Mary, Queen of Scots and the language of power / Hunter, Clare
"Fabrics and embroidery as historical social media! This is a well-researched nonfiction cultural biography which explores the role of textiles as a tool for women to tell their story. In 16th Century Europe even high-status women's voices were suppressed and silenced and when textiles represented power, Mary, Queen of Scots (and other women) skilfully used them to promote and defend female agency. Textile Curator Clare Hunter's book blends history, politics and memoir to tell Mary's story in her own voice.  If you think embroidery was only a genteel hobby this will encourage you to see it in a new light.
This has been a recent favourite read because of its fascinating evidence showing how textiles and embroidery were used by Mary Queen of Scots to promote her status, her political agenda and, during her captivity, her emotions, frustrations and regrets. (David P)

Loop tracks / Orr, Sue
"I loved everything about this book – the characters, especially Tom, the Wellington setting, and the addressing of issues both political and family-related.  Realistic and absorbing." (Sandy)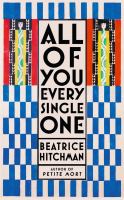 All of you every single one / Hitchman, Beatrice
"Set in Vienna and spanning 35 years between 1911 and 1946, Hitchman's extraordinary second novel is a vivid and sometimes unexpected story. The main characters –  Julia, Eve, and Rolf – are recognisably human and complex, while the historical setting is beautifully rendered and yet contemporary in tone. All of You Every Single One is not a short book, but I still didn't want it to end. " (Corinna)

Afterparties : stories / So, Anthony Veasna
Afterparties is a collection of stories set mostly in Central Valley, California, where a sizable community of Cambodian refugees settled after the genocide. It features a wide array of subjects – badminton, monks, weddings, reincarnation, absent fathers, family businesses – and is written with love and a good sense of humour. There's also a clear-eyed awareness of social issues, such as poverty or the lingering effects of trauma, and how they're felt in people's day to day lives. It's a community I didn't know existed before, but now feels familiar thanks to the vibrance and specificity of the writing." (Charlotte)

Riddley Walker / Hoban, Russell
"A post-apocalyptic novel unlike any other, Riddley Walker is set many centuries from now, in an England that has reverted to Iron Age levels. It is written in an extraordinary, debased version of English, and is funny, brutal and incredibly moving." (Martin)

Crying in H Mart : a memoir / Zauner, Michelle
"This memoir is heart-breakingly raw, as Michelle navigates pain, grief, childhood, and the intricacies of navigating ethnic identity. It is a book that will linger in your mind you even after you have finished it." (Yani)

The devil's atlas : an explorer's guide to heavens, hells and afterworlds / Brooke-Hitching, Edward
"Edward Brooke-Hitching, a writer for QI, has compiled a visual history of every map of Heaven, Hell, or Purgatory that's ever been recorded in cultures across the world. From Valhalla to Xilbalba, this book is a fascinating glance into how our shared obsessions with life after death, our place in the universe, and mapping the unknown intersect." (Gus)

Let my people go surfing : the education of a reluctant businessman / Chouinard, Yvon
"It's the story of the founding of the outdoor company Patagonia and the philosophies and values they have developed around business.  How it started off as a couple of guys making their own climbing equipment to improve on what was on the market.  That was the basis of a multi-national company who were ahead of the field in so many ways. Based in the US they implemented paid parental leave, on-site child care, sustainability policies and the like long before other companies.  It gives a fascinating insight into a company that swam against the flow but has still been extremely successful " (Linda S)

Sprigs / Gnanalingam, Brannavan
"In my opinion, a recent masterpiece, about some of the most difficult topics, yet done with an entertaining and comedic voice. For me every one of his new books from now on are a must read." (Kyan)

Americanah / Adichie, Chimamanda Ngozi
"I don't know how to say how amazing it is: As someone who was married to a former refugee from West Africa this book articulated experiences of the African diaspora in America and the UK that I really heard and saw in my husband and his family.  She describes the often heart wrenchingly difficult, diverse and multi-layered experiences of first, second and third generation African migrants; young, middle-aged and older.  I think the beauty of novels like this one is that readers not only learn about the nuances and complexity of racism but are also able to develop empathy towards characters whose experiences that maybe vastly different from their own." (Zoe)

We'd love to hear your recent reads and favourites, and don't forget you can review your Wellington City Libraries' reads both in the library catalogue and in the Beanstack app.