We recently interviewed trailblazing conservation biologist Dr. David Towns, who authored the newly released book Ahuahu: a conservation journey in Aotearoa New Zealand. Situated largely on the stunning nature reserves of the Mercury Islands, located off the coast of the Coromandel Peninsula, Towns spent 40 years working on innovative conservation projects to eradicate mammalian pests on all seven islands. These team efforts have resulted in abundant wildlife havens, teeming with native species that now represent the closest pre-civilization examples of island ecosystems in Aotearoa.
Towns's new book Ahuahu gives a behind-the-scenes peek into the triumphs, setbacks and ground-breaking bicultural teamwork that have allowed these islands to thrive, creating a spectacular example of Aotearoa's world renown conservation work. The book features stunning photography of the picturesque landscapes and wildlife that make up the Mercury Islands, and documents how conservationists, iwi and volunteers alike banded together to restore these islands to their natural state.
Watch our Q&A interview with Dave below, as he walks us through the remarkable journey of the islands, his career and his hopes for Aotearoa's conservation future.
We extend our warm appreciation to Dave for the interview and for providing the photographs used in the video. Reserve a copy of 'Ahuahu' from the Library today!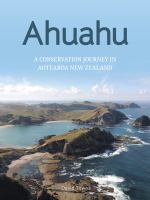 Ahuahu : a conservation journey in Aotearoa New Zealand / Towns, D. R.
"Aotearoa New Zealand is renowned among biologists worldwide for spectacular ecological restoration work over the last 50 years, through advances in pest eradication and native species translocation. This book documents the development of these world-leading technologies. It uses examples from throughout the country, but has a special focus on one island group – the Mercury Islands off Coromandel, of which Ahuahu (Great Mercury Island) is the largest. The story is told through the eyes of pioneer conservation biologist David Towns, who was there from the start. It is a story of triumphs and setbacks, of opportunity and innovation, of teamwork and emerging bicultural collaboration. Today, all seven islands of the Mercury group are free of mammalian pests, providing a haven to native plants and animals. This book is the story of how that was made possible." (Catalogue)