Continuing our series on this year's Ngaio Marsh Awards shortlist we are delighted to present a video piece from Christina O'Reilly author of Into the Void.
As her accent still shows Christina grew up in England and emigrated to NZ at the age of twelve.  As well as a writer, Christina is a freelance copy editor and proof reader and has had her short stories published in several anthologies.
Christina had written several previous novels   before being longlisted for the 2019 Michael Gifkins memorial prize which gave her the confidence to publish this novel.
Into the void introduces us to DSS John (Archie) Baldrick and DC Ben Travers. The plot revolves round the disappearance of rural banker Richard Harper his disappearance possess many questions is he really dead? or has he been abducted and tortured?   Eventually it all becomes a race against time as the case descends into a mire of murder, violence and obsession.
One review described the book in the following way    "O'Reilly's characters are all strong, believable people with equally believable domestic lives and troubles. It's nicely flavoured with New Zealandness without feeing contrived and carries a story which would work in any international setting".
We want to extend our biggest thank you to Christina for her time and insightful video. And we wish her and her fellow shortlisted author's good luck in the final awards ceremony.
The finalists will be celebrated, and the winners announced, as part of a special event at this year's WORD Christchurch Festival, held from 29 October to 1 November… Enjoy.
Below are some of the books that influenced Christina and were mentioned in her interview.

The babes in the wood : a Chief Inspector Wexford mystery / Rendell, Ruth
"With floods threatening both the town of Kingsmarkham and his own home and no end to the rain in sight, Chief Inspector Wexford already has his hands full when he learns that two local teenagers have gone missing along with their sitter, Joanna Troy. Their hysterical mother is convinced that all three have drowned, and as the hours stretch into days Wexford suspects a case of kidnapping, perhaps connected with an unusual sect called the Church of the Good Gospel. But when the sitter's smashed-up car is found at the bottom of a local quarry-occupied by a battered corpse-the investigation takes on a very different hue. " (Adapted from Catalogue)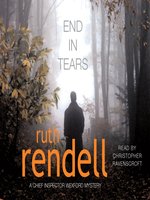 End in Tears, Ruth Rendell (Audiobook)
"A lump of concrete dropped deliberately from a little stone bridge over a relatively unfrequented road kills the wrong person. The driver behind is spared. But only for a while… It is impossible for Chief Inspector Wexford not to wonder how terrible it would be to discover that one of his daughters had been murdered. Sylvia has always been a cause for concern. Living alone with her two children, she is pregnant again.  The relationship between father and daughter has always been uneasy. But the current situation also provokes an emotional division between Wexford and his wife, Dora.  (Adapted from Overdrive description)
The secret garden / Burnett, Frances Hodgson
"Born in India, the unattractive and willful Mary Lennox has remained in the care of servants for as long as she can remember. But the girl's life changes when her mother and father die and she travels to Yorkshire to live with her uncle. Dark, dreary Misselthwaite Manor seems full of mysteries, including a very special garden, locked tight for 10 years. With the help of Dickon, a local boy, Mary intends to uncover its secrets." (Adapted from Catalogue)
Also available as an Audiobook.
Into the void / O'Reilly, Christina
"How easy is it for a man to simply disappear? When rural banker Richard Harper is reported missing, DSS John (Archie) Baldrick and DC Ben Travers are drawn into the tangled details of the man's life. Would Harper really have chosen to leave his seriously ill wife, and abandon his pregnant girlfriend? Or is there a real threat behind the abusive emails he'd been receiving from desperate clients in the wake of the Global Financial Crisis? Has he really been abducted, tortured or killed? Or is Richard Harper himself behind everything that has happened? Archie and Travers ultimately face a race against time. " (Adapted from Catalogue)
Find out more about the Ngaio Marsh Awards by clicking here.