This year the fabulous Laya (Rose) Mutton-Rogers aka Laya Rose won two Sir Julius Vogel Awards. One in the category Best Professional Artwork for the cover art for "No Man's Land" by A.J. Fitzwater and the other for Best Fan Artwork for Blue and Red (This is How You Lose the Time War), as well as being a finalist in The New Zealand Book Awards for Children and Young Adults.
Laya is no stranger to such accolades, winning NZCYA Te Kura Pounamu awards in both 2020 and 2021. Three previous Sir Julius Vogel Awards, not to mention being a finalist for the Chroma Comic Art Award in 2019 for her truly marvellous web comic Overgrown.
So, for your delight and edification we have an exclusive in-depth interview with Laya Rose; one of the most talented, creative, innovative, and versatile illustrators, graphic artists, comic creators in Aotearoa, where she talks in detail about her work, inspirations, background, and a whole host of other topics. For anyone interested in Laya's work or, indeed, what a creative illustrator leading edge graphic artist comic creator does, the interview is unmissable.
What first got you interested in becoming an artist? Was it a childhood dream or did the realisation come at a later point in time?
 I've always wanted to be an artist! I've been making things since I was physically able to do so, though I never really had a specific direction in mind – I wasn't sure until partway into Uni whether I was even going to do fine arts or design.
Your art is infused with an obvious love of nature. can you tell us where and what triggered this beautiful obsession.?
I grew up tramping (and various other outdoor activities) from a very young age! I think it's impossible not to have a love of nature if you spend so much time in it.
Can you tell us a little about your creative process do you use exclusively digital tools, or do you use a mixture of older and newer techniques?
I do both traditional and digital art! It's mostly digital these days, but I like to do things traditionally when I can!
What technology do you use? Hardware and software? And what lead you to those tech choices?
I use an iPad pro and clip studio paint. I had a wacom tablet for years and upgraded to a iPad when it started to get old which has made a massive difference – it's portable and I can work anywhere, and being able to draw directly on the screen means I've been able to merge my style a lot more – I can do digital work that looks very textured and traditional in a way that feels natural. Clip Studio is one of the best illustration programs and it's capable of so much.
Webcomics are a relatively new medium and your work in that field is fabulous. We strongly encourage people to check out Overgrown. What particularly appeals to you about this form?  And can you tell us about the differences between webcomics and other comic forms e.g., elements like the semi animated content?
Webcomics are a really diverse and ever-changing medium, which are really starting to be appreciated by a mainstream audience in recent years with the rise of Webtoon and the likes. I did my honors year project on webcomics, and how comic storytelling might be enhanced through the medium of the web, with animation and interactivity. There are lots of possible uses of basic html coding and a bit of javascript!
Aside from gifs and the widely adopted scrolling format, other aspects aren't commonly utilised though – I think this comes down to most webcomics being longform projects with a massive workload. It can be difficult to add these extra things if the comic isn't short and standalone, and if it's not used in a specific and deliberate way that enhances the story it can just be distracting! In Overgrown, I used the nontraditional comic elements to indicate the difference between the magical faery world and the normal human world.
Technology has revolutionised illustration and the graphic world in recent years, from how the work is created and its form to how it reaches out to audiences. We were wondering your thoughts on this aspect of changing face of graphics thanks to technology.
I think it's great that it's so much more accessible to more people! And more artists having access to both the tools and the ability to share with a large audience means more diverse work and voices in the mainstream art world, which is always good.
We love your Little Nemo in slumberland webcomic. Can we ask you what attracted you to Winsor McCay's classic comic strip? 
When I was in the research portion of my major project, a tutor suggested it as an example of a historical comic that used innovative compositions of the traditional comic page to strengthen the story. I had heard of it before then, but not read much of it in depth! In the particular page I chose, McCay uses tall panels that create steps downwards, echoing the downwards fall of the mushroom forest. I decided to explore how I could further that visual narrative in a webcomic form, by making it an infinite canvas comic that scrolls in different directions. The way he used the breaking of the traditional format to signify the dream world inspired my use of that in my own comic.
Click here to access Laya's reimagining of this classic comic work.
Can we ask you about the opportunities as well as the pressures and limitations of working to a brief?
I like that it gives me the opportunity to explore aesthetics and techniques that I don't usually use in my personal work! And learning new techniques and skills is important as a freelancer, it can be hard to motivate yourself to learn new things sometimes without specific goals and uses for it.
How do you tend to get your briefs?
It generally depends on the client, as a lot of the time I'm working directly with self published authors. If they don't tell me everything I need up front, I just discuss it with them and ask them questions to get the sort of info I need. And this can evolve along the process, as well.
Can you talk to us about your work on various book covers? You have done a wide variety of wonderful and very different in tone covers from the Vogel winning No man's land to Foxhunt to The only living lady parachutist. How do you go about deciding which visual style tone to approach?
Almost all of the covers I've done have been different genres or audiences, so I generally have to start at the beginning, researching the design and illustration choices of books in the same genre. I'm also directed by the author or publisher who often has a specific vision in mind, and in a lot of cases I read the book first which helps! Obviously as someone who is primarily an illustrator, there are styles and directions that I tend to go towards, but I'm always trying to think of what works best for each individual book.
Has winning awards such as the Vogel's, and Hugo nominations had a noticeable effect on your practice?
Not really! Most of those are for my book fanart, which I've been doing for years. I'm glad I can continue doing that along with my professional work. Half the reason I do it is to be able to promote the books I love to a wider audience, since most books I do fanart of has little or no other fanart (even if some of them are pretty well known). I do tend to spend more time doing full illustrations rather than miscellaneous doodles than I used to, though!
Can you tell us about the dynamic when working with other collaborators on projects like your Huia books and that whole creative process?
For my work with Huia Publishers, I'm given a comprehensive brief from the designer/s, with all of the content that I'm going to be illustrating, and a moodboard. I generally meet with them in person to go over it, as well. They always give me a lot of room to experiment with the style and try new things.
QCan you tell us about a current or recent project you've worked on that you would like to share with us?
The most recent picture book I've done with Huia is called The Eight Gifts of Te Wheke by Steph Matuku which comes out next month, I believe! It's more of a contemporary story than the previous picture books I've done, set on the beach with two siblings and a giant hoarding octopus. (Due out soon) .
Do you have any traditions or rituals that help you when you get to work?
Not specifically! I find listening to audiobooks or podcasts helps me focus when I'm working for a long period of time.
Who is or was your favourite illustrator/artist/ creator?
[my answer to this would be the same as below, I don't have any one favourite]
Is there anyone working at the moment whose work you particularly admire?
Hundreds of people! There are so many amazing artists out there it's impossible to pick just a few, but here's some I love in different areas of practice:
Kay O'Neill is a graphic novel illustrator whose book The Tea Dragon Society (and others) are so lovely; I love Feifei Ruan's book cover illustrations; and Alexis Castellanos is a designer and illustrator who's done a lot of amazing book fanart!
What would your dream project be?
I don't really have one honestly! I have ideas for comics or graphic novels, and I'd also love to just keep doing book design & illustration.
We wish to expend our heartfelt thanks to Laya for her time her in-depth and thoughtful answers  and providing us with permission to share some of her exquisite work. Below is a selection of the publications Laya has done covers for or illustrated, that are available to borrow from the library.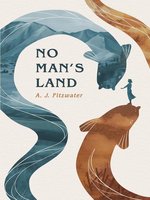 No Man's Land, A.J. Fitzwater (ebook)
"While her brother fights a war on the other side of the world, Dorothea 'Tea' Gray joins the Land Service and is sent to work on a remote farm in the golden plains of North Otago, in the South Island of New Zealand.But Tea finds more than hard work and hot sun in the dusty North Otago nowhere—she finds a magic inside herself she never could have imagined, a way to save her brother in a distant land she never thought she could reach, and a love she never knew existed. Inspired by feminist and LGBTQ+ history and family wartime memories, A.J. Fitzwater has turned a piece of forgotten women's history into a tapestry of furious pride and love that crosses cultures, countries and decades." (Overdrive description)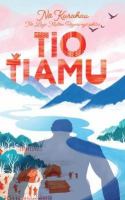 Tio Tiamu / Kurahau
"Gentle, clever Toe Jam grows to be huge, and this causes a problem because his feet smell. The bigger he gets the worse the smell. Toe Jam is kind, but the people tease him and avoid him, and finally, they make him leave and live far away. Toe Jam never loses his kind heart, and when there are floods, wild winds and droughts, he returns to help his people. But afterwards, the people always send him away again. Until, one day, when Toe Jam saves the people from an eruption, they finally see Toe Jam's goodness"–Publisher information." (Adapted from Catalogue)

The smelly giant / Kurahau
"Gentle, clever Toe Jam grows to be huge, and this causes a problem because his feet smell. The bigger he gets the worse the smell. Toe Jam is kind, but the people tease him and avoid him, and finally, they make him leave and live far away. Toe Jam never loses his kind heart, and when there are floods, wild winds and droughts, he returns to help his people. But afterwards, the people always send him away again. Until, one day, when Toe Jam saves the people from an eruption, they finally see Toe Jam's goodness"–Publisher information." (Adapted from Catalogue)
The only living lady parachutist / Clarke, Catherine
"To test her courage, daredevil Lillian risks her life for fame and fortune by parachuting from a hot air balloon throughout Australia and New Zealand. But in the competitive 1890s era of charlatans, showmen, and theatrical hucksters, is she brave enough to confront the truth about her past?"–Back cover." (Adapted from Catalogue)
Ngake me Whātaitai / Ngaia, Ben
"A traditional story told in te reo Māori from the perspective of the Kāhui Maunga people about Ngake and Whātaitai. These two taniwha inhabited Te Whanganui-a-Tara, Wellington Harbour, long before the ancestral migrations. The story tells how the shape and landscape of Wellington, its harbour and the Lower Hutt area came about because of the actions of Ngake and Whātaitai"" (Adapted from Catalogue)
Te Uruuru Whenua o Ngātoroirangi / Winitana, Chris
"This is the story of the arrival of Ngātoroirangi in Aotearoa and his exploration of the landscape and subduing of kaitiaki, such as the guardian of Tarawera, Tamaohoi; the guardian of water on Kaingaroa, Torepatutai; and the King of the Patupaiarehe, fairy folk, Ririō. This adventure story traces the places Ngātoroirangi travelled through, such as Waimahunga, the large spring where he conducted his cleansing ceremonies, and Te Whārua o Ngātoroirangi, where his footprints are still visible in the land today. The story is written in te reo Māori"(Adapted from Catalogue)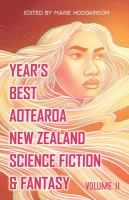 Year's best Aotearoa New Zealand science fiction & fantasy. V2
"Ancient myths go high-tech a decade after the New New Zealand Wars. Safe homes and harbours turn to strangeness within and without.Splintered selves come together again – or not. Twelve authors. Thirteen stories. The best short science fiction and fantasy from Aotearoa New Zealand in 2019. With works by: Juliet Marillier, Nic Low, Rem Wigmore, Andi C Buchanan, Octavia Cade, A.J. Fitzwater, Nicole Tan, Melanie Harding-Shaw, Alisha Tyson, James Rowland, Zoë Meager, and Casey Lucas." (Adapted from Catalogue)