As a special seasonal treat we've joined with author and music critic Simon Sweetman to curate and present to you a festive panoply of poets reading their works for Wellingtonians — one a day until Christmas.
Next up we have Maggie Rainey-Smith, reading a new work.
About Maggie
"Maggie Rainey-Smith is a novelist, poet, short story writer, essayist and book reviewer. Her latest novel Daughters of Messene is about immigration and the Greek Civil War. The Greek translation of this novel came out in June 2019 and is a best seller in Greece. In her working life she teaches Workplace English to migrants and refugees."
From Maggie's website
More from Maggie
About turns: a novel / Rainey-Smith, Maggie
"Irene has a secret. It slips out inadvertently during book club when the wine has been flowing too freely. Her teenage years as a marching girl are not something she had wanted her friend Ferrida to know about. She's always wanted Ferrida's approval, for her friendship is as important and fraught as the one with Paula, when they marched together all those years ago. But friends don't necessarily march to the same beat, and Irene finds it hard to keep step. ABOUT TURNS, with its humorous insights into New Zealand women and their allegiances, will have you and your friends laughing in unison." (Catalogue)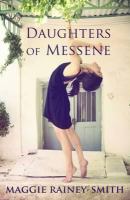 Daughters of Messene / Rainey-Smith, Maggie
"'Your history, Artemis, is full of female warriors.' Artemis has the name of a goddess, but she has trouble living up to it. Instead she usually just runs away. She's running now … away from the married man she's been seeing, and the Greek community in New Zealand who think they know what's best, and into the arms of family in the Peloponnese that she's never met. She carries her mother's ashes and an ipod with recordings, which bit by bit tell the shocking story of what happened to Artemis' grandmother during the Greek Civil War. " (Adapted from Catalogue)
Still to come…
Still to come is a reading from Ruby Solly.
We'll be posting up the latest in the series of poems every day until Christmas on the Library homepage and on our blog here, so keep an eye out!
Read all Festive Panoply posts
We'd like to extend our deepest gratitude to Simon Sweetman for curating these daily poems, and to the lovely people at Book Haven for allowing us to record in their bookshop. We hope you enjoy them as much as we have!
The death of music journalism / Sweetman, Simon
"Simon's been writing poems since he was first listening to bands on his Walkman, but then he started sharing them via social media and open mic nights.  Marking a pivot from the razor-sharp and sometimes controversial music writing he is best known for, Simon's collection is as wide-ranging as his career to date.  A natural storyteller whose poetry is filled with characters both famous and ordinary, this eagerly awaited collection is unpredictable, anarchic, playful and surprisingly heartfelt." (Adapted from Catalogue)