As a special seasonal treat we've joined with author and music critic Simon Sweetman to curate and present to you a festive panoply of poets reading their works for Wellingtonians — one a day until Christmas.
Next up we have Michael Fitzsimons, reading an exclusive new poem.
About Michael
"Michael Fitzsimons is a writer and co-founder of Wellington communications and publishing company, Fitzbeck Creative. He's a proud member of the three- person South Wellington Poetry Society and his first collection, Now You Know, combined poems with photography and was recommended in Radio New Zealand's annual poetry highlights. Michael's latest publishing project is Joy Cowley's Veil Over Light. He lives in Seatoun with his wife, Rose, in a hillside house overlooking Wellington Harbour."
Sourced from Cuba Press
More from Michael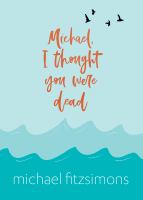 Michael, I thought you were dead / Fitzsimons, Michael
"My favourite poet with a ponytail greets me warmly at the launch of his latest book of poems. Michael, he says, I thought you were dead. A pragmatic, intelligent, irreverent, and searching collection." (Catalogue)
Still to come…
Still to come are readings from Maggie Rainey-Smith, and Ruby Solly.
We'll be posting up the latest in the series of poems every day until Christmas on the Library homepage and on our blog here, so keep an eye out!
Read all Festive Panoply posts
We'd like to extend our deepest gratitude to Simon Sweetman for curating these daily poems, and to the lovely people at Book Haven for allowing us to record in their bookshop. We hope you enjoy them as much as we have!
The death of music journalism / Sweetman, Simon
"Simon's been writing poems since he was first listening to bands on his Walkman, but then he started sharing them via social media and open mic nights. Marking a pivot from the razor-sharp and sometimes controversial music writing he is best known for, Simon's collection is as wide-ranging as his career to date. A natural storyteller whose poetry is filled with characters both famous and ordinary, this eagerly awaited collection is unpredictable, anarchic, playful and surprisingly heartfelt." (Adapted from Catalogue)