As a special seasonal treat we've joined with author and music critic Simon Sweetman to curate and present to you a festive panoply of poets reading their works for Wellingtonians — one a day until Christmas.
Next up we have Mary McCallum who will be reading from her collection XYZ of happiness.
XYZ of happiness / McCallum, Mary
"These are poems of happiness… as it comes, when it's missing and when it is hoped for. Pastel and glib or orange and high-vis, it is almost invisible in a chemical cocktail and strangely visible – but unreachable – in an equation etched into glass. It is a dog unleashed on the grass and a man going about measuring the Earth. It can be heard at the end chemotherapy and in a conversation in the kitchen while a boy drowns in the harbour outside. It wears a pink T-shirt, spins with sycamore seeds and spends a whole poem finding a yellow it can live with." (Description from Mākaro Press)
About Mary
"Mary McCallum is a novelist, poet, songwriter and publisher. Her novel The Blue won two national book awards in 2007, she is the inaugural winner of the Caselberg Trust International Poetry Prize and her children's novel Dappled Annie and the Tigrish won a Kirkus Star in the US. She founded Mākaro Press in 2013 and her band The Brooklyns plays around Wellington. She has three adult children and lives with her husband and his selection of yellow socks in Wellington and the Wairarapa."
From Mākaro Press
More by Mary
The blue / McCallum, Mary
"Lilian lives in an isolated island community at the mouth of Tory Channel trying to make the best of a life that has at its core a secret grief. It is 1938 and for three months of every year the men take to the sea to hunt whales with fast boats and explosive harpoons. This year, the whales aren't the only ones returning – Lilian's troubled son Micky has come home too. In this rugged, unsettled world, things are not always what they seem." (Adapted from Catalogue)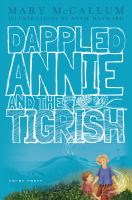 Dappled Annie and the Tigrish / McCallum, Mary
"A beautifully written novel about nature, siblings, bravery, and a touch of something magical. There are faces in the hedge at the end of the garden, and a nest of tiny fantails, and that's where 9-year-old Annie goes to play one hot summer while her father works up at the lighthouse. One after another, an earthquake and a terrible wind leave Annie with losses that seem irreplaceable, and her little brother Robbie emerges as the only person who can help her find what she's lost. Him and the tigrish." (Catalogue)
Still to come…
Still to come are readings from Richard Langston, Rachel McAlpine, Maggie Rainey-Smith, Michael Fitzsimons,  and Ruby Solly.
We'll be posting up the latest in the series of poems every day until Christmas on the Library homepage and on our blog here, so keep an eye out!
Read all Festive Panoply posts
We'd like to extend our deepest gratitude to Simon Sweetman for curating these daily poems, and to the lovely people at Book Haven for allowing us to record in their bookshop. We hope you enjoy them as much as we have!
The death of music journalism / Sweetman, Simon
"Simon's been writing poems since he was first listening to bands on his Walkman, but then he started sharing them via social media and open mic nights.  Marking a pivot from the razor-sharp and sometimes controversial music writing he is best known for, Simon's collection is as wide-ranging as his career to date.  A natural storyteller whose poetry is filled with characters both famous and ordinary, this eagerly awaited collection is unpredictable, anarchic, playful and surprisingly heartfelt." (Adapted from Catalogue)