It is an unusually high proportion, and especially surprising to the judges themselves…
The above quote is from Gaby Wood, Literary Director of the Booker Prize Foundation, and relates to the number of debut novelists whose work has been included in this year's Booker longlist. The eight debutantes include Kiley Reid with Such a Fun Age (included in Wellington City Libraries' #StayAtHome Fest) as well as C Pam Zhang's How Much of These Hills is Gold.
Despite this, the majority of the Booker publicity has focused on two-time winner Hilary Mantel and the third book in her Thomas Cromwell trilogy, The Mirror and the Light. The Guardian called the work a "masterpiece" and a "shoo-in" for the Booker, while Mantel herself has said that if she fails to win "it will be cast in terms of a disaster". So who will make it through to the next round? The shortlist will be announced on 15 September!
The new wilderness / Cook, Diane
"Bea's five-year-old daughter, Agnes, is slowly wasting away. The smog and pollution of the overdeveloped, overpopulated metropolis they call home is ravaging her lungs. Bea knows she cannot stay in the City, but there is only one alternative: The Wilderness State. Mankind has never been allowed to venture into this vast expanse of untamed land. Until now." (Publisher)
This mournable body : a novel / Dangarembga, Tsitsi
"Anxious about her prospects after leaving a stagnant job, Tambudzai finds herself living in a youth hostel in downtown Harare. She moves to a widow's boarding house and eventually finds work as a biology teacher. But at every turn in her attempt to make a life for herself, she is faced with a fresh humiliation, until the contrast between the future she imagined and her daily reality ultimately drives her to a breaking point." (Adapted from Catalogue)
Who They Was / Krauze, Gabriel
"Who They Was is an electrifying autobiographical British novel: a debut that truly breaks new ground and shines a light on lives that run on parallel, but wildly different tracks." (Catalogue)
The mirror & the light / Mantel, Hilary
"England, May 1536. Anne Boleyn is dead, decapitated in the space of a heartbeat by a hired French executioner. As her remains are bundled into oblivion, Thomas Cromwell breakfasts with the victors. But can a nation, or a person, shed the past like a skin? Do the dead continually unbury themselves? What will you do, the Spanish ambassador asks Cromwell, when the king turns on you, as sooner or later he turns on everyone close to him?" (Adapted from Catalogue)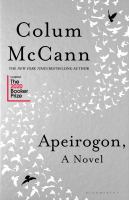 Apeirogon : a novel / McCann, Colum
"Rami is Israeli. Bassam is Palestinian. Rami's license plate is yellow. Bassam's license plate is green. It takes Rami fifteen minutes to drive to the West Bank. The same journey for Bassam takes an hour and a half. Both men have lost their daughters. Rami's thirteen-year-old girl Smadar was killed by a suicide bomber while out shopping with her friends. Bassam's ten-year-old daughter Abir was shot and killed by a member of the border police outside her school. The men become the best of friends." (Adapted from Catalogue)
The shadow king / Mengiste, Maaza
"With Mussolini preparing to invade Ethiopia, Emperor Haile Selassie heads into exile, and orphaned servant Hirut helps disguise a peasant as the emperor to bring people hope. Soon Hirut becomes his guard, as Mengiste shows us the brutal reality of ordinary people fighting a better-armed foe." (Adapted from Catalogue)
Such a fun age / Reid, Kiley
"Alix is a woman who gets what she wants. So she is shocked when her babysitter, Emira, is confronted while watching the Chamberlains' toddler in their local supermarket. The store's security guard, seeing a young black woman out with a white child, accuses Emira of kidnapping. Alix resolves to make things right, but both women find themselves on a crash course that will upend everything they think they know about each other." (Adapted from Catalogue)
Real life / Taylor, Brandon
"Almost everything about Wallace, an introverted African-American transplant from Alabama, is at odds with the lakeside Midwestern university town where he is working toward a biochem degree. For reasons of self-preservation, Wallace has enforced a wary distance even within his own circle of friends, but a series of confrontations conspire to fracture his defenses, while revealing hidden currents of resentment and desire that threaten the equilibrium of their community." (Adapted from Catalogue)
Redhead by the side of the road / Tyler, Anne
"Micah Mortimer isn't the most polished person you'll ever meet. His numerous sisters and in-laws regard him oddly but very fondly, but he has his ways and means of navigating the world. But then the order of things starts to tilt. When a teenager shows up at Micah's door claiming to be his son, Micah is confronted with a surprise he seems poorly equipped to handle…" (Adapted from Catalogue)
Shuggie Bain / Stuart, Douglas
"It is 1981. Glasgow is dying. Agnes Bain has always expected more from life. She dreams of greater things. But when she's abandoned by her philandering husband, she finds herself trapped in a decimated mining town. As she descends deeper into drink, her three children try their best to save her, yet one by one they must abandon her to save themselves. It is her son Shuggie who holds out hope the longest…" (Adapted from Catalogue)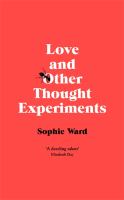 Love and other thought experiments / Ward, Sophie
"Rachel and Eliza are hoping to have a baby. The couple spend many happy evenings together planning for the future. One night Rachel wakes up screaming and tells Eliza that an ant has crawled into her eye. She knows it sounds mad – but she also knows it's true. Eliza won't take Rachel's fear seriously and they have a bitter fight. Suddenly their entire relationship is called into question. Told in ten interconnecting but self-contained chapters, Love and Other Thought Experiments is a story of love lost and found across the universe." (Adapted from Catalogue)
How Much Of These Hills Is Gold / Zhang, C Pam
"Ba dies in the night; Ma is already gone. Newly orphaned children of immigrants, Lucy and Sam are suddenly alone in a land that refutes their existence. Fleeing the threats of their western mining town, they set off to bury their father in the only way that will set them free from their past. Along the way, they encounter giant buffalo bones, tiger paw prints, and the specters of a ravaged landscape as well as family secrets, sibling rivalry, and glimpses of a different kind of future." (Adapted from Catalogue)