"Macbeth shall never vanquished be until/ Great Birnam Wood to high Dunsinane Hill/ Shall come against him"  William Shakespeare Macbeth
The book that caught our particular attention in this month's recently acquired new fiction round-up was of course Birnam Wood by Eleanor Catton. One of the most hotly anticipated novels of 2023, both here and overseas. It's already getting rave reviews; the Guardian have described it as "a dark and brilliant novel about the violence and tawdriness of late capitalism". One of the key subjects in the book is the battle to save a guerrilla community garden project in Christchurch called Birnam Wood.
The book is, of course, named after the forest in that Scottish play by William Shakespeare, and whilst 'Macbeth' is a fictional play, many of its aspects are based in historical fact. For example, Macbeth was indeed a Scottish King who was killed in battle in 1057 and is now buried at Iona, the traditional resting place of Scottish kings. Birnam Wood is also a real forest located near Dunsinane Hill; both these places were locations of significant battles in medieval times. Birnam Wood itself goes on to play a central plot device in the Shakespeare play, as it does in a very different guise in Eleanor Catton's novel.
Other major releases this month include comic Bob Mortimer's debut novel called The Satsuma Complex and, not one,but two novels from by Cormac McCarthy, The Passenger and Stella Maris. Plus, new works from Kate Atkinson, Bret Easton Ellis and Ian McEwan amongst others – as they say, an embarrassment of riches to choose from!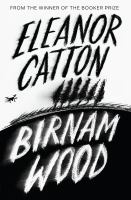 Birnam Wood / Catton, Eleanor
"Birnam Wood is on the move …A landslide has closed the Korowai Pass in the South Island of New Zealand, cutting off the town of Thorndike, leaving a sizable farm abandoned. This land offers an opportunity to Birnam Wood, a guerrilla gardening collective that plants crops wherever no one will notice. But they hadn't figured on the enigmatic American billionaire Robert Lemoine, who also has an interest in the place. Can they trust him? And, as their ideals and ideologies are tested, can they trust each other ?" (Adapted from Catalogue)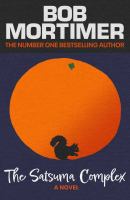 The satsuma complex / Mortimer, Bob
" Gary Thorn goes for a pint with a work acquaintance called Brendan. When Brendan leaves early, Gary meets a girl in the pub. He doesn't catch her name, but falls for her anyway. When she suddenly disappears without saying goodbye, all Gary has to remember her by is the book she was reading: The Satsuma Complex. But when Brendan goes missing, Gary needs to track down the girl he now calls Satsuma to get some answers. And so begins Gary's quest, through the estates and pie shops of South London, to finally bring some love and excitement into his unremarkable life." (Adapted from Catalogue) Also available as an eBook.
The passenger / McCarthy, Cormac
"Pass Christian, Mississippi, 1980: It is three in the morning when Bobby Western zips up the jacket of his wet suit and plunges from a Coast Guard tender into darkness. His dive light illuminates the sunken jet, nine bodies still buckled in their seats, hair floating, eyes devoid of speculation. Missing from the crash site are the pilot's flight bag, the plane's black box, and the tenth passenger. But how? A collateral witness to machinations that can only bring him harm, Western is shadowed in body and spirit–by men with badges; by the ghost of his father, an inventor of the bomb that melted glass and flesh in Hiroshima; and by his sister, the love and ruin of his soul." (Adapted from Catalogue) Also available as an eBook. 

Stella Maris / McCarthy, Cormac
" Black River Falls, Wisconsin, 1972: Alicia Western, twenty years old, with forty thousand dollars in a plastic bag, admits herself to the hospital. A doctoral candidate in mathematics at the University of Chicago, Alicia has been diagnosed with paranoid schizophrenia, and she does not want to talk about her brother, Bobby. Instead, she contemplates the nature of madness, the human insistence on one common experience of the world; she recalls a childhood where, by the age of seven, her own grandmother feared for her; she surveys the intersection of physics and philosophy; and she introduces her cohorts, her chimeras, the hallucinations that only she can see…" (Adapted from Catalogue) Also available as an eBook.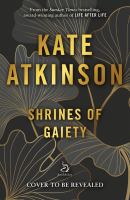 Shrines of gaiety / Atkinson, Kate
"1926, and in a country still recovering from the Great War, London has become the focus for a delirious new nightlife. In the clubs of Soho, peers of the realm rub shoulders with starlets, foreign dignitaries with gangsters, and girls sell dances for a shilling a time. The notorious queen of this glittering world is Nellie Coker, ruthless but also ambitious to advance her six children, including the enigmatic eldest, Niven, whose character has been forged in the crucible of the Somme. But success breeds enemies, and Nellie's empire faces threats from without and within…" (Catalogue) Also available as an eBook.
The shards / Ellis, Bret Easton
"A story about the end of innocence, and the perilous passage from adolescence into adulthood, set in a vibrantly fictionalized Los Angeles in 1981 as a serial killer begins targeting teenagers throughout the city." (Adapted from Catalogue)
Also available as an eBook.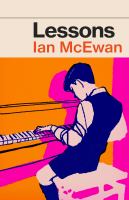 Lessons / McEwan, Ian
"When the world is still counting the cost of the Second World War and the Iron Curtain has closed, 11-year-old Roland Baines's life is turned upside down. Two thousand miles from his mother's protective love, stranded at an unusual boarding school, his vulnerability attracts piano teacher Miss Miriam Cornell, leaving scars as well as a memory of love that will never fade. Now, when his wife vanishes, leaving him alone with his tiny son, Roland is forced to confront the reality of his restless existence. As the radiation from Chernobyl spreads across Europe, he begins a search for answers that looks deep into his family history and will last for the rest of his life… " (Adapted from Catalogue) Also available as an eBook.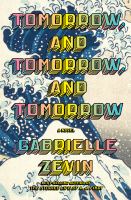 Tomorrow, and tomorrow, and tomorrow / Zevin, Gabrielle
"On a bitter-cold day, in the December of his junior year at Harvard, Sam Masur exits a subway car and sees, amid the hordes of people waiting on the platform, Sadie Green. He calls her name. For a moment, she pretends she hasn't heard him, but then, she turns, and a game begins: a legendary collaboration that will launch them to stardom. These friends, intimates since childhood, borrow money, beg favors, and, before even graduating college, they have created their first blockbuster, Ichigo. Overnight, the world is theirs. Not even twenty-five years old, Sam and Sadie are brilliant, successful, and rich, but these qualities won't protect them from their own creative ambitions or the betrayals of their hearts." (Adapted from Catalogue) Also available as an eBook.