A final flood of colours will live on
As my mind dies,
Burned by my vision of a world that shone
So brightly at the last, and then was gone
— From Japanese Maple, Clive James, 2014
The author and broadcaster Clive James died on Sunday at the age of 80.
James had grown up in Sydney and left for Britain in the early 1960s where he found success as a poet, critic, essayist, and broadcaster. As a member of Footlights at Cambridge University James cultivated his persona as a 'funny guy' and part of his popularity stemmed from his ability to move between the high and low brow worlds of academia, literature, popular culture, television, and the cult of celebrity.
A prolific author, Clive James wrote gorgeous poetry, acerbic (and funny) criticism, and evocative memoirs. His descriptions of growing up in Sydney in the forties and fifties were wonderful evocations of the love an ex-pat has for the homeland that they 'escaped' in younger years.
After starting as a TV critic for The Observer in 1972, James had a television career with shows such as Clive James on Television. Always aware of popular culture he also wrote about the pleasures of binge-watching as box-sets and streaming became popular.
In the 21st century, James embraced the Internet and had his own web series, Clive James Talking in the Library, where he interviewed cultural figures such as Stephen Fry, Nick Hornby, and Michael Frayn:
James's publisher and editor, Don Paterson, noted of him in The Independent today: "Any encounter [with him], either in print or in person, left you desperate to go and open a book, watch a film or a TV show, or hunt down a recording."
We have a selection of books by Clive James in our collections that we encourage you to 'hunt down' and enjoy.
In his own words:
"If you don't know the exact moment when the lights will go out, you might as well read until they do"
Poetry notebook : 2006-2014 / James, Clive
"Clive James is one of our finest critics and best-loved cultural voices. He is also a prize-winning poet. Since he was first enthralled by the mysterious power of poetry, he has been a dedicated student. In fact, for Clive, poetry has been nothing less than the occupation of a lifetime, and in this book he presents a distillation of all he's learned about the art form that matters to him most." (From our catalogue)
The blaze of obscurity / James, Clive
"Clive James on TV – and now in book form. Clive James will always be a TV presenter first and foremost, and a writer second – this despite the fact that his adventures with the written work took place before, during and after his time on the small screen. This book tells the inside story of his years in television." (From our catalogue)
Cultural cohesion: the essential essays, 1968-2002 / James, Clive
"Following his much-heralded publication of Cultural Amnesia, Clive James presents here his "prequel"-forty-nine essays, which he has selected as representing the best of his half-century career. Cultural Cohesion examines the twisted cultural terrain of the twentieth century in a volume that is not only erudite but also endlessly entertaining. Dividing his book into four sections – "Poetry," "Fiction and Literature," "Culture and Criticism," and "Visual Images" – James comments on poets like W. H. Auden , novelists like Raymond Chandler, and filmmakers like Fellini ." (From our catalogue)
Latest readings / James, Clive
"In 2010, Clive James was diagnosed with terminal leukemia. Deciding that "if you don't know the exact moment when the lights will go out, you might as well read until they do," James moved his library to his house in Cambridge, where he would "live, read, and perhaps even write." This volume contains his reflections on what may well be his last reading list. A look at some of his old favorites as well as some recent discoveries, this book also offers a revealing look at the author himself, sharing his evocative musings on literature and family, and on living and dying. This valediction to James's lifelong engagement with the written word is a captivating valentine from one of the great literary minds of our time." (Adapted from our catalogue)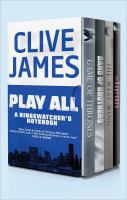 Play all : a bingewatcher's notebook / James, Clive
"Since serving as television columnist for the London Observer from 1972 to 1982, James has witnessed a radical change in content, format, and programming, and in the very manner in which TV is watched. Here he examines this unique cultural revolution, providing a brilliant, eminently entertaining analysis of many of the medium's most notable twenty-first-century accomplishments and their not always subtle impact on modern society–including such acclaimed serial dramas as Breaking Bad, and The Sopranos. With intelligence and wit, James explores a television landscape expanded by cable and broadband and profoundly altered by the advent of Netflix, Amazon, and other "cord-cutting" platforms that have helped to usher in a golden age of unabashed binge-watching." (Adapted from our catalogue)
Somewhere Becoming Rain: Collected Writings On Philip Larkin / James, Clive
"This book gathers all of James's writing on this towering literary figure, together with material now published for the first time. James writes about Larkin's poems, his novels, his jazz and literary criticism; he also considers the two major biographies, Larkin's letters and even his portrayal on stage in order to chart the extreme and, he argues, largely misguided equivocations about Larkin's reputation in the years since his death. Through this joyous and perceptive book, Larkin's genius is delineated and celebrated. James argues that Larkin's poems, adored by discriminating readers for over half a century, could only have been the product of his reticent, diffident, flawed, and all-too-human personality. Erudite and entertaining in equal measure, Somewhere Becoming Rain is a love letter from one of the world's best living writers to one of its most cherished poets." (Adapted from our catalogue)