This latest edition features biographies on seekers, to well seasoned spiritual believers. Some life experiences have raised deep questions whilst others have strengthened their commitment.
The spiritual Mandela : faith and religion in the life of Nelson Mandela, by Dennis Cruywagen.
"In the first book of its kind, an acclaimed South African journalist and former parliamentary spokesperson for the ANC shares how Nelson Mandela balanced his Christian faith with his political views, exploring how the beloved leader reconciled his own beliefs with the hard truth that religion had often been used as a tool to oppress his people." (Catalogue)
Born with wings : the spiritual journey of a modern Muslim woman, by Daisy Khan.
"Khan details her faith journey, beginning with the strong guidance of her supportive family in her native Kashmir, where religious practices were deeply felt. But after she moves to the U.S., questions and doubts began to surface for Khan. Finding Sufism renewed her and served as a starting point for her activism. Khan's extensive research on her faith led to one of her core beliefs: that, despite perceptions to the contrary, Islam elevates the status of women. Today, she is the executive director of the Women's Islamic Initiative for Spirituality and Equality… A thought-provoking read." (Booklist, courtesy of Syndetics)
Why I am a Hindu, by Shashi Tharoor.
"Opening with a frank and touching reflection on his personal beliefs, he lays out Hinduism's origins and its key philosophical concepts…. Tharoor is unsparing in his criticism of extremism and unequivocal in his belief that what makes India a distinctive nation with a unique culture will be imperilled if Hindu 'fundamentalists', the proponents of 'Hindutva', or politicised Hinduism, seize the high ground. … Written in Tharoor's captivating prose, [this] is a revelatory and original contribution to our understanding of religion in the modern era." (drawn from the Syndetics summary)
Paul : a biography, by N.T. Wright.
The details of Paul's life are scant at best, and while Wright presents plenty of historical background material, he bases much of his insights on the picture revealed by Paul's writings. In this very readable account, Wright is careful to acknowledge that his thoughts are calculated probabilities, but speculations none the less, as he tries to understand the man most responsible for spreading Christianity across the Gentile world.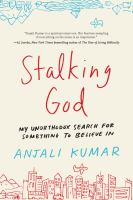 Stalking God : my unorthodox search for something to believe in, by Anjali Kumar.
"Anjali Kumar, a pragmatic lawyer for Google, was part of a rapidly growing population in America: highly spiritual but religiously uncommitted. But when her daughter was born, she became compelled to find God – or at least some kind of enlightenment. Convinced that traditional religions were not a fit for her, and knowing that she couldn't simply Google an answer to 'What is the meaning of life?' Kumar set out on a spiritual pilgrimage, looking for answers… Narrated from the open-minded perspective of a spiritual seeker rather than a religious scholar, Kumar offers an honest account of some of the less than mainstream spiritual practices that are followed by millions of people in the world today. Provided by publisher." (Catalogue)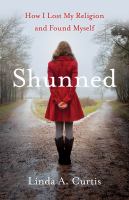 Shunned : how I lost my religion and found myself, by Linda A Curtis.
"Linda Curtis was raised as a Jehovah's Witness and is an unquestioning true believer who has knocked on doors from the time she was nine years old… Then one day, at age thirty-three, she knocks on a door – and a coworker she deeply respects answers the door. To their mutual consternation she launches into her usual spiel, but this time, for the first time ever, the message sounds hollow. Curtis tries hard to overcome the doubts that spring from that doorstep encounter, …but ultimately, unable to reconcile her incredulity, she leaves her religion and divorces her Witness husband – a choice for which she is shunned by the entire community, including all members of her immediate family. Shunned follows Linda as she steps into a world she was taught to fear and discovers what is possible when we stay true to our hearts, even when it means disappointing those we love." (Catalogue)
An explorer's guide to Julian of Norwich, by Veronica Rolf.
Medieval scholar Rolf introduces us to Christian theologian and mystic Julian of Norwich as the first woman to write a book (let alone a spiritual autobiography) in the English language. Julian was probably a member of the merchant class, rather than a nun which is commonly assumed. Rolf places Julian in her social context as she prays alongside the Hundred Years' War, and the Great Plague's destruction of one-third of human life.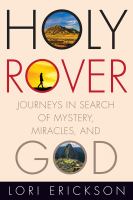 Holy rover : journeys in search of mystery, miracles and God, by Lori Erickson.
Erickson travels the world as a writer specializing in holy sites – journeys that led her on an ever-deepening spiritual quest. Her pilgrimages have taken her to several continents : Martin Luther sites in Germany, Machu Picchu in Peru, Walden Pond in Concord, Massachusetts, and The Temple of Artemis and House of the Virgin Mary in Ephesus, Turkey to name a few.