David Long is a legend in the New Zealand music scene. He started his musical career performing in the Braille Collective, in bands such as Six Volts and Jungle, and was a founding member of The Mutton Birds with Don McGlashan. These days, Long can be found working in a very wide spectrum of musical activities.
Long did compositional music for contemporary dance pieces working extensively with choreographer Douglas Wright. He works on the musical, soundscape side for a whole host of television and film projects; he has worked with Peter Jackson and has played some part in every one of his film for the last twenty years, including Lord of the Rings trilogy.  Long even worked with Brian Eno on the soundtrack to The Lovely Bones.
He also does a lot of production work, having produced many of New Zealand's finest musicians and ,recently, doing production work for the recently formed Oro record label.
Long has worked on a wide range of collaborative projects, such as with Richard Nunn and Natalia Mann on the album Utterance. He has also just released a new work of his own, titled Ash and Bone. He has also won several silver scroll APRA awards, amongst many other musical accolades. Basically, in musical terms , Long has excelled at everything and so when we got the chance to interview him, we jumped at it.
Coming soon, we have an exclusive filmed interview with Long where we talk all things musical. For now,
to whet your appetite, we recently had the pleasure of interviewing Long in conjunction with the Caffeine and Aspirin on Radioactive FM about his new album, Ash and Bone, and various other aspects of his career. Below is the podcast of that interview for your enjoyment:
We are thrilled that Long has taken time out from his very busy schedule to talk to us about his new release, his career, and all things musical. We extend our heartfelt thanks. Keep an eye out for our filmed interview coming soon!
For more information on David, visit https://www.davidlongnz.com/
And for more information on Rattle records, visit https://rattle.co.nz/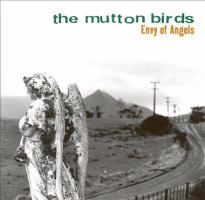 Envy of angels [1 CD] / Mutton Birds
"Envy of Angels could have been recorded ten years earlier considering its invocation of the new south — in particular the moodiness of Dumptruck — not to mention similarities to more commercial guitar rock of the same period […] Perhaps it isn't a coincidence that Hugh Jones, who also worked with Dumptruck, produced Envy of Angels. He renders the Mutton Birds' guitar strum and jangle in more solemn than bright tones, which suits the sometimes poetic lyrics and unusual chord progressions. ~ Greg Adams" ( Adapted from Catalogue)
Ash and bone. / Long, David
"Musicians David Long, synthesisers, banjo, electronics, electric guitar ; Carolyn Mills, harp ; Andrew Jarvis, tuba ; Mark Carter, trumpet ; Rachel Vernon, bass clarinet ; Pat Barry, clarinet ; Bridget Douglas, flute ; Riki Gooch, percussion, electronics. Contents Underground — Ash and bone — I follow it — You want to fight everything — The long long walk — A second glance — Wash your mouth out — Water the earth." ( Adapted from Catalogue.) 
Utterance / Long, David
"Musicians …David Long, banjo, theremin, bowed guitar ; Richard Nunns, taonga pūoro ; Natalia Mann, harp, prepared harp, zither, gongs, voice. Tracks Perilous knowledge — Old shadows — Spider shell — Upper circle, lower case — Celestial dog — Mercury — The nearest clear liquid — We died once — City of green — Hidden cameras — Begin again." ( Adapted from Catalogue) 
Flock : the best of The Mutton Birds / Mutton Birds
" Other Title Best of The Mutton Birds. Contents …Dominion Road — Nature — The heater — A thing well made — White Valiant — In my room — Anchor me — Wellington — Queen's English — Don't fear the reaper — While you sleep — She's been talking — Come around — Envy of angels — As close as this — Last year's shoes — Pulled along by love — Not to take sides." ( Adapted from Catalogue)
The Mutton Birds. / Mutton Birds
" Dominion Road (3:55) — Your window (4:39) — A thing well made (4:39) — She's like a city (3:56) — Before the breakthrough (4:52) — White Valiant (5:12) — Giant friend (3:15) — Big fish (4:33) — No plans for later (2:31) — Nature (3:39)." ( Adapted from Catalogue) 
Salty / Mutton Birds
" The heater — Ngaire — You will return — Wellington — In my room — When the wind comes round — Queen's English — Salty my dear — There's a limit — Esther — No telling when — Anchor me — Too close to the sun — Don't fight it, Marsha, it's bigger than both of us. " ( Adapted from Catalogue)