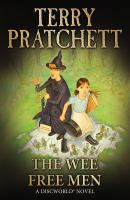 Nae king! Nae quin! Nae laird! Nae master! We willna' be fooled again!

― Terry Pratchett, The Wee Free Men
The science fiction and fantasy title that immediately leapt to our attention this month is A stroke of the pen: the lost stories by Terry Pratchett. This newly rediscovered collection of stories by one of the most popular fantasy writers of all time has caused great excitement amongst his legions of fans. The late great Terry Pratchett has to date sold over 100 million books and been translated into over forty languages, his most famous creation being the wonderful Discworld series (though his many other works are just as entertaining).
All of the stories in A stroke of the pen have been published before in the Western Daily Press regional newspaper in the 1970's and 80's under the pen name Patrick Kearns. However, these stories have been out of print since their initial publication and were, until recently, largely unknown. The reissue of these long-forgotten works will delight fans, as the chances of any posthumous publications by the author is zero. Although Terry Pratchett left a lot of unfinished writing at the time of his death, he left instructions that his computer's hard drive, which contained these works, be destroyed by crushing under a steam roller to avoid any future publication of any works he regarded as unfinished.
This last wish was fulfilled in 2017, when Lord Jericho "a six-and-a-half tonne steamroller" destroyed the drive at the Great Dorset Steam Fair. It took several attempts, and a concrete crusher was used to finish off the job.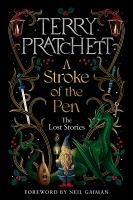 A stroke of the pen : the lost stories / Pratchett, Terry
"A truly unmissable collection of twenty rediscovered stories, written under a pseudonym in the 1970s and 80s by the award-winning and bestselling author of the phenomenal Discworld series. These early tales hint at the worlds Terry would go on to create, containing all his trademark wit, satirical wisdom and fantastic imagination. Meet Og the inventor, the first caveman to cultivate fire, as he discovers the highs and lows of progress; haunt the Ministry of Nuisances with the defiant evicted ghosts of Pilgarlic Towers; visit Blackbury, a small market town with weird weather and an otherworldly visitor; and go on a dangerous quest through time and space with hero Kron, which begins in the ancient city of Morpork…" (Adapted from Catalogue)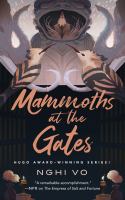 Mammoths at the gates / Vo, Nghi
"The wandering Cleric Chih returns home to the Singing Hills Abbey for the first time in almost three years, to be met with both joy and sorrow. Their mentor, Cleric Thien, has died, and rests among the archivists and storytellers of the storied abbey. But not everyone is prepared to leave them to their rest. Because Cleric Thien was once the patriarch of Coh clan of Northern Bell Pass–and now their granddaughters have arrived on the backs of royal mammoths, demanding their grandfather's body for burial. Chih must somehow balance honoring their mentor's chosen life while keeping the sisters from the north from storming the gates and destroying the history the clerics have worked so hard to preserve. . ." (Adapted from Catalogue) Als.o available as an eBook
Shadow speaker / Okorafor, Nnedi
"In West Africa in 2070, after fifteen-year-old "shadow speaker" Ejii witnesses her father's beheading, she embarks on a dangerous journey across the Sahara to find Jaa, her father's killer, and upon finding her, she also discovers a greater purpose to her life and to the mystical powers she possesses." (Adapted from Catalogue)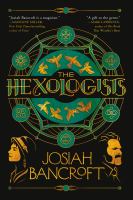 The hexologists / Bancroft, Josiah
"The Hexologists, Iz and Warren Wilby, are quite accustomed to helping desperate clients with the bugbears of city life. Aided by hexes and a bag of charmed relics, the Wilbies have recovered children abducted by chimney-wraiths, removed infestations of barb-nosed incubi, and ventured into the Gray Plains of the Unmade to soothe a troubled ghost. Well-acquainted with the weird, they never shy away from a challenging case. But when they are approached by the royal secretary and told the king pleads to be baked into a cake–going so far as to wedge himself inside a lit oven–the Wilbies soon find themselves embroiled in a mystery that could very well see the nation turned on its head." (Adapted from Catalogue)
Sarah Canary / Fowler, Karen Joy
"Black-clocked Sarah Canary is the ugliest woman Chin Ah Kin could ever imagine. But after she wanders into a railway camp in the Washington territories in 1873, Chin is ordered by his uncle to escort her away. Far away. What should be a simple journey quickly escalates beyond Chin's control into a series of adventures and misadventures that are at once hilarious, deeply moving, and downright terrifying. Who – or what is the mysterious Sarah Canary? And why can't Chin leave her, even for his own good?" (Adapted from Catalogue)
The death I gave him / Liu, Em X
" A Twenty-First Century Hamlet. Hayden Lichfield's life is ripped apart when he finds his father murdered in their lab, and the camera logs erased. The killer can only have been after one thing: the Sisyphus Formula the two of them developed together, which might one day reverse death itself. Hoping to lure the killer into the open, Hayden steals the research. In the process, he uncovers a recording his father made in the days before his death, and a dying wish: Avenge me… " (Adapted from Catalogue) Also available as an eBook.
The saint of bright doors / Chandrasekera, Vajra
" Fetter was raised to kill, honed as a knife to cut down his sainted father. This gave him plenty to talk about in therapy. He walked among invisible powers: devils and anti-gods that mock the mortal form. He learned a lethal catechism, lost his shadow, and gained a habit for secrecy. After a blood-soaked childhood, Fetter escaped his rural hometown for the big city, and fell into a broader world where divine destinies are a dime a dozen. Everything in Luriat is more than it seems. Group therapy is recruitment for a revolutionary cadre. Junk email hints at the arrival of a god. Every door is laden with potential, and once closed may never open again…" (Adapted from Catalogue) Also available as an eBook.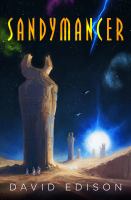 Sandymancer / Edison, David
"All Caralee Vinnet has ever known is dust. Her whole world is made up of the stuff; water is the most precious thing in the cosmos. A privileged few control what elements remain. But the world was not always a dust bowl and the green is not all lost. Caralee has a secret–she has magic in her bones and can draw up power from the sand beneath her feet to do her bidding. But when she does she winds up summoning a monster: the former god-king who broke the world 800 years ago and has stolen the body of her best friend. Caralee will risk the whole world to take back what she's lost. If her new companion doesn't kill her first." (Adapted from Catalogue)