'Every time I succeed in finishing one of my sketches, my understanding of humanity, animals, plants, minerals, or the entire creation, becomes clearer. I feel freed and raised up above my limited consciousness.' Hilma af Klint
The newly-acquired general fiction title we would like to focus on this month is The Friday Night Club by Sofia Lundberg, a fictionalised account of the real-life group of women artists formed by Hilma af Klint at the start of the twentieth century .
If you were lucky enough to see the recent exhibition of her work at City Gallery Wellington Te Whare Toi, you will be familiar with her extraordinary work. And her real life was as revolutionary as her art.
The  art world has long been male-dominated and controlled the narrative for the story of art, claiming that the first modern abstract paintings were created by male artists such as Malevich or  Mondrian. However, the mystic visionary Swedish artist Hilma af Klint should actually receive the credit. Inspired by mystic visions, she created her own abstract visual language years before these artists.
Hilma worked at a time when creative freedoms for women were rare and limited. Yet from this reality she created a huge body of abstract work that predated Kandinsky, Malevich, and Mondrian or, indeed, any of the other male artists credited as inventing modern abstract art.
Hilma af Klint's  body of work has only relatively recently been given the praise it so richly deserved, and it is clear that her work at that time rewrites the history of modern art. Hilma knew her abstract work was way ahead of its time and at her death she left instructions that her work be kept secret until at least twenty years after her death, when she hoped that society would have changed enough to accept her work.
You can access our non-fiction collection of works about Hilma af Klint here.
The Friday Night Club / Lundberg, Sofia
" Early 1900s: The world belongs to men, and the art world in Stockholm, Sweden, is no different, until Hilma af Klint brings together a mysterious group of female painters and writers-Anna, Cornelia, Sigrid, and Mathilda-to form their own emotional and artistic support system. … Over a century later, an associate curator at the Guggenheim Museum, Eben Elliot, brings the Hilma af Klint show to New York where he uncovers questions about the Five and how the modern day art world is funded, which puts him in a precarious position both emotionally and professionally, as he witnesses how history can be manipulated. " (Adapted from Catalogue)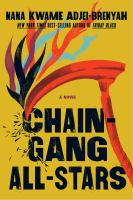 Chain-gang all-stars / Adjei-Brenyah, Nana Kwame
" Loretta Thurwar and Hamara "Hurricane Staxxx" Stacker are the stars of Chain-Gang All-Stars, the cornerstone of CAPE, or Criminal Action Penal Entertainment, a highly-popular, highly-controversial, profit-raising program in America's increasingly dominant private prison industry. It's the return of the gladiators and prisoners are competing for the ultimate prize: their freedom. In CAPE, prisoners travel as Links in Chain-Gangs, competing in death-matches for packed arenas with righteous protestors at the gates…" (Adapted from Catalogue) Also available as an eBook.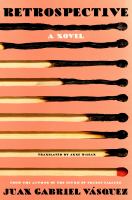 Retrospective / Vásquez, Juan Gabriel
"The Colombian film director, Sergio Cabrera, is in Barcelona for a retrospective of his work. It's a hard time for him: his father, famous actor Fausto Cabrera, has just died; his marriage is in crisis; and his home country has rejected peace agreements that might have ended more than fifty years of war. In the course of a few intense days, as his films are on exhibit, Sergio recalls the events that marked his family's unusual and dramatic lives: especially his father's, his sister Marianella's and his own. " (Adapted from Catalogue)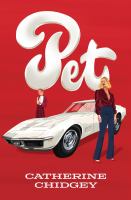 Pet / Chidgey, Catherine
"Like every other girl in her class, twelve-year-old Justine is drawn to her glamorous, charismatic new teacher, and longs to be her pet. However, when a thief begins to target the school, Justine's sense that something isn't quite right grows ever stronger. With each twist of the plot, this gripping story of deception and the corrosive power of guilt takes a yet darker turn. Young as she is, Justine must decide where her loyalties lie." (Adapted from Catalogue) Also available as an eBook.
The three graces / Craig, Amanda
"When Enzo shoots an illegal migrant from his bedroom one night, it triggers a series of events that embroil old and young, rich and poor, native and foreign. His elderly neighbours Ruth, Diana and Marta are three friends who have retired to Tuscany. Ruth's favourite grandson Olly is about to get married from her idyllic hillside farmhouse; however, the bride, Tania, seems curiously unengaged by anything but vlogging as a social media influencer. Over two weeks in May, all these characters will face challenging choices as they grapple with their own past and with present dangers…" (Adapted from Catalogue)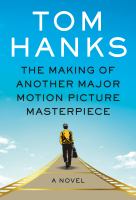 The making of another major motion picture masterpiece / Hanks, Tom
"The story of the making of a colossal, star-studded, multimillion-dollar superhero action film…and the humble comic book that inspired it. PART ONE of this story takes place in 1947. A troubled soldier, returning from the war, meets his talented five-year-old nephew, leaves an indelible impression, and then disappears for 23 years. Cut to 1970: The nephew, now drawing underground comic books in Oakland, California, reconnects with his uncle and, remembering the comic book he saw when he was five, draws a new version with his uncle as a World War II fighting hero. Cut to the present day: A commercially successful director discovers the 1970 comic book and decides to turn it into a contemporary superhero movie…" (Adapted from Catalogue) Also available as an eBook.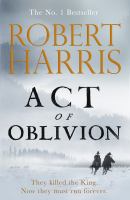 Act of oblivion / Harris, Robert
"1660, Colonel Edward Whalley and his son-in-law, Colonel William Goffe, cross the Atlantic. They are on the run and wanted for the murder of Charles I. Under the provisions of the Act of Oblivion, they have been found guilty in absentia of high treason. In London, Richard Nayler, secretary of the regicide committee of the Privy Council, is tasked with tracking down the fugitives. He'll stop at nothing until the two men are brought to justice. A reward hangs over their heads for their capture, dead or alive." (Adapted from Catalogue) Also available as an eBook.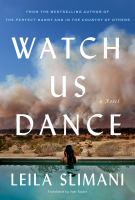 Watch us dance / Slimani, Leïla
"Morocco, 1968: Two siblings, unusual for their biracial parentage–their father is Moroccan, their mother French–search for their place in a world not made to fit them. Aicha, strong-willed and studious, dreams of leaving Morocco to study medicine in her mother's homeland. Her younger brother, Selim, the family's errant misfit, will forge a path of rebellion among the European hippies descending en masse to practice drugs and free love. Children of the revolution, now coming of age in the violent, nihilistic "years of lead," they seem destined to echo their homeland's fate: teetering between liberation and corruption, idealism and compromise…" (Adapted from Catalogue)