Statler: Well, it was good.
Waldorf: Ah, it was very bad.
Statler: Well, it was average.
Waldorf: Ah, it was in the middle there.
Statler: Ah, it wasn't that great.
Waldorf: I kind of liked it."
-'The Muppet Show'.
I'm Mark, the Music & Film Specialist at Wellington City Libraries (I also run the Libraries' Wellington Music Facebook page). Every month my colleague Neil and I cast our eye over the new material we have been buying for the Music collection at our CBD Te Awe library. We pick out some interesting titles across a range of music genres, and try to limit our reviews to a few lines only. Can we encapsulate an entire album in just a couple of lines? [Ed. This is probably unlikely at this point]. Do we actually know anything about new music? Or, are we just too old to understand what most of this is banging on about? [Ed. This is more than likely]. Read on to find out…
Loose future / Andrews, Courtney Marie
Mark: Courtney Marie Andrews is an American singer-songwriter and this is her 3rd album, following on from 2020's Old Flowers. Our catalogue files her under 'country' but that is perhaps a bit misleading, as she incorporates a lot of indie pop stylings. She also folds folk into her Americana sound and, in a lot of ways, her music sits comfortably alongside indie artists like Phoebe Bridgers or Lucy Dacus. Her previous album focused on the psychological damage of a bad breakup, but this is a bit more positive. There are still songs about emotional upheavals, but also new found love and self renewal.
Neil: Andrews' carefully strummed guitar forms a kind of heartbeat within these songs. This is her eighth album, and quite a long way from her emo background origins. This is a delicate country-folk rock album, with a singer-songwriter written large throughout each track. There are some lovely slide guitars in the mix, and Andrews' vocals display a warmness about them, though the lyrical content is often sad or reflective. The songs are all set amongst a very smooth and crystal-clear production.
Hold the girl / Sawayama, Rina
Mark: Rina Sawayama is Japanese-British singer, melding her powerful voice with a multitude of different genres. Sophomore album 'Hold the girl' follows on from her 2020 debut Sawayama. If her debut had more elements and experimentation, this is a bit of a throwback to clubby 2000's R&B, 90s Corrs era pop, and the country-pop of Shania Twain, Taylor Swift or Faith Hill, mixed with with elements of thumping nu-metal. Weirdly this all works really well, resulting in a series of hooky, melodic tracks with huge anthemic chorus', but also a lyrical depth that her cross-cultural background brings. Edgy lyrics confront growth gained from extensive therapy, as the album exorcises the demons of her younger self. She has a massive range, a versatile voice, and this is a huge, if perhaps somewhat overly familiar musically, pop album.
Neil: There's genre mashing galore at work in Rina Sawayama's second album 'Hold the girl'. In the mix there's trance, anthemic stadium rock, pop-punk and power ballads, to name but a few. The lyrical message is just as dense. In a sense it is a message to her younger self to say it's going to be alright. Some of the issues she touches on are her mother's immigration experience, honouring her queer, Asian, first-generation British identity, and how she can try to open up and reach out emotionally to a global audience. However, ultimately, it is a modern pure pop album aimed at world mainstream music domination (in the same way that some Lady Gaga's albums are) and as such it largely succeeds.
Gyedu-Blay Ambolley and hi-life jazz / Ambolley, Gyedu-Blay
Mark: Gyedu-Blay Ambolley is a Ghanaian highlife musician and bandleader, with 'Highlife' being a Ghanaian music genre that fuses African metre and western jazz melodies. This is his 35th album, and though he has previously toured the US and Europe he is still relatively unknown to Western audiences. This is just a fantastic album of breezy, swinging Jazz, as he reworks standards from John Coltrane (Love Supreme), Thelonius Monk (Round Midnight), Wayne Shorter (Footprints) and Miles Davis (All Blues) alongside some brand new compositions, performed in a classic highlife style. Driven by guitar and funky horns, he turns the familiar tracks inside out with a mix of Ghanian scatting, afro-soul & afro-Cuban rhythms until it's like you've never heard them before, and the originals just drift by with a funky, danceable, vibe. Recommended.
Neil: This is the 35th album from the legendary Ghanaian musician, bandleader, singer and saxophonist Gyedu-Blay Ambolley. If you've not come across his work before, he is unique. To give you some reference points, imagine Fela Kuti, Ebo Taylor and James Brown all rolled into one, doing funky African-jazz tracks with an underlying highlife groove. It's uplifting, truly distinctive, and musically infectious. In this album, he takes on some of the greatest jazz standards of all time, such as John Coltrane's A Love Supreme, and effortlessly reimagines then in his own unique musical style. Chill out sit back and enjoy.
Feeding the machine / Binker & Moses
Mark: More jazz, this time from the UK, with free-jazz saxophone and drums duo Binker & Moses. Having debuted as a duo in 2015, Binker Golding and Moses Boyd are now well established musicians (Boyd's 2020 solo album Dark Matter was nominated for the Mercury Prize). 'Feeding the machine' is their 4th album together overall, and was also Mojo's Best Jazz album of 2022. Just sax & drums, this is definitely not one for jazz purists, though some tracks feature modular synth elements from Max Luthert, who has played with them live. Their blend of spiritual jazz and, edgy, muscular playing is alternately moody, atmospheric and intense, then cacophonous and squalling. Not for the faint hearted, they are another band at the forefront of the UK jazz renaissance pushing the definitions & boundaries of what jazz is.
Neil: Binker & Moses are both already highly acclaimed cutting-edge modern jazz practitioners with their debut album Dem Ones winning a MOBO award. They subsequently went their separate ways to great success, however 'Feeding the Machine' sees them joining their creative forces again, this time with electronic musician Max Luthert. The album is an atmospheric, textural work employing modular synths, loose limbed drumming, and restless freeform sax. The three elements combine to slowly suck you in over a period of time, and gradually builds into an intense listening experience. It's got some connections with the Pharoah Sanders Floating & Points album Promises, but it's much more directly intense and frenetic in structure and tone.
Choosing / Jamieson, Sophie
Mark: The debut full-length release for this UK indie singer-songwriter, after some early EPs and a long struggle with alcohol addiction. A hushed, personal, intimate album that deals with themes of failure and regret, while occasionally breaking out musically with a more hopeful, euphoric, sounds. Mostly sparse instrumentation and layered vocals frame unfiltered ruminations, both literal and metaphoric, that sift through the detritus of unhealthy behaviour and decisions, ultimately arriving at a stronger place of awareness and wellbeing.
Neil: 'Choosing' is the debut album from the London Based singer songwriter Sophie Jamieson. The songs contained within the album examine the singer's difficult relationship with alcohol, and the self-destructive tendencies it encouraged within her. The songs are personal, direct, honest and vulnerable, and there is also a hint of the gothic confessional about them. They are mainly what you would describe as torch songs, works that move seamlessly between minimalist elements and more complex instrumentation. They often start off in an economical fashion, possessing a musical glow that then bursts into euphoric life.
Blue rev / Alvvays
Mark: The third album from the Toronto indie-noise-pop band, following 2014's self-titled debut & 2017's Antisocialites. Helmed by singer Molly Rankin, they meld elements of Power-pop, shoegaze, guitars and dreamy vocals, reminiscent of 90s indie bands like Velocity Girl & Heavenly. Sweet but also tough sounding, full of jangly guitars and melodic hooks.
Neil: They have been hailed as the new big thing in power pop, the band that's created a new high-water mark in the genre and expanded the genre's sound. Morphed it into nü-power pop, power pop-gaze or dream-power pop – take your pick. And whilst these new labels do accurately reflect their new sound, this sort of hyperbole isn't always good for a band or a release. What is definitely true, is this is a great power-pop album that incorporates elements of dream pop and shoegaze, but is it as good as the Beth's Expert in a Dying Field? It's very much down to a listener's preferences.
Freedom / Weller, Leah
Mark: Leah Weller is a British singer/songwriter who mixes neo-soul, pop, and R&B. She is also the daughter of Brit icon Paul Weller and renowned soul singer D C Lee, but any hints of nepotism are soon forgotten once the album starts to play. A model from a young age, music was a first love. Drifting back to it in her late 20s, playing cover versions in pubs, her original demos impressed Ocean Colour Scene band member Steve Cradock, that he invited here to record them in his studio, leading to this full-length debut. The album shows a broad range of influences: from bossa-nova, to 60s, 70's artists, to loungy pop, to the neo-soul of recent singers like Corinne Bailey-Rae and Duffy. She has a lovely, expressive voice and a set of strong songs, paired with a really nice understated production which sees the focus firmly on her vocals.
Neil: Leah Weller is the daughter of Paul Weller and soul singer D C Lee. Initially she avoided following in her parents' footsteps, instead embarking on a career in the fashion industry as a model, working with Vivienne Westwood amongst others. However, she finally came to the realisation that music was her true calling. 'Freedom' boasts a dreamy 70's vibe, and a rich and alluring sound. There's traces of Amy Winehouse, Leona Lewis and even early Adele. It's a neo soul, late night, after-party album of chilled and ultra-cool music, with a bossa undertow.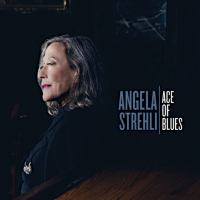 Ace of blues / Strehli, Angela
Mark: Angela Strehli is an icon in the Austin blues scene, co-founding Antone's blues club in the 70s and a record label in the 80s. Now 77 years old, this is her first solo album in 17 years. During the '70s and '80s, Strehli was a reigning queen of the blues in Austin, gigging constantly and releasing a series of albums. She personally knew, or played with, most of the artists whose songs she covers on this new album-  a claim that no other female blues artist, with maybe the exception of Bonnie Raitt, can match. This connection to the original artists makes this a special album, investing these covers with an added depth, and her joyful reinterpretations are a tribute to her relationships with these artists and to the blues itself. The sole original track on the album is the closer 'SRV', penned decades after Stevie Ray Vaughan's passing, honoring a long-lost friend.
Neil: Blues legend Angela Strehli hasn't released a solo album in 17 years. 'Ace of Blues' is a blues album that largely comprises of cherished blues standards, with a few more obscure hits peppered in. However, don't let that fool you, this is much more than a covers album. Angela very much takes these classics and recreates them into her own musical image. Her husky blues, perfect, late night in the bar voice is a key element in these transformations. Angela, who is now in her 77th year, has shared the stage with many of the original artists who wrote these songs: such as Muddy Waters, B.B. King , Stevie Ray Vaughan and Howlin Wolf to name but a few, and you can tell.