The 2022 Hugo Award winners were recently announced in Chicago, the 80th ceremony in The Hugo Award's history. The Hugo Awards are the science fiction world's equivalent of the Oscars, the Grammys and the Pulitzers all rolled into one (we exaggerate, but only slightly!).
The Hugo Awards date way back to 1953 when the first winner was Alfred Bester for his novel The Demolished Man, copies of which we still have available to borrow in our collection.
The Hugo's  have a formidable reputation for spotting the very finest works from the science fiction and fantasy world, with past winners including giants of the genre likeUrsula K. Le Guin, N. K. Jemisin, Frank Herbert, Neil Gaiman, Isaac Asimov and Martha Wells, to name but a few. As well as highlighting the best authors, many of the winning books explore some of the most important issues and subjects facing our global community.
Congratulations to all the winners and shortlisted authors and artists. You can find a comprehensive list of all this years winners here.
This year's fiction winners were:
Best Novel
A desolation called peace / Martine, Arkady
"An alien armada lurks on the edges of Teixcalaanli space. No one can communicate with it, no one can destroy it, and Fleet Captain Nine Hibiscus is running out of options. In a desperate attempt at diplomacy with the mysterious invaders, the fleet captain has sent for a diplomatic envoy. Now Mahit Dzmare and Three Seagrass – still reeling from the recent upheaval in the Empire – face the impossible task of trying to communicate with a hostile entity. Whether they succeed or fail could change the face of Teixcalaan forever." (Adapted from Catalogue) Also available as an eBook.
Best Graphic Story or Comic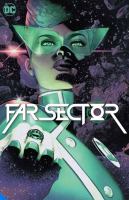 Far sector / Jemisin, N. K
"For the past six months, newly chosen Green Lantern Sojourner 'Jo' Mullein has been protecting the City Enduring, a massive metropolis of 20 billion people. The city has maintained peace for over 500 years by stripping its citizens of their ability to feel. As a result, violent crime is virtually unheard of, and murder is nonexistent. But that's all about to change in this new graphic novel that gives a DC's Young Animal spin to the legacy of the Green Lanterns!" (Adapted from Catalogue)
Lodestar Award for Best Young Adult Book
The last graduate / Novik, Naomi
"A budding dark sorceress determined not to use her formidable powers uncovers yet more secrets about the workings of her world in the stunning sequel to A Deadly Education, the start of Naomi Novik's groundbreaking crossover series. At the Scholomance, El, Orion, and the other students are faced with their final year–and the looming specter of matriculation, a deadly ritual that leaves few students alive after. El is determined that her group will make it out alive, but it is a prospect that is looking harder by the day as the savagery of the school ramps up. Until El realizes that sometimes winning the game means throwing out all the rules . . ." (Adapted from Catalogue)