Sudha Rao is a Wellington based poet and dancer, originally from South India. She recently released her debut poetry collection, On elephant's shoulders, published through The Cuba Press.
We were lucky enough to get to catch-up with Rao about her new book, her writing process and living the life of a mouse. You can watch the interview below, and then reserve a copy of her book through our online catalogue. Rao's writing can also be found in Ko Aotearoa tātou, we are New Zealand : an anthology, More of us, and Meowing. Part 1, The Meow Gurrrls' little book of poetry. We've also including a list of some of the many writers Rao mentions during this interview, which you can find below.
Thank-you to Sudha Rao for taking the time to chat with us and for providing such insightful answers to our questions. We'd also like to thank The Cuba Press for hosting us in their lovely office.
Super model minority / Tse, Chris
"From making boys cry with the power of poetry to hitting back against microaggressions and sucker punches, these irreverent and tender poems dive headfirst into race and sexuality"–Back cover." (Catalogue)
Body politic / Cresswell, M. M
"Fifty years after she arrived in New Zealand from Los Angeles, Mary Cresswell's focus is unchanged. As a poet with a scientist's concern for detail she is still drawn to nature and what humanity has done with it. Seascapes are rocky and forbidding, landscapes are arid and treeless, and drones keep an eye on us. The few surviving animals-one frog and two birds-speculate on 'extinction' even as it is happening to them, just as the poet describes the strange paradox of the pandemic that on one hand threatens humanity and on the other allows the planet to breathe again. Mary uses wordplay, satire and absurdity to tell her story, and puts the body politic centre stage as the cause of and agent for repairing the mess we are in." (Catalogue)
House & contents / O'Brien, Gregory
"Our mother's clouds and insects fly to embrace your clouds and insects. Her architecture, roads, bridges and infrastructure rush to greet yours. Her molecules on their upward trajectory entwine with yours, the colour of her eyes, hair and skin. Her language, with its past participles, figures of speech, the sounds and tremors which are its flesh and bones these words go out to greet your words and to greet you – these words which will never leave her. House & Contents is a moving meditation on earthquakes and uncertainties, parents and hats, through Gregory O'Brien's remarkable poetry and paintings."–Publisher information." (Catalogue)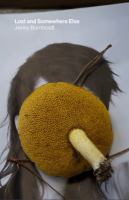 Lost and somewhere else / Bornholdt, Jenny
"In Lost and Somewhere Else, Jenny Bornholdt finds many places to stand: at home, in memories of places and people, and in the Ernst Plischke-designed Henderson House in Alexandra, Central Otago, in which she lived while writing these poems. This graceful, witty and unsettling book is Bornholdt at her very best: her language at once bold and subtle, and even her smallest insights profound." (Catalogue)
Tender machines / Neale, Emma
"In this follow-up to the award-winning The Truth Garden, Emma Neale explores the state of the human condition in the second decade of the 21st century, when a post-humanist future looms large and our machines seem to know more than we do. In poems that are engaged, compelling, witty and moving, she looks at how we navigate a true line through the psychological, environmental, social and economic anxieties of our times."–Back cover." (Catalogue)
Selected poems / Manhire, Bill
"This generous selection of Bill Manhire's poems moves from playful early pieces like "On Originality" and "How to Take off Your Clothes at the Picnic" to major works of recent years such as "Hotel Emergencies"–a powerful response to contemporary atrocities–and "Erebus Voices"–written to be read by Sir Edmund Hillary at the 25th anniversary of the Mt. Erebus tragedy. The poems featured in this definitive collection of New Zealand's most important poet are deceptively simple, often funny, and always revelatory of his own and his country's history." (Catalogue)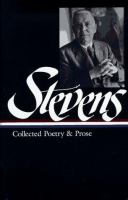 Collected poetry and prose / Stevens, Wallace
""Undoubtedly, the single finest collection of Wallace Stevens ever produced." — Library Journal Wallace Stevens's unique voice combined meditative speculation and what he called "the essential gaudiness of poetry" in a body of work of astonishing profusion and exuberance, poems that have remained an inspiration and influence for generations of poets and readers. Now, for the first time, the works of America's supreme poet of the imagination are collected in one authoritative Library of America volume." (Adapted from Catalogue)
When I grow up I want to be a list of further possibilities / Chen, Chen
"In this ferocious and tender debut, Chen Chen investigates inherited forms of love and family — the strained relationship between a mother and son, the cost of necessary goodbyes — all from Asian American, immigrant, and queer perspectives. Holding all accountable, this collection fully embraces the loss, grief, and abundant joy that come with charting one's own path in identity, life, and love. When I Grow Up I Want to Be a List of Further Possibilities. To be a season of laughter when my father says his coworker is like that, he can tell because the guy wears pink socks, see, you don't, so you can't, you can't be one of them. To be the one my parents raised me to be. A season from the stormiest planet. A very good feeling with a man. Every feeling, in pink shoes. Every step, hot pink."– Provided by publisher." (Catalogue)