Do you run a book club or group? Or do you want to start a book club or group?
We are about to launch our Book Club Kete collection. These collections contain a wide range of recent zeitgeist titles, just waiting to be discussed at your book groups. Most of the titles in the collection have been published within the last two years and each kete contains ten copies of each title. These collections will be available from Wednesday 3 August.
This new service is totally free and aimed directly at helping book clubs get hold of multiple copies of some of the most talked about books around. It's an ideal way of selecting and sourcing the books that will get your book club conversations fired up.
Anyone with a valid Wellington City Library card can borrow a kete. Each kete can be borrowed for up to six weeks, plenty of time to read and dissect even the most complex and multi-layered novel. Each Book Club Kete is  available on a first-come, first-served basis.
Inside each kete you will find :
10 copies of a popular, much talked about, title.
A tag attached to the bag handle, with author and title information, and a brief synopsis of the book.
A tally sheet for the book group leader or facilitator — so you can record which numbered title (1-10) goes to whom.
You can find all the Book Club Kete titles in the library catalogue, or browse them on the shelves at participating libraries. The catalogue will tell you if the kete is available, and which library it is held at.
So where can you  find this new resource? Book Club Kete will be located in four branch libraries:
Te Awe (Brandon Street)
Kilbirnie
Karori
Tawa
Please note: Each kete must be borrowed from and returned to the same library. Book Club Kete can't be reserved or moved to another library for pick-up.
If you have any questions about how the Book Club Kete works,  Email us — enquiries@wcl.govt.nz
Below you'll find a small selection of the titles we have in this fantastic new collection.
Love marriage / Ali, Monica
"Yasmin Ghorami has a lot to be grateful for: a loving family, a fledgling career in medicine, and a charming, handsome fiancée, fellow doctor Joe Sangster. But as the wedding day draws closer and Yasmin's parents get to know Joe's firebrand feminist mother, both families must confront the unravelling of long-held secrets, lies and betrayals. As Yasmin dismantles her own assumptions about the people she holds most dear, she's also forced to ask herself what she really wants in a relationship and what a 'love marriage' actually means." (Adapted from Catalogue)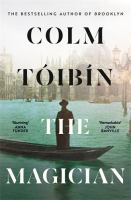 The magician / Tóibín, Colm
"When the Great War breaks out in 1914 Thomas Mann, like so many of his fellow countrymen, is fired up with patriotism. He imagines the Germany of great literature and music, which had drawn him away from the stifling, conservative town of his childhood, might be a source of pride once again. But his flawed vision will form the beginning of a dark and complex relationship with his homeland, and see the start of great conflict within his own brilliant and troubled family. Colm Tóibín's epic novel is the story of a man of intense contradictions. Although Thomas Mann becomes famous and admired, his inner life is hesitant, fearful and secretive." (Adapted from Catalogue)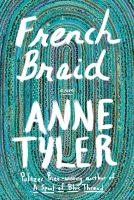 French braid / Tyler, Anne
"The Garretts take their first and last family vacation in the summer of 1959. They hardly ever venture beyond Baltimore, but in some ways they have never been farther apart. Mercy has trouble resisting the siren call of her aspirations to be a painter, which means less time keeping house for her husband, Robin. Their teenage daughters, steady Alice and boy-crazy Lily, could not have less in common. Their youngest, David, is already intent on escaping his family's orbit, for reasons none of them understands. Yet, as these lives advance across decades, the Garretts' influences on one another ripple ineffably but unmistakably through each generation." (Adapted from Catalogue)
Before you knew my name / Bublitz, Jacqueline
"Dead girls don't usually get to tell their story, but Alice Lee has always been a different type of girl. When she arrives in New York on her eighteenth birthday, carrying nothing but $600 cash and a stolen Leica in her bag, Alice is a plucky teenager looking to start a new life away from her dark past. Now she's 'Jane Doe', 'Riverside Jane', an unidentified body on a slab at City Morgue. Newspaper headlines briefly report that 'the body was discovered by a jogger'. Ruby Jones is a lonely Australian woman trying to put distance between herself and a destructive relationship back home, and is struggling in the aftermath of being the person to find Alice's body…." (Adapted from Catalogue)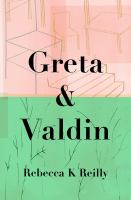 Greta & Valdin / Reilly, Rebecca K
"Valdin is still in love with his ex-boyfriend Xabi, who used to drive around Auckland in a ute but now drives around Buenos Aires in one. Greta is in love with her fellow English tutor Holly, who doesn't know how to pronounce Greta's surname, Vladislavljevic, properly. From their Auckland apartment, brother and sister must navigate the intricate paths of modern romance as well as weather the small storms of their eccentric Māori-Russian-Catalonian family." (Adapted from Catalogue)
Wish you were here : a novel / Picoult, Jodi
"Diana O'Toole is perfectly on track. She will be married by thirty, done having kids by thirty-five, and move out to the New York City suburbs, all while climbing the professional ladder in the cutthroat art auction world. She's an associate specialist at Sotheby's now, but her boss has hinted at a promotion if she can close a deal with a high-profile client. She's not engaged just yet, but she knows her boyfriend, Finn, a surgical resident, is about to propose on their romantic getaway to the Galapagos–days before her thirtieth birthday. Right on time. But then a virus that felt worlds away has appeared in the city, and on the eve of their departure, Finn breaks the news: It's all hands on deck at the hospital…" (Adapted from Catalogue)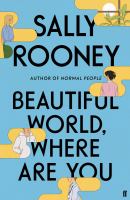 Beautiful world, where are you / Rooney, Sally
"Alice, a novelist, meets Felix, who works in a distribution warehouse, and asks him if he'd like to travel to Rome with her. In Dublin, her best friend Eileen is getting over a break-up, and slips back into flirting with Simon, a man she has known since childhood. Alice, Felix, Eileen and Simon are still young – but life is catching up with them. They desire each other, they delude each other, they get together, they break apart. They have sex, they worry about sex, they worry about their friendships and the world they live in. Are they standing in the last lighted room before the darkness, bearing witness to something? Will they find a way to believe in a beautiful world?" (Adapted from Catalogue)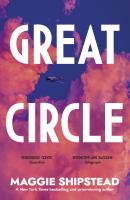 Great circle / Shipstead, Maggie
"From the night she is rescued as a baby out of the flames of a sinking ship; to the day she joins a pair of daredevil pilots looping and diving over the rugged forests of her childhood, to the thrill of flying Spitfires during the war, the life of Marian Graves has always been marked by a lust for freedom and danger. In 1950, she embarks on the great circle flight, circumnavigating the globe. It is Marian's life dream and her final journey, before she disappears without a trace. Half a century later, Hadley Baxter, a brilliant, troubled Hollywood starlet is irresistibly drawn to play Marian Graves, a role that will lead her to probe the deepest mysteries of the vanished pilot's life." (Adapted from Catalogue)