This December we have a very special treat for book lovers.
We want to try get as many people as possible to read the iconic New Zealand novel Potiki by Patricia Grace. Since it was first published in 1986, local and international readers have been spellbound by Potiki. This captivating story follows the struggle to protect indigenous land against developers, who are threatening to destroy a community and a whole way of life.
And to help make this happen, we have two ways people can celebrate and get involved with this outstanding novel: Unlimited downloads of the book and a chance to find your own hidden copy.
Between 7 – 21 December Wellington City Libraries are offering unlimited downloads of Potiki  eBooks; all you will need to access a digital copy is a valid Wellington City Libraries card. Available from our eBook platform Libby, our Overdrive app.
Or if you are up for a bit of fun, our book fairies are hiding copies of the book throughout the city. So if you  fancy the chance of finding your own hidden copy of Potiki, keep an eye out for more details soon. So why not join Aotearoa New Zealand Festival of the Arts and Wellington City Libraries, with Penguin Random House New Zealand to read one of Aotearoa's great novels: Potiki.
We want to make this the biggest read in Aotearoa's history…
Find, read and pass it on!
Then there is the opportunity to  hear from the Patricia Grace herself at the  Aotearoa New Zealand Festival of the Arts 25 February – 20 March 2022.
Click here for more details of the Aotearoa New Zealand Festival of The Arts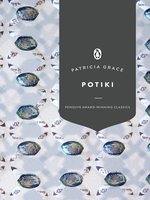 Potiki, Patricia Grace (ebook)Patricia Grace's classic novel is a work of spellbinding power in which the myths of older times are inextricably woven into the political realities of today. In a small coastal community threatened by developers who would ravage their lands it is a time of fear and confusion – and growing anger. The prophet child Tokowaru-i-te-Marama shares his people's struggles against bulldozers and fast money talk. When dramatic events menace the marae, his grief threatens to burst beyond the confines of his twisted body. His all-seeing eye looks forward to a strange and terrible new dawn. Potiki won the New Zealand Book Awards in 1987. (Overdrive description)