Breton Dukes author of What Sort of Man, Bird North and Empty Bones shares his writing hints and tips for NaNoWriMo.
With NaNoWriMo now in full swing and scores of people busy beavering away at various branches of our library network throughout Wellington. We thought now is an excellent time to step back for a moment take stock, seek advice and ask some of New Zealand's leading authors for any helpful suggestions they might have to help people on their way.
Breton Dukes has these tips:
Expect to fail. Over and over. Enjoy the failure. Enjoy the work of writing, forget about fame or whatever, just enjoy the act of sitting at your desk/table/wherever and making stuff up. Do it enough – the sitting and working – and you'll create a habit. With the habit ingrained, you'll get work made. Once you've made something, run through the whole thing again. Keep going through it until it makes a clear, seamless sound in your brain. Then give it to someone you trust to read. Make changes based on their feedback. Take time away from the project. A month or so. Then re-read and rewrite parts that don't seem right. Send the work to a magazine/newspaper/online journal. While awaiting response, start a new project. Expect failure – embrace failure!
– Do you have any writing rituals you follow before starting writing?
Avoid rituals. They'll stop you from getting work done.
---
Branches hosting "Come Write In" spaces for NaNoWriMo:
Newtown Library – Special one-off event on Monday 9th November 4.00pm
Kilbirnie – Special one off on Monday the 16th at 4.00pm
Te Awe Library – Monday – Friday 5.30pm – 7.30pm; Saturday – Sunday 12.00 – 2.00pm
Arapaki Library – Thursdays and Fridays 5.00 – 7.00pm
Mervyn Kemp (Tawa) Library – Wednesdays 10.00am – 2.00pm
Johnsonville Library – Tuesdays 4.00 – 6.30pm and Sundays 10.00am – 4.00pm
Karori Library – Fridays 3.00pm – 5.00pm and Saturdays 10.00am – 1.00pm
Cummings Park (Ngaio) Library – Mondays 5.00pm – 7.00pm and Wednesdays 2.00 – 5.00pm
---
We wish to thank Breton for his invaluable advice.
Coming soon award winning author  Catherine Chidgey and debut novelist Mikaela Nyman share their NaNoWriMo hints and tips. For full details on NaNoWriMo click here.

Empty bones : and other stories / Dukes, Breton
"From the author of the acclaimed short story collection
Bird North
,
Empty Bones
is a novella accompanied by five equally raw, intense, and comical short stories.
Empty Bones
is weightlifting, infidelity, drunk driving, facelifts, and childbirth. It's a family and their weekend reunion. It is Lisbon to Madrid on the night train and Auckland to Wellington on a motorbike. It is the end, the beginning, and the gristly in between." (Catalogue)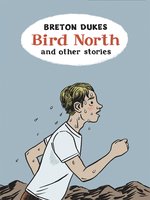 Bird North and Other Stories, Breton Dukes (ebook)
"The vignettes in these fresh, searing short stories, closely examine the complex male life. From a predatory act during a cross-country run in Fiordland to a doomed diving trip off Wellington's south coast, this collection combines emotional urgency with a surprising dose of humor to a great range of worlds. The result is a startlingly candid portraiture of the modern man." (Overdrive description)