The moment has come. You know what we're talking about: your secret dream of writing and drawing a graphic memoir of your childhood, full of precise, personal details, bright, expressive imagery and a bold title that sums up the first 18 years of your life in a single sentence. It won't be easy. Many have tried, and many have failed. But we believe in you. You can do it! Just take that work notepad and scribble out all those old meeting minutes; steal the felt-tip pens from your child or flatmate's bedroom. Then settle down and get started–we're waiting to read it!
(You could also check out these interviews with some of our favourite cartoonists and associated resources first, if you need inspiration–or a distraction…)
---
JILLIAN TAMAKI
Most cartoonists have a FAQ section on their website, but not all FAQ sections have the question "What is it like to have a banned book?" But that's exactly what happened to Jillian and Mariko Tamaki's This One Summer, a coming of age story of two teenage girls that was one of the most challenged books of 2016. It's also been called an "emotional tour-de-force of a comic, a perfect snapshot of the strange purgatory that lies between childhood and adulthood." Enjoy!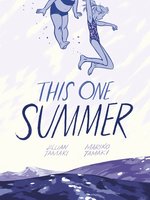 This One Summer, by Jillian and Mariko Tamaki (eBook)
"Every summer, Rose goes with her mom and dad to a lake house in Awago Beach. It's their getaway, their refuge. Rosie's friend Windy is always there, too, like the little sister she never had. But this summer is different. Rose's mom and dad won't stop fighting, and when Rose and Windy seek a distraction from the drama, they find themselves with a whole new set of problems. One of the local teens – just a couple of years older than Rose and Windy – is caught up in something bad…" (Adapted from Overdrive description)
Discover More:
Overdrive: Did you know Jillian Tamaki grew up reading Archie comics, and is a big fan of Riverdale? Have a look at Archie–and the Riverdale comic adaptions–through Overdrive!
RBdigital: As well as her illustration, comic and blogging work, Jillian Tamaki also does embroidery. Take up your own crafting via RBdigital's craft magazine selection.
---
THI BUI
Cartoonist and lecturer Thi Bui was born in 1978, just three months before the end of the Vietnam War. Bui and her family fled to America, and it is this story of escape, as well as the difficulties faced upon arrival in the States, that became the focus of Bui's acclaimed 2017 graphic novel The Best We Could Do. The Best We Could Do has been described as "one of the first great works of socially relevant comics art of the Trump era."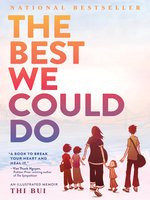 The Best We Could Do, by Thi Bui (eBook)
"This beautifully illustrated and emotional story is an evocative memoir about the search for a better future and a longing for the past. Exploring the anguish of immigration and the lasting effects that displacement has on a child and her family, Bui documents the story of her family's daring escape after the fall of South Vietnam in the 1970s, and the difficulties they faced building new lives for themselves." (Adapted from Overdrive description)
Discover More:
MasterFILE Complete: Thi Bui recently went to the island of Lesvos in Greece to learn about the refugee situation there. Follow her at her website, and learn more via MasterFILE Complete.
Story Box: Did you know that Thi Bui has also illustrated a children's book, Chicken of the Sea, with her son? Check out more children's stories via Overdrive and listen to readings via Story Box Library!
---
EMIL FERRIS
Reviews can be important for writers and illustrators; who doesn't want to hear that people have engaged with–and like–your work? But author Emil Ferris took this a bit further when Forbes declared that her debut work, My Favorite Thing is Monsters, was of such quality that it was not only "one of the most profound, ambitious and accomplished creative works to appear in any medium this decade" but would transform graphic literature! (For more info, check out 'I didn't want to be a woman – being a monster was the best solution'.)
Discover More:
Oxford Art Online: Are you inspired by art galleries as much as Emil and Karen? Visit Oxford Art Online through our eLibrary!
Kanopy: Classic horror movies have also had a distinct impact on Emil Ferris' work: watch them for yourself on one of our free film streaming services.
---
LYNDA BARRY
When Lynda Barry received her MacArthur fellowship in 2019, not one but two strands of her career in comics were highlighted: the groundbreaking work she's produced since Ernie Pook's Comeek was first released in 1979–including The Good Times Are Killing Me and One! Hundred! Demons!–and her ongoing role as a teacher. Her celebrated workshop on writing and creativity, 'Writing the Unthinkable', has been described as "freaky, vivid, and a lot of fun"–and also a lot of hard work!
Discover More:
Lynda.com: Did you know Lynda Barry has a course on Lynda.com? It's true! Have a look via the link!
RBdigital: In 1991 Lynda Barry's essay on the Gulf War (entitled "War") was published in Mother Jones. Read the original essay here and check out the latest edition of Mother Jones via RBdigital.
---
DAVE MCKEAN
If you found yourself having nightmares after seeing the dementors in Harry Potter and the Prisoner of Azkaban, you have one person to blame: Dave McKean. Designing dementors is in fact a very small part of McKean's output, which has included the distinctive covers for Neil Gaiman's Sandman, illustrating the most successful graphic novel ever published (Arkham Asylum, 1989), producing the graphic comic Cages, directing three feature films and much, much more!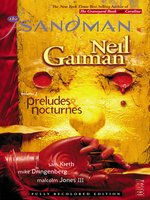 The Sandman (1989), Volume 1, by Neil Gaiman (eBook)
"NEW YORK TIMES bestselling author Neil Gaiman's transcendent series SANDMAN is often hailed as the definitive Vertigo title and one of the finest achievements in graphic storytelling. Gaiman created an unforgettable tale of the forces that exist beyond life and death by weaving ancient mythology, folklore and fairy tales with his own distinct narrative vision." (Adapted from Overdrive description)
Discover More:
Lynda.com: Whether you love McKean's films, illustration, photography or writing, Lynda.com has a tutorial to match!
Naxos Jazz Library: Did you know McKean founded the jazz label Feral Records? For more jazz–including iconic works by Chet Baker, Miles Davis and John Coltrane!–visit our premiere jazz streaming service.