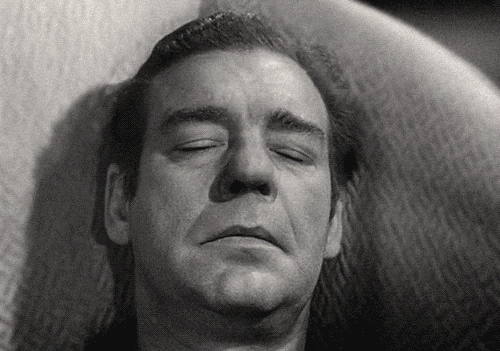 "Even a man who is pure in heart,
And says his prayers by night,
May become a wolf when the wolfbane blooms,
And the moon is full and bright."
― Curt Siodmak
The discovery of a complete John Steinbeck novel would always be big news, but the fact that it is a werewolf novel from the time before he was famous makes it a 'Wow' find. Called Murder at Full Moon, despite the author's best efforts, it failed to find a publisher when he wrote the book back in 1930.
The story is a pulp detective work set in a Californian coastal town beset by a series of gruesome murders. And is very different in style, tone and content from the works that would eventually win the Nobel prize for Steinbeck. Sadly, as yet, there is no planned publication date for the work.
Werewolves as a concept were widespread in European folklore from medieval times onwards, indeed at the same time as the notorious witch trials there were werewolf hunts. Indeed werewolves as supernatural creatures date from much earlier times and feature in many world cultures; there are a few references to men changing into wolves in ancient Greek literature. There is even reference to a potential lover jilted because she had turned her previous mate into a wolf in The Epic of Gilgamesh (the oldest known work of Western prose circa  2100 BC). They feature in several gothic horror works from the 19th century and, of course, werewolves have taken on a romantic mantle in many recent novels, inspired in part by Stephenie Meyer's  hugely popular Twilight series of books and films.
Just remember, as they say in the fabulous What We Do in the Shadows, they are "werewolves, not swearwolves." Below are just a few werewolf related picks from our collections.
The buried book : the loss and rediscovery of the great Epic of Gilgamesh / Damrosch, David
"Composed in Babylonia more than three thousand years ago, The Epic of Gilgamesh is the story of one hero's travels in search of immortality, of a vengeful goddess, a cunning serpent, and a devastating flood. It was the world's first great epic, which would later be echoed in The Odyssey, the Bible, and The Thousand and One Nights. But in 612 B.C., the clay tablets that bore the story were lost – buried in the burning ruins of the palace of Ashurbanipal, the last great king of Assyria, as his enemies laid his kingdom to waste."(Adapted from Catalogue)
What we do in the shadows
"A comedy Horror Mocumentary by Taika Waititi set in Wellington and revolving round a group of flat sharing vampires and their adventures with amongst others Wellington based Werewolves. The film boasts great well timed humour throughout, and went on to spawn not one but two,  television series:-   one a reimaging of the movie itself the other the  Wonderful Wellington Paranormal. " (Adapted from Catalogue)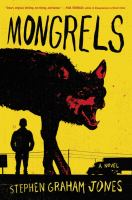 Mongrels / Jones, Stephen Graham
"Set in the deep South, Mongrels is a deeply moving, sometimes grisly, and surprisingly funny novel that follows an unnamed narrator as he comes of age under the care of his aunt and uncle — who are werewolves." (Catalogue)
Weird women : classic supernatural fiction by groundbreaking female writers: 1852-1923
"As railroads, industry, cities, and technology flourished in the mid-nineteenth century, so did stories exploring the horrors they unleashed. This anthology includes ghost stories and tales of haunted houses, as well as mad scientists, werewolves, ancient curses, mummies, psychological terrors, demonic dimensions, and even weird westerns. Two acclaimed experts in the genre  Lisa Morton and Leslie S Klinger  compile this  brand-new volume of supernatural stories showcasing  female horror writers from 1852-1923."  (Adapted from Catalogue)
Blood bound / Briggs, Patricia
"Jalopy mechanic and were-creature Mercedes Thompson can change into a coyote whenever she wants to. As a favor, she agrees to back up vampire friend Stefan when he confronts another of his kind. But, being demon-possessed, that vampire proves deadlier than most and before she can do anything to help, Mercedes is in the middle of a war with vampires and werewolves." (Catalogue)
The bloody chamber and other stories / Carter, Angela
"The bloody chamber — The courtship of Mr. Lyon — The tiger's bride — Puss-in-Boots — The Erl-King — The snow child — The lady of the house of love — The worewolf — The company of wolves — Wolf-Alice." (Catalogue)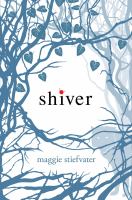 Shiver / Stiefvater, Maggie
"In all the years she has watched the wolves in the woods behind her house, Grace has been particularly drawn to an unusual yellow-eyed wolf who, in his turn, has been watching her with increasing intensity." (Catalogue)
The last werewolf / Duncan, Glen
"Jake Marlowe has been alive too long. For two hundred years he has roamed the world, enslaved by his lunatic appetites, tormented by his first and most monstrous crime. But as Jake counts down to suicide, a violent murder and an extraordinary meeting plunge him back into the desperate pursuit of life, and the dangerous possibility of love." (Catalogue)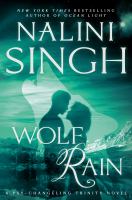 Wolf rain / Singh, Nalini
"Kidnapped as a young girl, her psychic powers harnessed by a madman, Memory lives a caged and isolated existence . . . until she comes face-to-face with a wolf. Labelled an empath by her bad-tempered rescuer, Memory knows that her 'gift' is nothing so bright. It is a terrible darkness that means she will always be hunted. But Memory is free now and she intends to live. A certain growly wolf can just deal with it. Alexei prefers to keep his packmates at bay, the bleak history of his family a constant reminder that mating, love, hope is not for him, but soon, he must make a choice: risk everything or lose Memory to a murderous darkness that wants to annihilate her from existence ." (Adapted from Catalogue)
Twilight / Meyer, Stephenie
"In spite of her awkward manner and low expectations, she finds that her new classmates are drawn to this pale, dark-haired new girl in town. But not, it seems, the Cullen family. These five adopted brothers and sisters obviously prefer their own company and will make no exception for Bella. Bella is convinced that Edward Cullen in particular hates her, but she feels a strange attraction to him, although his hostility makes her feel almost physically ill. He seems determined to push her away – until, that is, he saves her life from an out of control car. Bella will soon discover that there is a very good reason for Edward's coldness. He, and his family, are vampires – and he knows how dangerous it is for others to get too close." (Catalogue)
Click here for the availability of the film on DVD.