What I know about structures of fiction comes from hairdressing. 

– Quote from Pip Adam's The Spinoff interview.  
Our special featured title in this month's selection of newly acquired science fiction and fantasy titles is Audition by Wellington's very own Pip Adam. Pip Adam is the author of four novels: Audition, Nothing to See, which was shortlisted for the Acorn Prize for Fiction, The New Animals, which won the Acorn Foundation Prize for Fiction, and I'm Working on a Building. Her short story collection Everything We Hoped For won the NZSA Hubert Church Best First Book Award for Fiction.
Audition is the title of her latest novel, and it is also the name of the spaceship in the book.
Audition is hurtling through space towards the event horizon, and squashed immobile into its rooms are three giants. If they talk, the spaceship keeps moving; if they are silent, they resume growing. As they talk, they might be recovering their shared memory of what has been done to their incarcerated former selves, or are they constructing those selves from memory-scripts that have been implanted in them?
Audition confirms Pip Adam's position as one of our finest contemporary world class writers. All of Pip's work is bold, daring, unexpected, exceptional and sometimes challenging. Audition defies categorisation, it is part science fiction and part social realism, but there is a whole lot more going on in it.
Pip also works at Wellington Access Radio, an access radio station which makes radio by, for and about communities not usually heard in mainstream media. She also makes the Better off Read podcast.
Below is an interview with Pip, courtesy of RadioActive.FM | 88.6FM from their weekly arts and entertainment show Caffeine and Aspirin, conducted by Wellington City Libraries Neil Johnstone.
See below to borrow Audition and also see our other selected titles for this month.
Audition / Adam, Pip
"Audition is hurtling through space towards the event horizon. Squashed immobile into its rooms are three giants: Alba, Stanley and Drew. If they talk, the spaceship keeps moving; if they are silent, they resume growing. Talk they must, and as they do, Alba, Stanley and Drew recover their shared memory of what has been done to their incarcerated former selves. Or are they constructing those selves from memory-scripts that have been implanted in them? Part science fiction, part social realism, Audition asks what happens when systems of power decide someone takes up too much room, and about how we live with each other's violences, and imagines a new kind of justice." (Adapted from Catalogue)
Turncoat / Baker, Tīhema
"Daniel is a young, idealistic Human determined to make a difference for his people. He lives in a distant future in which Earth has been colonised by aliens. His mission: infiltrate the Alien government called the Hierarch and push for it to honour the infamous Covenant of Wellington, the founding agreement between the Hierarch and Humans. With compassion and insight, Turncoat explores the trauma of Māori public servants and the deeply conflicted role they are expected to fill within the machinery of government. From casual racism to co-governance, Treaty settlements to tino rangatiratanga, Turncoat is a timely critique of the Aotearoa zeitgeist, holding a mirror up to Pakeha New Zealanders and asking: "What if it happened to you?" (Adapted from Catalogue)
Bridge : a novel of suspense / Beukes, Lauren
"Twenty-four-year-old Bridge is paralyzed by choices: all the other lives she could have lived, the decisions she could have made. And now, who she should be in the wake of her mother's unexpected death. Jo was a maverick neuroscientist fixated on an artifact she called the "dreamworm" that she believed could open the doors to other worlds. It was part of Jo's grand delusion, her sickness, and it cost her everything, including her relationship with her daughter. But in packing up Jo's house, Bridge discovers Jo's obsession hidden amongst her things. And the dreamworm works, exactly the way it's supposed to, the way Bridge remembers from when she was a little girl. Suddenly Bridge can step into other realities, otherselves. In one of them, could she find out what really happened to her mother? What Bridge doesn't know is that there are others hunting for the dreamworm–who will kill to get their hands on it." (Adapted from Catalogue)
The last catastrophe : stories / Hyde, Allegra
"A vast caravan of RVs roam the United States. A girl grows a unicorn horn, complicating her small-town friendships and big city ambitions. A young lady on a spaceship bonds with her AI warden while trying to avoid an arranged marriage. In Allegra Hyde's universe nothing is as it seems, yet the challenges her characters face mirror those of our modern age. Spanning the length of our very solar system, the fifteen stories in this collection explore a myriad of potential futures, all while reminding us that our world is precious, and that protecting it has the potential to bring us all together." (Adapted from Catalogue)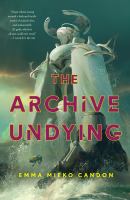 The archive undying / Candon, Emma Mieko
"War machines and AI gods run amok in The Archive Undying, national bestseller Emma Mieko Candon's bold entry into the world of mecha fiction. When an AI dies, its city dies with it. When a city falls, it leaves a corpse behind. When that corpse runs off, only devotion can bring it back. When the robotic god of Khuon Mo went mad, it destroyed everything it touched. It killed its priests, its city, and all its wondrous works. But in its final death throes, the god brought one thing back to life: its favorite child, Sunai." (Adapted from Catalogue) Also available as an eBook.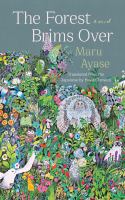 The forest brims over : a novel / Ayase, Maru
"Nowatari Rui has long been the subject of her husband's novels, depicted as a pure woman who takes great pleasure in sex. With her privacy and identity continually stripped away, she has come to be seen by society first and foremost as the inspiration for her husband's art. When a decade's worth of frustrations reaches its boiling point, Rui consumes a bowl of seeds, and buds and roots begin to sprout all over her body. Instead of taking her to a hospital, her husband keeps her in an aquaterrarium, set to compose a new novel based on this unsettling experience. But Rui grows at a rapid pace and soon breaks away from her husband by turning into a forest–and in time, she takes over the entire city." (Adapted from Catalogue)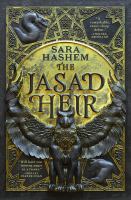 The Jasad heir / Hashem, Sara
"At ten years old, the Heir of Jasad fled a massacre that takes her entire family. At fifteen, she buried her first body. At twenty, the clock is ticking on Sylvia's third attempt at home. Nizahl's armies have laid waste to Jasad and banned magic across the four remaining kingdoms. Fortunately, Sylvia's magic is as good at playing dead as she is. When the Nizahl Heir tracks a group of Jasadis to Sylvia's village, the quiet life she's crafted unravels. Calculating and cold, Arin's tactical brilliance is surpassed only by his hatred for magic. When a mistake exposes Sylvia's magic, Arin offers her an escape: compete as Nizahl's Champion in the Alcalah tournament and win immunity from persecution. To win the deadly Alcalah, Sylvia must work with Arin to free her trapped magic, all while staying a step ahead of his efforts to uncover her identity. But as the two grow closer, Sylvia realizes winning her freedom means destroying any chance of reuniting Jasad under her banner. The scorched kingdom is rising again, and Sylvia will have to choose between the life she's earned and the one she left behind." (Adapted from Catalogue)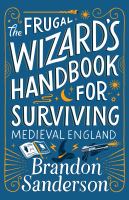 The frugal wizard's handbook for surviving medieval England / Sanderson, Brandon
"A man awakes in a clearing in what appears to be medieval England with no memory of who he is, where he came from, or why he is there. Chased by a group from his own time, his sole hope for survival lies in regaining his missing memories, making allies among the locals, and perhaps even trusting in their superstitious boasts. His only help from the "real world" should have been a guidebook entitled The Frugal Wizard's Handbook for Surviving Medieval England, except his copy exploded during transit. The few fragments he managed to save provide clues to his situation, but can he figure them out in time to survive?" (Adapted from Catalogue) Also available as an eBook.