With the beginning of Spring comes the blooming of flowers that the humble honey bee will visit between 50 – 100 times on its journey from the hive to collect honey. September is Bee Aware Month in Aotearoa, so we've compiled a varied list of non-fiction titles that will appeal to all adults, not just the Apiculturists among us!
There's colourful depictions of the interesting journeys beginner home beekeepers undertake, experiencing all the joys and missteps of learning new nurturing skills. You'll find helpful DIY's on how to alter and improve your home garden and how to attract and cultivate the local bee population to your backyard. Then, you can round out your reading with informative studies of the global impact that bees make to our food supply chain, and how this small insect's wellbeing affects us all.
So whether you're living in suburban Wellington or further afield, dive into these stories and guides, and consider how you can make a positive impact to help feed the pollinators that feed us. Apiculture New Zealand also has great educational resources and helpful guides on beekeeping at any skill level, wherever you live.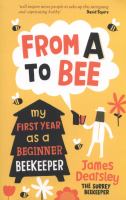 From A to bee : my first year as a beginner beekeeper / Dearsley, James
"James Dearsley's wife thought he had lost his mind when he announced his intention to become a beekeeper. Like many interested in self-sufficiency, he loved gardening and growing vegetables and he wanted to teach his little boy where honey came from, so he set himself a goal: to get, in a year's time, just one jar of honey." (Catalogue)
The bee-friendly garden : design an abundant, flower-filled yard that nurtures bees and supports biodiversity / Frey, Kate
"Frey and LeBuhn provide everything you need to know to create a vibrant, healthy garden that helps both the threatened honeybee and native bees. Just a few simple changes to your garden will make your yard a welcoming habitat for nature's most productive pollinator." (Catalogue)
Bees and their keepers : through the seasons and centuries, from waggle-dancing to killer bees, from Aristotle to Winnie-the-Pooh / Möller, Lotte
"Beekeeper and garden historian Lotte Moller explores the activities inside and outside the hive while charting the bees' natural order and habits. With a light touch she uses her encyclopaedic knowledge of the subject to shed light on humanity's understanding of bees and bee lore from antiquity to the present. A humorous debunking of the myths that have held for centuries is matched by a wry exploration of how and when they were replaced by fact." (Adapted from Catalogue)
The beekeeper's lament : how one man and half a billion honey bees help feed America / Nordhaus, Hannah
"Recounts the experiences of John Miller, one of the foremost migratory beekeepers, who, despite mysterious epidemics that threaten American honey populations–and the nation's agribusiness–forges on and moves ahead in a new natural world." (Catalogue)
A beekeeper's year : setting up and managing backyard hives / Luke, Janet
"A Beekeeper's Year follows the progress of three novice beekeepers with three different types of hive, as they navigate their way through their first year of beekeeping. Follow their journey – from obtaining bees to inspecting their hives, extracting honey and closing down the hive for the winter.  A Beekeeper's Year is an ideal introduction to backyard beekeeping, with everything you need to know about keeping your bees healthy. It is packed with stunning yet practical photographs to help you understand these fascinating creatures that are essential to the production of our food." (Adapted from Catalogue)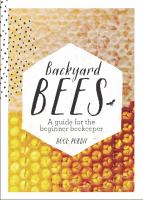 Backyard bees : a guide for the beginner beekeeper / Purdie, Doug
"Just about anyone can keep bees. All you need is a bit of space in your backyard (or on your rooftop) and a little love for the creatures that pollinate the vegie patches of your neighbourhood. Once introduced to the charms of beekeeping and the taste of warm honeycomb direct from the hive, you'll be hooked." (Catalogue)
The benevolent bee : capture the bounty of the hive through science, history, home remedies and craft / Bruneau, Stephanie
"A honeybee hive produces much more than honey; it also produces pollen, propolis, royal jelly, beeswax, and bee venom. And humans have found uses for all these products. The Benevolent Bee describes how and why the bees make these products, how they've been used by humans throughout the ages, and how beekeepers harvest the products. With simple do-it yourself recipes for using the products in health and wellness, body care, nutrition, and craft. " (Adapted from Catalogue)
Practical beekeeping in New Zealand / Matheson, Andrew
"A comprehensive guide to keeping bees in New Zealand, providing both amateur and professional beekeepers with details on honey bee management throughout the year, advice on handling hive products and information about many other beekeeping subjects. As well as being a guide for beekeepers, Practical Beekeeping in New Zealand appeals to those interested in apiculture and deciding whether to keep bees, while horticulturalists and farmers can learn more about crop pollination." (Adapted from Catalogue)