Ever since Kupe first followed the wheke a Muturangi (a giant squid) to Te Moana-a-Raukawa (Cook Strait), the history of Wellington and the people who have lived here has been told, researched and retold. Wellington Heritage Week 22nd to 28th October is an opportunity to experience Wellington's people, places and stories. Check out the Wellington Heritage week program here.
If you would like to do some of your own research into your Wellington people, places and stories then here at the library we have many resources to help you in your research.  A great starting point is our Heritage and Local History page, with tips and links to help you get started.
Local Māori History Resources
On the Te Whanganui-a-Tara resources page you'll find digitised resources, including: Māori deeds of land purchases, a list of Māori tribes and chiefs circa 1878, and many more resources.  Check out these resources on the local Te Whanganui-a-tara Māori history available here.
We have the 4 volumes of Ngā Tūpuna o te Whanganui-a-Tara in our collection.  These 4 volumes were a collaboration between Wellington  City Council and Wellington Tenths Trust and our Māori subject specialist Ann Reweti was part of the writing and editing team.
Ngā tūpuna o Te Whanganui-a-Tara. Volume 4 / Clarke, Sandra
"Short biographies and some portraits of Māori associated with the sale of Port Nicolson land in the 1840s." (Catalogue)
Wellington City Recollect Database
Have you visited the Wellington City Recollect website yet? You will find a database of heritage photos, books, maps and related ephemera reflecting the Capital's past. The database is administered by Wellington City Libraries and our local historian specialist Gabor Toth recommends having a look at some of the great new additions to this database.  The latest project is the ongoing digitisation of Wellington school jubilee and centenary publications.  These school publications are a great source of Wellington heritage information and you can see the ones that have been digitised so far, click on the Publications tab  here.
Wellington City Recollect is a great place to spend some time during Wellington Heritage Week.  Wellington City Libraries are very proud of our role in Wellington local history and some of the great things you can find on Recollect are postcards like the one below of  Wellington Public Library  C.1925 or browse thru the souvenir opening guide produced for the 1940 opening to find out about the library building that now houses the City Gallery here.
Exploring Early Colonial Life in Wellington in books
The following three books are good examples of how you can gain an interesting  perspective of colonial life in Wellington from our collections.  As for most colonists this new life started with the journey by ship to Wellington. The first book  "No simple passage" tells of such a journey on board the "London" in 1842.  The life and sights of Wellington in 1859 are the topic of the second book  "An indescribable beauty" told with letters sent back home.  Finally in the third book Katherine Mansfield's Wellington from 1888 -1903 is detailed in Wellington's own Redmer Yska's  "A strange beautiful excitement".  (For some background information into the research of this third book, check out the story on Wellington City Recollect here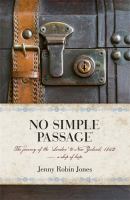 No simple passage : the journey of the "London" to New Zealand, 1842 : a ship of hope / Jones, Jenny Robin
"No Simple Passage tells the story of the passengers on board the London, 1842, undertaking a four-month journey from London to Port Nicholson at the end of which they will begin the process of becoming New Zealanders. The author imagines herself on board and records ship life using the journals of the ship's surgeon and a cabin passenger." (Catalogue)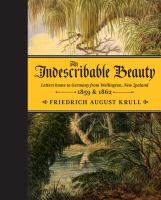 An indescribable beauty : letters home to Germany from Wellington, New Zealand, 1859 & 1862 / Krull, Friedrich
"This unique book is a small but priceless addition to the historical record of early New Zealand, published to recognise New Zealand's guest of honour status at Frankfurt Book Fair 2012.On January 27, 1859, an adventurous young German arrived in Wellington after a four-month voyage on a Swedish ship. With great alacrity we helped the sailors weigh anchor, and with what suspense did H and I stand on the foredeck to get the first view of the town which was to become our new home, Friedrich Krull writes. After we entered through the narrow straits a beautiful harbour lay before us, surrounded by high hills, and behind it more hills ascending to the snowline. In the east we saw Wellington itself, stretching along the coast for a mile. We were amazed: we had not expected the place to be so big.'So began the first of many letters Krull would write at the behest of the German naturalist and historian Ernst Boll – published in English translation in this outstanding book." (Catalogue)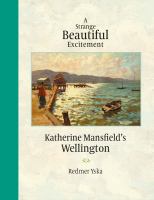 A strange beautiful excitement : Katherine Mansfield's Wellington, 1888-1903 / Yska, Redmer
"How does a city make a writer? Described by Fiona Kidman as a 'ravishing, immersing read', A Strange Beautiful Excitement is a 'wild ride' through the Wellington of Katherine Mansfield's childhood. From the grubby, wind-blasted streets of Thorndon to the hushed green valley of Karori, author Redmer Yska, himself raised in Karori, retraces Mansfield's old ground: the sights, sounds and smells of the rickety colonial capital, as experienced by the budding writer" (Catalogue)