It is with heavy hearts that we advise that the Central rooftop is no longer home to our bees and their hives. Council reluctantly had to make this decision due to the forthcoming extensive building works in Te Ngākau Civic Square which will probably extend across years rather than a few months due to earthquake strengthening. This move will be for the foreseeable future, at least until the environment is more settled.
We have loved having the bees and working with Cenna Lloyd (professional beekeeper from Local Flavour Urban Honey company) who has been visiting and caring for the bees while they were part of our team!
If you are thinking of exploring adding bees to your property, here are some titles to browse: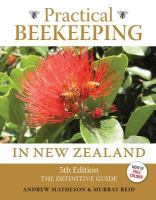 Practical beekeeping in New Zealand, by Andrew Matheson.
This is a classic title which has just been updated in its 5th edition. This is the main local guide to keeping bees in New Zealand, and is suitable for both amateur and professional beekeepers but also the interested general reader with information about many beekeeping subjects, not only hive management.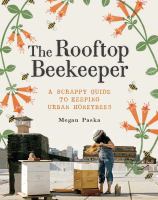 The rooftop beekeeper : a scrappy guide to keeping urban honeybees, Megan Paska,
"This explores the ease and charm of keeping bees in an urban environment. Its approach is a practical manual – but is well illustrated, with checklists and plenty of tips and good advice. Covering all aspects of urban beekeeping, this book also includes plenty of sweet recipes for delicious treats, tonics, and beauty products to make with your honey.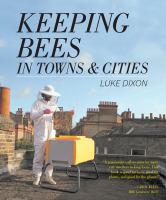 Keeping bees in towns & cities, by Luke Dixon.
"Keeping Bees in Towns and Cities features everything an urbanite needs to know to start keeping bees: how to select the perfect hive, how to buy bees, how to care for a colony, how to harvest honey, and what to do in the winter. Urban beekeeping has particular challenges and needs, and this book highlights the challenges and presents practices that are safe, legal, and neighbour-friendly. The text is rounded out with profiles of urban beekeepers from all over the world." (Catalogue)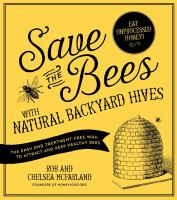 Save the bees with natural backyard hives : the easy and treatment-free way to attract and keep healthy bees, by Rob McFarland
"Save the Bees offers different, easy and healthier ways to keep your own hive. Their approach is fresh, modern and easy for anyone to do. Learn step-by-step how to acquire a colony, care for it and reap the reward – that incredibly delicious, all-natural, chemical-free, unprocessed, honey.